Family members who died in arson attack buried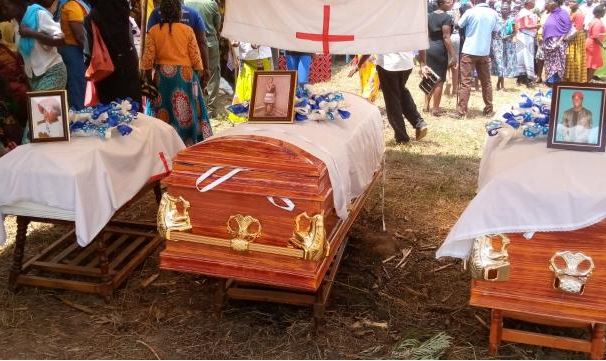 Three family members who died in a fire late last month in Mumias, Kakamega County, were buried today.
Eugene Omunyore, 23, his wife Miriam Echesa and their one-year-old son were burnt when their house was set ablaze at Shikalame village in Mumias West Constituency on January 30.
The man and son died a day after the arson attack at a local hospital while the woman succumbed a week later.
Initial investigations reveal that someone poured petrol around the house, mainly on the door and the windows, before setting it on fire.
The thick smoke and screams by the victims alerted relatives who were sleeping in the neighbouring houses in the same compound.
Apollo Kalio, while eulogising his son, recounted how distress calls made by Omunyore and his wife woke up the entire neighbourhood, but frantic efforts by the villagers to put out the fire failed.
Omonyore was eulogised as a peace-loving man and one who cared about the well-being of his young family.
The young father had managed to get his wife and son out of the burning house by the time villagers arrived to help out.
"We found my son busy struggling to rescue his wife and his only son who were unconscious. He really loved his family," said Kalio.
"We have been left with a huge gap in this family and we pray to God to provide his healing."
Kalio said his house had also been set on fire by the same attacker, but he and his wife escaped through the back door.
"The back door is metallic and could not catch fire, giving us room to escape," he said.
Mourners called on the police to speed up investigations and apprehend the arsonists.
David Nambaka, a youth leader in the area, condemned the incident and urged police to fast track investigations.
A jerrycan with petrol, a torch and a knife were recovered in the compound.