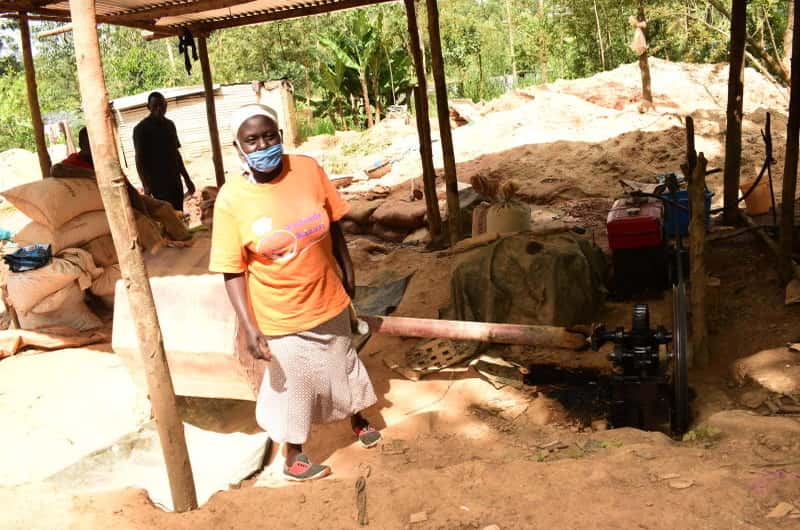 A group of women is busy cleaning gold ores at the Rosterman artisanal gold mines on a sunny afternoon.
They go about their chores unbothered about lack of protective gear, exposing themselves to hazards, including toxic substances such as mercury and cyanide.
After cleaning the ores, they crush them into small pieces and leave them to sun-dry. The women, in their 50s and 60s, will then take the ore for milling.
Majority of them are widows whose husbands died in the gold pits, their only source of income.
5am to late evening
They work from 5am to late in the evening to earn between Sh100 and Sh250, depending on the amount of gold one manages to get.
Rosemary Awinja, 59, one of the widows remembers events leading to the death of her husband Ernest Imbayi in 2004.
"He was busy excavating gold when the pit caved in, killing him and four others," she recalls.
Three years later, Awinja lost her son Maxwell Manyonyi in yet another goldmine accident.
"When his father died, he decided to venture into gold mining to take care of the family. The mine caved in, killing him and his mates," she adds.
Eke a living
With no other source of income, Awinja had to join other women working at the gold mines to eke a living.
"We are about 110 widows spread all over gold mines in Ikolomani, Rosterman and Shinyalu. These goldmines are our only hope," she adds.
Linet Asutsi, 53, also lost her husband Henry Asutsi in a gold mine accident. Hers was a double tragedy, as her younger brother, Matayo Tausi, also perished in the accident 16 years ago.
Asutsi has been working in the gold mine for 12 years now. Her mainly crushes stones extracted from gold pits.
"I am paid between Sh50 and Sh80, and you must be a member of a group to be given work to do or you will return home empty-handed," she noted.
For Juliet Khasiala, whose husband Christopher Kutenji died in a gold mine accident in 2000, raising up the six children he left would not have been possible were it not for the little she earns from the mines.
She tags her children along, to help her meet their family needs.
"It was not possible for me to put food on the table and we could go for days without eating. Sometimes, neighbours would intervene but, on many occasions, we could sleep on empty stomachs," says Khasiala.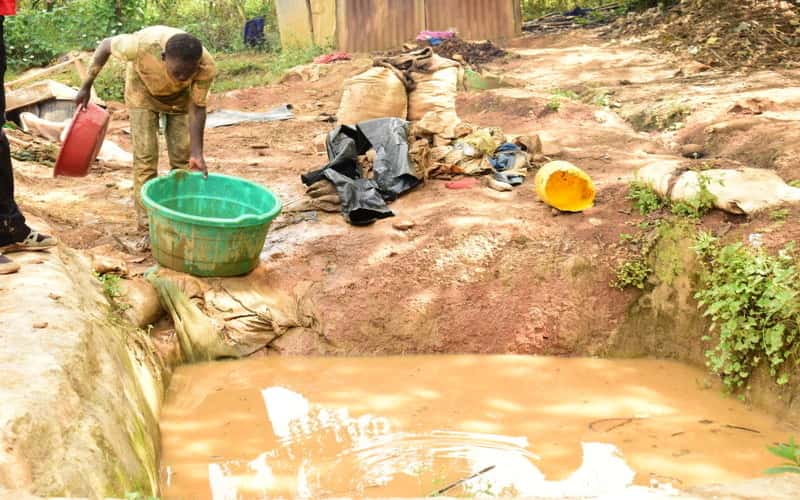 Rose Khayasi's husband, Paul Shibutse, died in 2011. He developed health complications due to chemicals used at the gold mines. Six months after burying her husband, she joined other widows at the gold mines.
"Although we get food from this work, it is quite dangerous and a health hazard. For the last four months I have been frequenting hospitals because of complications I have developed, but I don't have any other source of income," says Khayasi.
Make a fortune
While the owners of the gold mines make a fortune out of the business, the women are exploited by being forced to work for long hours.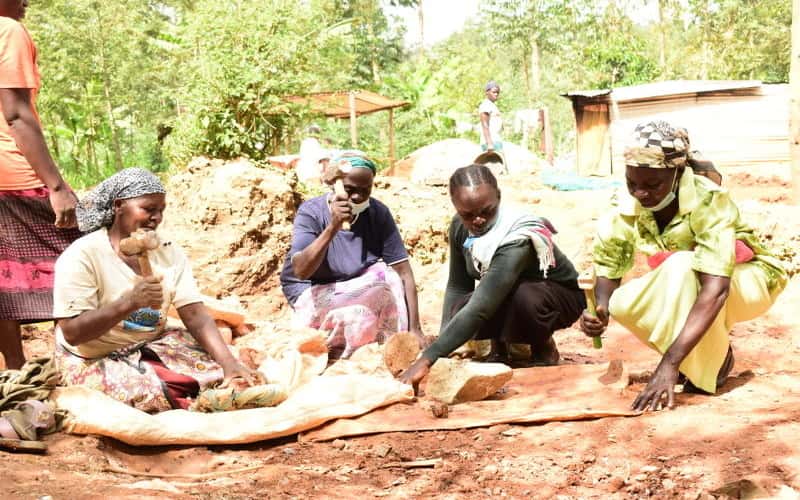 Despite the challenges, the women remain optimistic that a plan by the county government to establish a gold refining plant in Ikolomani would make things a bit better for them.
The project is aimed at promoting safe mining in the region
So far, Kakamega County has signed a Memorandum of Understanding with the national government and handed over title deeds for the land identified to host the gold refinery plant to Mining CS John Munyes.
The plan will see a gold refinery plant set up on 10 acres at Lidambitsa village in Ikolomani Sub-county at a cost of Sh100 million.
Artisanal gold miners will be trained on safety, and a special committee formed to advise on mining issues, attracting investors and conducting environmental impact assessments.
Mr Munyes toured Kakamega in July and was handed the title deed of the land identified for the project.
Kakamega Governor Wycliffe Oparanya said the gold refinery project was long overdue and would transform residents' lives.
What gold fetches
Usually, one gramme of gold goes for between Sh3,000 and Sh3,800 at street value locally, but exporters sell it at between Sh5,950 and Sh9,800, according to one of the dealers in the business, who did not want to be identified due to the nature of the business.