Boda boda operator has survived ten road crashes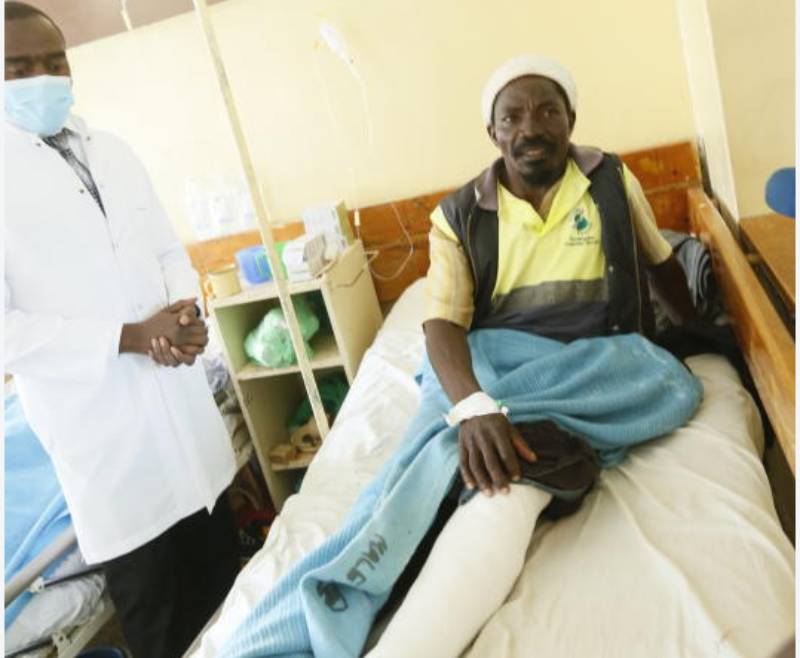 Simon Injendi, 44, could as well be likened to a cat with nine lives.
Injendi, a boda boda rider, has survived more than ten road accidents at Kaburengu junction on the busy Webuye–Eldoret highway.
The father of seven believes if it were not for the grace of God, he would long be dead.
In August, an accident that claimed eight lives at the junction was yet another close shave for Injendi.
He was among 14 victims who were rushed to Webuye County Hospital after a lorry ploughed into roadside traders selling onions, tomatoes, fruits and green maize on that Monday afternoon.
Injendi recalls the August incident as if it happened yesterday.
"I heard a bang, then there was darkness everywhere. I could not feel my left foot after I regained consciousness," he recounts.
Bloodied bodies lay on the ground as police officers and civilians tried to rescue the injured.
"I have been through hell and back, not once, twice or thrice. How I survived that last accident is a puzzle to me. My motorcycle was completely destroyed yet I survived," Injendi says.
He says he has been involved in more than 10 accidents at the same spot where he has been operating from since 1998.
Black spot
On December 2018, at the same spot, Injendi escaped death in an accident that claimed at least 11 lives. It involved a matatu and a tanker.
At one point, Injendi contemplated quitting the 'dangerous' boda boda job after cheating death many times.
Days later, a driver lost control of a Malaba-bound truck while descending Chimoi slope and knocked down a police officer at the Kaburengu junction.
"Again, the truck missed me by inches," he recalls.
In yet another incident, Injendi found himself sandwiched between a security company lorry and a truck which had collided just after he had navigated his way to safety..
With a fractured foot and back injuries after the tenth accident, Injendi has been forced to abandon his boda boda business.
"I have been maimed and my motorcycle was destroyed in the accident. Without a leg and a motorcycle, my life could take a different trajectory when I leave this hospital bed," he says.
He plans to shift to farming in order to continue fending for his family.
"I wonder what could have happened to my children and wife if I had perished in one of those accidents I have been involved in? I pity families who have lost loved ones," Injendi says.
After the August accident, there is a plan to build a market away from the highway and relocate the roadside traders.
Kakamega County government, in collaboration with the national government, will implement the project.