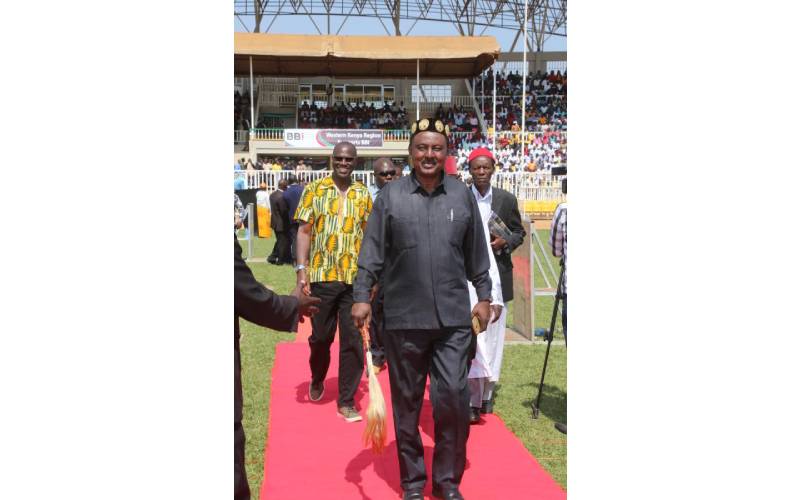 Luhya elders have declared support for the Building Bridges Initiative (BBI) even though a number of their proposals were not fully captured in the final draft.
The elders led by Wanga Kingdom's King Nabongo Peter Mumia want the report to be passed and be implemented before more changes and additional proposals can be instituted in the near future, including theirs.
King Mumia, who doubles up as patron for the Luhya Council of Elders, concedes that not all views made to the Garissa Senator Yusuf Haji led team can be captured in the report.
The Wanga Kingdom made two submissions to the taskforce but most of their recommendations were not captured.
"We as a kingdom made our proposals and we thought they were going to be captured, but we have accepted that we can support the report as we welcome another chance to push for our plight," said King Mumia.
Read More
In their proposals to the task force, the traditional leaders requested they be constitutionally recognised and be allowed to enjoy a set of privileges as guardians of the ancient African cultures.
The traditional leaders wanted the BBI team to build on the current constitution that recognises culture as a foundation of the nation but it is silent on the roles of the cultural leaders.
They also wanted a council of elders to be set up in all regions whose role will be custodians of cultural activities and coordination of government activities at the grassroots level.
In their submission, the traditional leaders also wanted their representatives to be nominated to the National Assembly, the Senate and the county assemblies.
"Two members of the National Assembly nominated by a political party forming the government, one man and one woman to represent Traditional or Cultural leaders," read part of their recommendations made to the BBI taskforce.
King Mumia said they would allow the current proposed changes to go through but urged Parliament to legislate laws that will resolve their worries.
"Amendments to the constitution will always be there and the place BBI has reached, we should let it go on and then we will sit again and review it in the future," said King Mumia.
He castigated leaders opposing the report for not allowing dialogue and indulging in personal and political benefits of the proposed reforms.
King Mumia, who was flanked by Ali Wamanya, Fedrick Osundwa, Kassim Wangalwa and Ishmael Osundwa among others, called for soberness even as debate on whether President Uhuru Kenyatta and former Prime minister Raila Odinga will allow room for the report to be reviewed to address contentious issues.
"We both know it will be hard to get a non-contested referendum but if there is room to win more support from the opposing parties let's embrace it," said King Mumia.