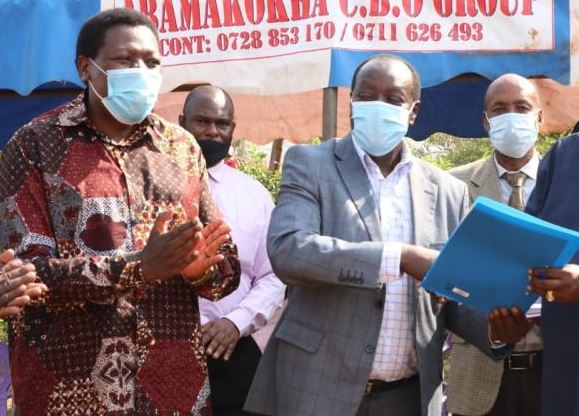 Kenyans have been told to hold governors embroiled in graft deals accountable.
According to Devolution Cabinet Secretary Eugene Wamalwa (pictured left), corruption has negated the gains of devolution and dampened the spirit of ordinary citizens across the 47 counties.
"In as much as we celebrate devolution that was envisaged as a catalyst of development in the 2010 constitution order, we should not be complacent because there are a myriad of challenges including corruption that threaten the success of county governments," said Wamalwa.
"The essence of devolution was to help Kenyans engage in participatory democracy where decision making is done closer to them and not Nairobi and aligning that to local priorities through county chiefs elected by the people," he argued.
Read More
In an interview, Wamalwa said Kenyans ought to take keen interest in the management of counties and hold governors to account for every single cent received for development purposes.
He said people must interrogate the County Integrated Development Programmes (CIDPs) and get fully involved in budget-making process to be able to know how much money will be spent on a particular project.
"Where the county administration has diverted funds meant for a given project or embezzled the money, Kenyans must be able to demand that every cent is accounted for, President Uhuru Kenyatta is clear on war against corruption, we have seen high profile arrests being made something that has never happened before."
The CS said whistleblowers must come out to unearth the rot in counties so that those implicated can be brought to book.
"Kenyans must feel free to report corruption deals to institutions mandated to fight the vice including Ethics and Anti-Corruption Commission (EACC), Director of Public Investigations (DCI) among others."
Wamalwa wondered why counties spend huge amounts of money on recurrent expenditure and procurement of vehicles as opposed to investing in development projects that would transform lives.
"It is a trend we would like to change by encouraging the devolved units to focus more on collecting more own revenue that would complement the sharable revenue from the National Treasury."
He said counties could easily realize more own revenue collection by embracing new technology.
Wamalwa supported clamor for constitutional changes through the Building Bridges Initiative (BBI) a move he said will help make devolution a centre of development in the future.