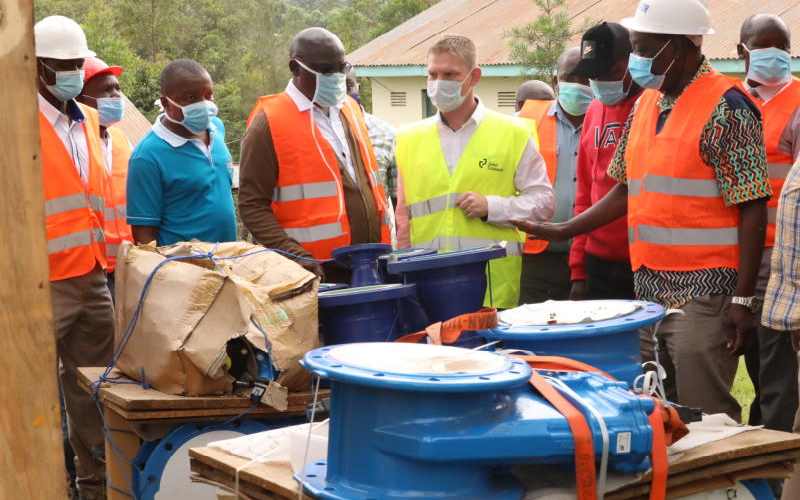 Over 200,000 families are set to benefit from a Sh1.7 billion water project that has been initiated across Vihiga County.
The project that covers all the five sub-counties is sponsored by the Belgian government in conjunction with the county government. It aims at giving residents access to clean and safe water.
Dubbed Vihiga Cluster Project and divided into three phases, it was started more than four years ago but stalled due to financial challenges and is now at 95 per cent complete.
The Maseno phase of the project will serve residents of Emuhaya and Luanda sub-counties, Mbale phase to serve Vihiga and Sabatia sub-counties and the Kaimosi phase to supply water to residents of Hamisi.
Key institutions set to benefit from the project include Maseno and Kaimosi universities which have already signed agreements with the county.
Read More
"The project has been ongoing since 2017 and it is expected to be complete by the end of the year and the water to homes be commissioned early next year," said Governor Wilber Ottichilo.
To facilitate and cut down the cost of pumping the water to institutions and homesteads, the three water stations have been installed with solar panels.
In addition, each station has water tanks for storage, the largest having a capacity of 500,000 litres. Underground piping to institutions has already been done and the project is awaiting final plumbing works before it starts to produce water.
"We have had various financial challenges as a county, but I am glad to see that this project is being completed. Many homesteads will now have piped water and with time, we shall no longer be depending on streams and springs for water," said Dr Ottichilo.
Samuel Delobbe, the Belgian project manager, said the project will increase urban water coverage in Vihiga from 17 per cent to 50 per cent.
"We have qualified engineers who are doing excellent work," Said Mr Delobbe.