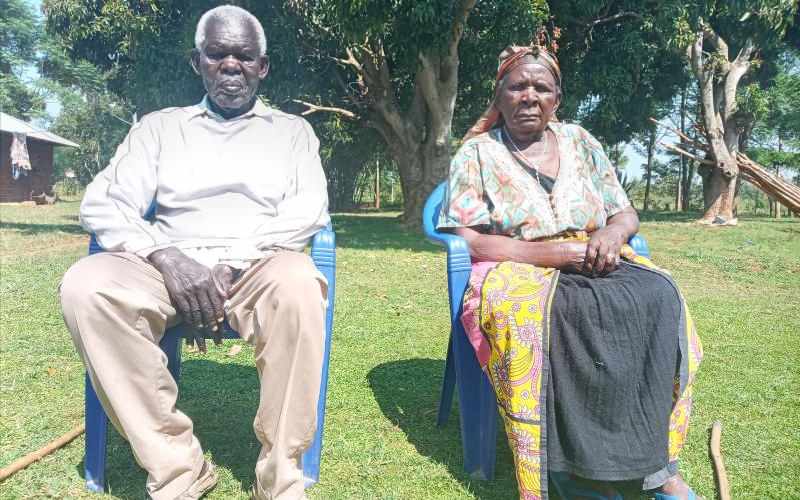 A nonagenarian facing eviction from his five-acre land at Naluchekha village, Funyula constituency, has appealed to the National Lands Commission to intervene.
Washington Abangi was allocated the land by his elder brother Edward Pamba in 1966.
Pamba, who is now deceased, demarcated the land he allocated his brother with beacons which are intact to date.
Abangi, 92, constructed a house on the section of his piece of land where he lives with his wife, Janerosa Nerima who is 90 years old.
Currently there are two houses on the parcel of land.
Read More
One belongs to the couple and the one is for their son, Patrick Abangi.
The couple lived a peaceful life up to 2002 when his brother died and trouble started.
The former civil servant says he doesn't have elsewhere to call home and he is too old to vacate.
Court order
The eviction order from the Busia Law Courts reads in part: "You are hereby notified by this honourable court that the said plaintiffs be put back in the possession of L.R. No. Samia/Budongo/2054."
Nabwire Pamba and Geoffrey John are the plaintiffs while Washngtone Abangi, Patrick Abangi, Wasia Oluma, Henry Abangi Aluma, Sylvester Ouma Wasia, Allan Ochieng Wasia and Vincent Barasa Wasia are the defendants.
According to Abangi, the plaintiffs are his late brother's children.
"My late brother's children want me to leave. Where do they want me to live?
"They would rather kill me than push for my eviction," he said.
"Why things changed suddenly against us is what we cannot understand but we are hopeful that concerned government agencies will dig deeper into the issue and help us," Janerosa, his wife, said.
But the John maintained that as far as he is concerned, they are illegally staying on that land. He said they have had court court battles from 2004.
David Ashioya, a lawyer in Busia argued that Abangi is protected by the laws of adverse possession and therefore he should not be evicted from a piece of land he has stayed on with his family for over 50 years.
"When I stay on your land, build on it or just farm on it in peace, no disputes, continuously, after 12 years, I can ask the court to order that it be registered in my name. That is the concept of adverse possession," said Ashioya.