River Nzoia bursts bank, leaves 60 families homeless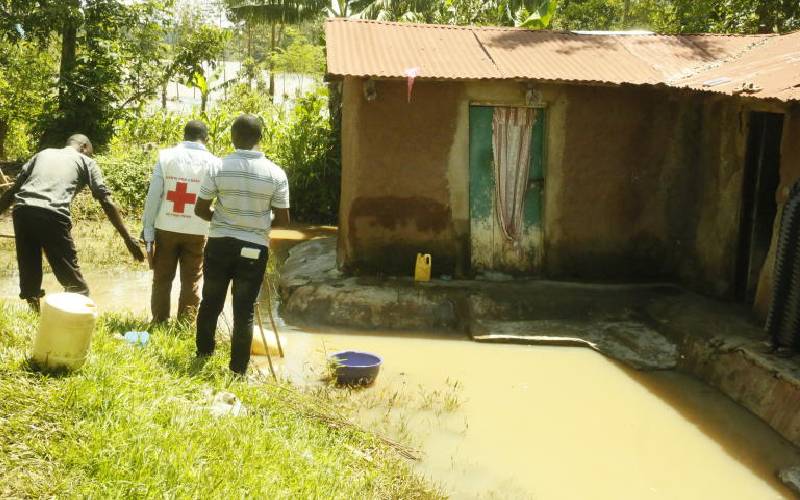 At least 60 families have been displaced after River Nzoia burst its banks following heavy downpour in the western region.
The families from Shibale, Mumias West Sub-county, are now camping in temporary shelters at Shibale Primary School after the Sunday night rains.
There is still looming danger for about 5,000 other households living along the Nzoia banks as water levels continue to rise.
According to Mary Amakobe, 60, the heavy rains that fell in the region on Sunday night had left them counting huge losses.
"At around 3.15am, my family was woken up by roaring waters. I switched on the lights and to my disbelief, my sitting room as well as bedroom were submerged," she said.
Paul Simiyu, a village elder, said the flooding was perennial and called on the government to find a lasting solution to the problem.
Mumias West Deputy County Commissioner Peter Thiong'o said the affected households would be moved to safer ground.
"We are looking at how they can be helped as they have lost most of their property. We are evaluating the nature of the destruction and will advice accordingly," he said.
Bungoma County Metrological Director Noah Eledi said all those living along river banks and in lowlands have been advised to move to higher ground.
"The ongoing heavy rainfall is more than 30mm and is being experienced over several parts of the country," he said
"In Western Kenya, the rainfall intensity will progressively increase to 40mm and is likely to be accompanied by lightning and thunderstorms."
This comes in the wake of revelations that the affected Shibale families live on riparian land.
Other regional rivers that are almost overflowing due to the rains include Malakisi, Lwakhakha, Yala and Iguhu.