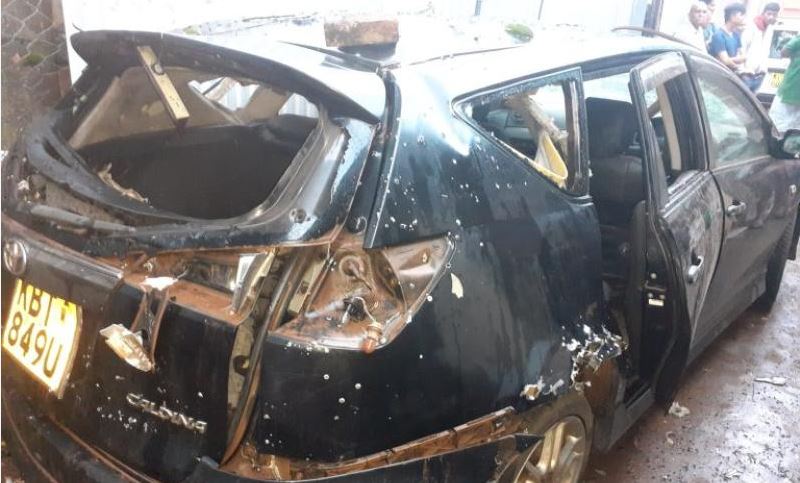 Police shot dead a former GSU officer suspected to have bombed a car belonging to a businessman in Bungoma town.
The suspect, identified as Victor Nganga, 26, allegedly defied police orders to stop before attempting to fire at the officers using a pistol.
The incident was reported at 6.30pm on Tuesday. The deceased allegedly accessed the premise of an Asian businessman in Bungoma town on Monday evening and robbed the owner of cash before bombing the car using an Improvised Explosive Device (IED).
Bungoma Police Commander Musyoki Mutungi said police officers had been trailing the suspect and caught up with him about 23 hours later after the robbery incident.
"There was a robbery incident at Namachanja estate in town where the deceased robbed an Asian family and bombed their car using a hand-grenade. The victims managed to identify the suspect positively from the photos we had, but he had escaped by the time we arrived at the scene," said Musyoki.
Read More
Mr Mutungi said the suspect is believed to be a former GSU police officer according to documents obtained by police which were recovered from him after being gunned down.
Police officers confronted the suspect at the Bungoma Kenya power building while he was coming from a drinking joint, after which a shootout ensued.
The suspect was shot dead and a pistol was recovered from him, which will be sent for ballistic testing according to Mr Mutungi.
The police boss said the ex-police officer had been using six mobile phone SIM cards to do his clandestine activities.

A police officer who sought anonymity said they got a tip that the suspect was planning to steal from a wines and spirits shop within the Central Business District (CBD) but managed to foil his plans.
He said the suspect took advantage of the ongoing curfew to commit crimes.
Police believe the suspect received his training at the National Youth Service (NYS) and later joined the Kenya Police (General Service Unit).
He was reportedly posted to the Coast region but at the time of going to the press, it was not clear if he was still working with the government.