Families of fallen pilgrims receive donation from Museveni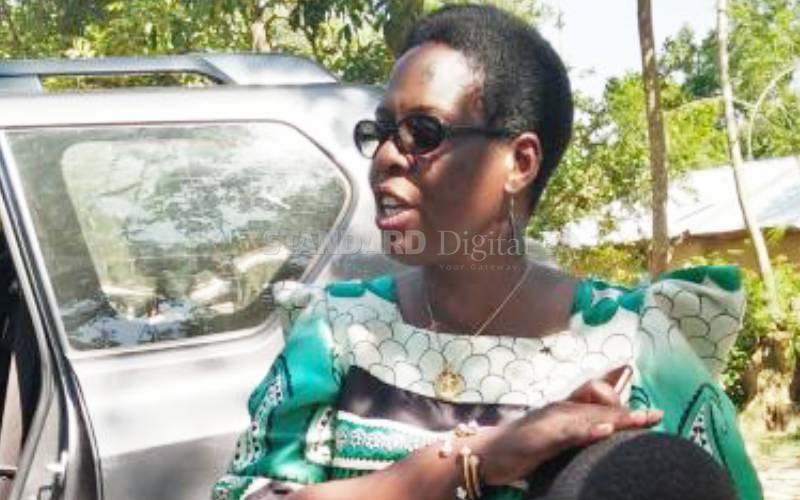 Families of four pilgrims that died and seven others that survived an accident in Uganda last year have received donations from President Yoweri Museveni's government.
Close to half a million shillings was released to the 11 families by Uganda. Of the seven that sustained critical injuries, four are yet to recover fully.
President Yoweri Museveni's administration through her High Commissioner to Kenya Phibby Otaala and second Deputy Prime Minister Alhajj Kirunda said the four require further examination and treatment.
The pair accompanied by Chief Administrative Secretary (CAS) in the Ministry of Foreign Affairs Ababu Namwamba condoled with families over the weekend.
A matatu hit the 11, killing four on the spot near Iganga when they were walking to a pilgrimage at the Uganda Martyrs Catholic Shrine in Namugongo.
150 pilgrims were walking to Namugongo at the time. Of the four who died, two were from Kisoko Parish, while the other two were from Naitiri parish. The two parishes fall under the Bungoma Catholic Diocese.
"It was an ugly incident that happened. The president of Uganda saw it was prudent to at least remember the families of those that died and those who survived by giving them something to enable them carry on with life," said Ms Phibby.
She continued, "Some survivors require to be attended to medically in hospital again. They did not get full medication due to financial constraints so we are going to help them."
Emmanuel Were from Emuramia in Nambale constituency lost his wife Sarah. Life has never been the same again. He has been staying with his daughter Leah Masinde in their grass thatched house.
Leah is in Grade Two at Nambale Urban. However, the Ugandan High Commissioner to Kenya Phibby has decided to take full responsibility of Leah including education.
Mr Were welcomed Phibby's move to sponsor the education of his daughter as a big relief .
"I am happy that the Ugandan government has remembered me. It is good news that my daughter will now go to boarding school," said Were.
Kenyan pilgrims trek to Uganda every year to honour the Ugandan martyrs.
Kevin Akila fractured his left leg in the accident and stayed at the County referral hospital for over a month.
His is still limping but remains optimistic that this year he will again travel to Namugongo.
He has gone to Namugongo five times and last year was the sixth one.
"After the accident Iganga church helped us and paid for our medical bill. The President has again send his team to condole with us, we do not take it for-granted," said Akila.
Pracisides Agutu from Sio Port is one of the survivors. She broke her collar bone and had internal bleeding. She cannot undertake heavy duties at home. The 20-years old Agutu is happy that she will at least go back to hospital and continue with medication.
She recalled that on the fateful morning, it was raining and visibility was poor. She is among those who received some cash.
"I do not know where the vehicle that hit us came from. I found myself in the hospital unconscious," said Agutu.
Last year was the third time she was walking to Namugongo. "I am ready to walk to Namugongo even this year," she said. Iganga is approximately 50 kilometres from the Busia border