Is Oparanya planning to dislodge Mudavadi as Luhya kingpin?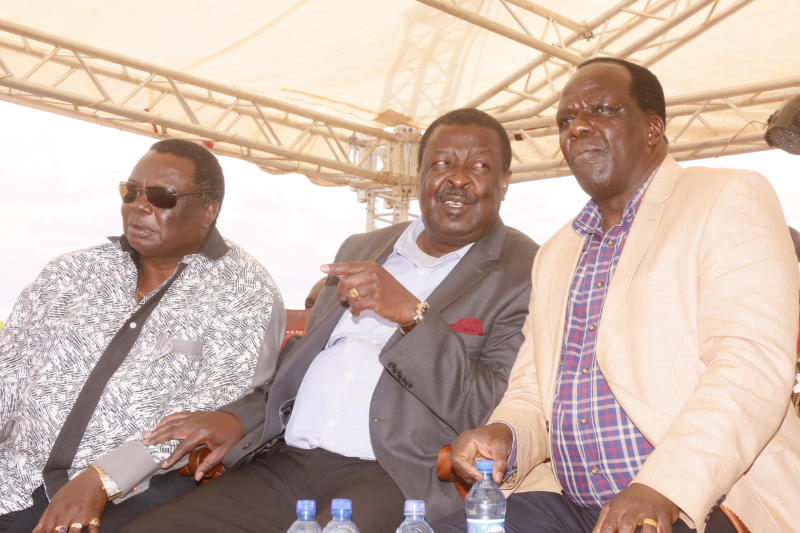 Is Kakamega Governor Wycliffe Oparanya planning to replace Amani National Congress (ANC) leader Musalia Mudavadi as the region's political kingpin?
All indications seem to suggest so.
Mr Oparanya believes Mudavadi, Ford Kenya leader Moses Wetang'ula and Devolution CS Eugene Wamalwa have failed to unite the region and have been working with Opposition leader Raila Odinga and Central Organisation of Trade Unions (Cotu) Secretary-General Francis Atwoli to be installed as the spokesman.
The governor, who is also ODM deputy party leader, has openly told the trio to pave way for him to steer the region's agenda at the national politics since he has never lost in any election.
Recently, at the burial of Malaha Isongo Makunga ward rep Lucas Radoli's mother, Oparanya told Mr Wamalwa that they have had the chance to lead the region many times but have let the community down.
"I have given enough time to some leaders to lead this region but they have failed us. The time to move on is now, those leaders should not expect any more chances to lead," he said.
He added: "I have all the credentials to lead the Luhya nation to national leadership. I am unstoppable."
This debate further escalated when Atwoli announced that there will be a Building Bridges Initiative (BBI) meeting at Bukhungu Stadium on January 18, kicking up a political storm in the region.
Raila's presence and his wife Ida at Atwoli's home during the announcement triggered the strong reactions. Oparanya was also present.
Lost touch
A close Oparanya ally who attended the meeting told Sunday Standard that the discussions revolved around elevation of the governor as the region's spokesman.
"Oparanya is to be named a Luhya spokesman in front of President Uhuru Kenyatta and Raila who will attend the fete," he claimed.
He said the crowning of Oparanya was to give Uhuru the perception that Mudavadi and Wetang'ula have lost touch with the community and that the Kakamega governor is the region's future.
The source said ODM is also not pleased with the recent engagements between Uhuru and Mudavadi and Oparanya will help promote the party in Western.
It's against this backdrop that Mudavadi and Wetang'ula supporters feel that the Bukhungu (II) meeting is a ploy to install Oparanya as a Luhya kingpin ahead of the next polls.
According to Isaac Otiende, the ANC leader in Kakamega County, Atwoli wants to install Oparanya as the region's kingpin with an eye on Raila's bid in 2022.
"Atwoli's wish is to make the ODM leader president in 2022. His job is to endorse Oparanya as the region's spokesman, who will in turn do what Mudavadi did in 2017," claimed Otiende.
But Oparanya has dismissed claims that the meeting was meant to anoint him the Luhya political kingpin.
"The Kakamega meeting is not meant to discuss Luhya unity or install anyone as a spokesman. Its main agenda is to discuss the BBI document. Other talks on our political direction or Luhya unity can be discussed in other subsequent meetings," said Oparanya.
He, however, said the Luhya community has to be part of the winning side in 2022.
Atwoli has also distanced himself from claims that he wants to anoint Oparanya, arguing that the meeting was meant to chart the community's stand on the BBI.
"Every Luhya leader must attend the meeting or else they will go into political oblivion. Bukhungu (II) meeting will be in 2021," said Atwoli.
ANC Secretary-General Barack Muluka told Sunday Standard on phone that Atwoli's work as Cotu boss is not to appoint spokesmen for the Luhya community every electioneering period but defend workers' rights.
Mr Muluka dismissed Atwoli's assertions that the community should work with Raila.
"If Raila has the magic to make Mudavadi or Wetang'ula president, how come he hasn't made himself President the four times he has vied? Atwoli is a divisive factor in the Mulembe nation," he said.
Strangers and outsiders
Wetang'ula has also reminded Atwoli that the Luhya community has its own leaders who must be respected and that he (Atwoli) cannot plan a meeting with 'strangers' to elect a Luhya kingpin.
"Atwoli sits with outsiders and says we go to Bukhungu to elect a Luhya leader? This is political conmanship with vested selfish gains and we cannot be party to it," said the Bungoma senator.
"Where did the Kikuyu community sit to elect President Uhuru Kenya as their leader and Kalenjin's to elect Deputy as their leader? When did the Luo community sit and elect Raila as their leader? You can't discuss such secrets even with your wife. We must learn to keep secrets," he added.