Denied titles for 35 years, villagers in dilemma as second eviction looms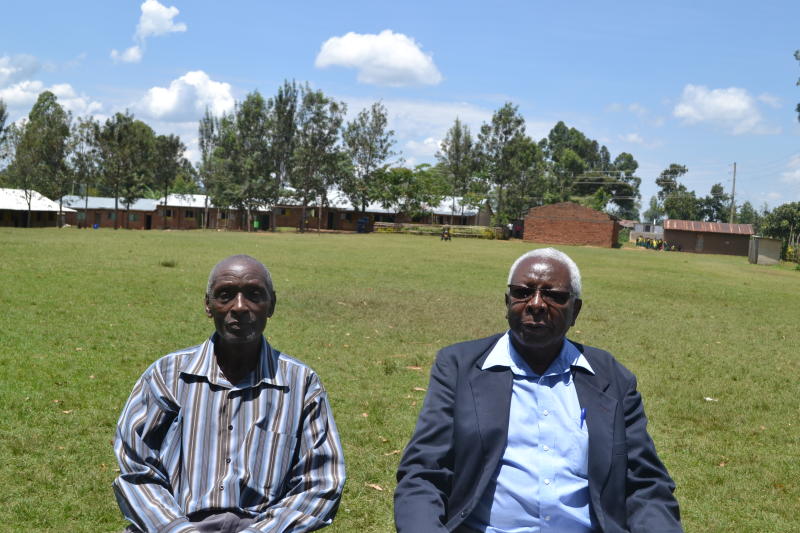 Bendeda Mayodi, 77, was first evicted from the land she called home in Mbale village, Vihiga, in 1984.
Back then, the Government said it needed land to build public facilities. Today, some of the buildings serve as the Vihiga County headquarters.
Ms Mayodi's was among some 5,000 families that had to leave.
She left behind the graves of her two sons and her father-in-law, breaking a long-held taboo in her community that when you move, never leave the dead behind.
The bond between the living and the dead among the Luhya is deep, and leaving their graves behind is believed to bring bad omen. The dead do not easily forgive the living who abandon them.
But Mayodi had no choice. She, and thousands of other families were bundled out of their land, with the promise that they would be resettled elsewhere.
According to Mayodi, the same Government that evicted her from Mbale resettled her at her current home at Nandwa Settlement Scheme.
Now 35 years down the road, the same Government is about to evict her again. She has until January to vacate Nandwa Settlement Scheme, her second home for more than three decades, or be evicted.
Unlike the first eviction when the Government allocated her some land to resettle, Mayodi has nowhere to go this time. She is destined for the streets.
Mayodi's tribulations began back in 1984 when some 5,000 families were evicted from Mbale, Bokoli, Mululu and surrounding areas to pave way for the construction of Government facilities.
Facilities built on the vacated land include a hospital that is today Vihiga County Referral Hospital, district offices now occupied by Vihiga County headquarters, Vihiga Prisons and several education institutions.
Collectively, the families surrendered 138 hectares in Mbale. Each of the evicted families says it was promised seven acres in a new resettlement.
The families say they were resettled in Shiru, Nandwa, Shabiringa, Cheptulu and Jidereri settlement schemes that were hived off Kakamega forest.
No title deeds
Decades after they were resettled, they have not yet received title deeds.
And therein lies the catch-22 for them: The families cannot go back to the land they gave up 35 years ago. They also have no proof that they own the land they have called home for decades, and have only until January to move out.
Mayodi's husband died two years ago, 33 years after the family was moved to Nandwa Settlement Scheme. He went to the grave uncertain about the future of his wife and family.
"I am now faced with the same fate I faced 35 years ago. I have to leave my husband's grave behind, which is a taboo," says Mayodi.
She is not alone.
At Jidereri Settlement Scheme, Fredrick Manoah Egunza scratches his white hair and shudders at the prospect of being evicted for the second time from land he calls his.
Egunza, 79, is also the chairman of the All Maragoli Community which consists of families displaced from their ancestral land to pave way for Government projects.
"I represent about 1,500 Maragoli families. But the victims of the Government's double-speak include Tiriki, Banyore and other Luhya sub-tribes," he says.
Like Mayodi, Egunza traces his troubles to the 1984 evictions.
"We were told to move and before we knew it, bulldozers were bringing down our houses and we had to run for our lives," he recounts.
He describes the Government's promise to resettle evicted villagers as a big, cruel lie.
"We later found out that this (resettlement) was a lie. At the beginning, there was animosity from our Tiriki brothers in Hamisi whom we found at Jidereri," he says.
It took two months of General Service Unit (GSU) patrols to quell the animosity between the two sub-tribes.
And just when they thought they had finally learnt to live together, Egunza and his neighbours are about to be evicted all over again, this time with no hope for resettlement.
"We don't know where we are going," he says.
The odds are stack against Egunza and fellow villagers- None of the families living on the vast settlement scheme that the Government now claims to be part of Kakamega Forest, has a single document to prove ownership.
But not for lack of trying. Egunza accuses the Government of frustrating efforts to formalise ownership of the land it gave the villagers 35 years ago.
"We have been pursuing ownership documents for many years without success," he says.
As the clock ticks towards eviction, the villagers are fast running out of options. They have since moved to court to challenge their eviction, but the wheels of justice turn slowly.
And time, is running out.
Vihiga Governor Wilber Ottichilo has promised to intervene. The governor claims that he has already written to the relevant Government offices highlighting the villagers' plight.
Whether the courts or the governor's letters will save Mayodi and the rest of the villagers from a second eviction, only time will tell. [The Writer is a Bertha Fellow]