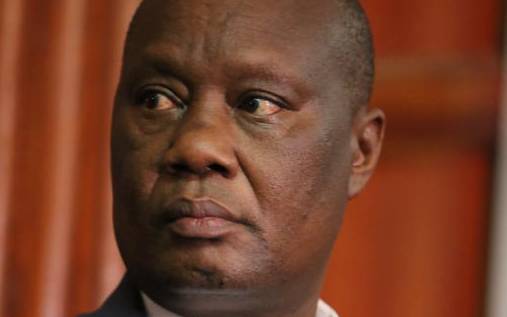 The 2022 succession for Busia governor's seat is turning out to be a battle between two dominant communities. The Luhya are demanding that the Teso should not field a candidate for the seat when Governor Sospeter Ojaamong' who is a Teso exits. But the Teso are hearing none of that and have insisted that it is their democratic right to field a candidate for the top seat in the next General Election. Nambale MP Sakwa Bunyasi and Matayos' Geoffrey Odanga have publicly asked the Teso to respect a pact they claim was made in 2013 that Mr Ojaamong should serve for two terms then in 2022 the Luhyas will produce the governor. Mr Odanga explained that is has been the tradition since the time of local government that the two produced mayors in succession. "We agree our brothers from Teso have a democratic right of vying but there is also need to respect the agreement, Ojaamong has led the county for two terms, it would be unfair for the Teso to field a candidate in 2022," he said.
SEE ALSO: Sh5b projects planned for western, Ukambani
Matayos MP said the Luhya will have themselves to blame if they fail to strategise to capture the governorship in the subsequent elections. "The idea of having many aspirants from Luhya side cost us in the last General Election, if we repeat that we shall have to blame ourselves," said Odanga said, and advised the community to rally behind one candidate to increase the chances of defeating the Teso. "I am ready to forfeit my ambitions if a serious and popular candidate emerges otherwise we are likely to miss the top county seat," Odanga said. Bunyasi insisted that the MoU must be honoured and warned Luhya politicians against engaging in supremacy battles. "We have to mean business if we truly want to have a governor from Luhya side if Teso region insists on supporting their own for governor again," he said. But Vincent Sidai, the former gubernatorial aspirant from Teso South and Oku Kaunya, the Teso North MP, denied claims of an MoU between the Luhya and Teso before or after the 2013 elections.
SEE ALSO: Locals threaten to recall MCA over Ojaamong ouster bid
"There was no agreement and there has never been one. If there was any MoU that was signed then it be made public for everyone to see," he said. He explained that if at all the agreement existed, the incumbent would have sailed through without facing stiff competition from former Funyula MP Paul Otuoma in 2017. Mr Sidai has exuded confidence that he will succeed Ojaamong in 2022. "Even in 2022 there will be many aspirants and the best man will win the race and the best man is none other than me because I gave Ojaamong a run for his money in 2013 and I mean well for the people of Busia," Sidai said. Teso North MP Kaunya said: "Political debts do not exist but people from a certain community can sit down and agree what they want and as far as I am concerned, there was no any agreement between the two sub-tribes."
SEE ALSO: Soaring number of sick drivers puts Busia in tight spot
While on a tour of Butula where his deputy Moses Mulomi comes from, Ojaamong promised to return the favour for the support the Marachi gave him. However, there are claims that the governor is torn between supporting his deputy or Woman Representative Florence Mutua. Ojaamong and Ms Mutua enjoy a good working relationship, raising speculation that he could back her to succeed him. So far, Luhya leaders who have shown interest in the governorship are Deputy Governor Mulomi, Mutua, Bunyasi, Odanga and Agricultural Finance Corporation Managing Director Lucas Meso. Former Minister Philip Masinde dismissed the debate about the MoU and said the two tribes should back a development conscious leader to take over from Ojaamong. "We should be talking about a person who can take Busia to greater heights but not a tribe pushing that it must have a candidate for governor in 2022," Masinde said. He said he was not privy to the said MoU but admitted that indeed politicians from the Luhya and Teso agreed in 2013 to back Ojaamong.