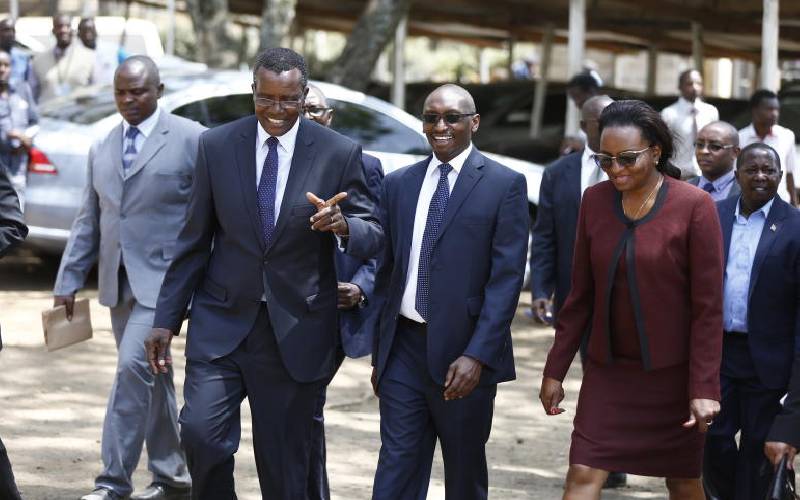 A court heard that the county repossessed a judge's prime land after he failed to develop it within two years of acquisition.
County Director of Physical Planning, Stephen Chune, said they thought the judge had lost interest in the land located within the town, and whose current value is Sh42,900,000.
Chune was last Friday replying to a petition where Nakuru High Court Judge Sila Munyao and his wife Linda Chepkorir Ruto have sued the county for encroaching into their land.
Justice Munyao said in court documents that the land - Kakamega/Municipality Block 111/7 - adjacent to Bukhungu Stadium, had been fenced off to look like it was an extension of the facility, adding that it was now being used as a parking lot during social events.
The couple moved to the Environment and Lands Court after a perimeter wall they had constructed round the 0.2025ha disputed land was demolished by employees hired by the county government.
They have also sued County Development Control and Dispute Resolution Committee (CDCDR) through its chairman, which had approved the construction of the wall.
In an affidavit, Mr Chune acknowledged that indeed Justice Munyao acquired the land in November 22, 2011, but added that he failed to make any developments within 24 months.
Through lawyer Phoebe Muleshe, the director said by the time the petitioner applied for permission to construct a perimeter wall around the land, he had long lost ownership.
He said the prayer to construct the wall was made on October 12, 2015 and was recommended, but was never approved.
Justice Nelly Matheka has barred the devolved government from collecting any rent and/or rates from the petitioners.
Justice Matheka further restrained the respondents from making developments on the property until the petition is heard and determined