Rebellious Athletics Kenya affiliates to know fate next Thursday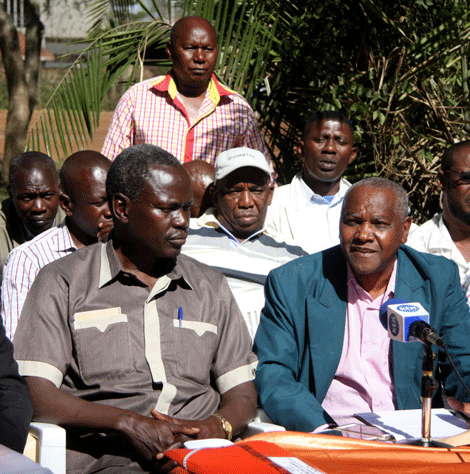 AK Executive delegates Jonathan Koskei, left, Paul Mutwii and others address a press conference at the Nairobi Public Service Club last month. [FILE]
A case restraining 14 Athletics Kenya regional chairmen from convening a Special General Meeting will be determined on Thursday at the Milimani High Court, High Court Judge Justice J. Sergon said yesterday.
Justice Sergen asked the two parties to verify the list of delegates and agree on the way forward, to which both parties obliged.
This follows an application by Abraham Mutai and five respondents that restrained AK members from convening a Special General Meeting (SGM) either on November 14, 2014 or on any other date pending the hearing and determination of the dispute.
The move came after Kwengu and Company Advocates, acting for the respondents, claimed the case was a simple dispute, which could be resolved amicably and that "it was wasting the Judiciary's time".
They said the AK constitution provides for the SGM and have a register of 1,350 delegates, which meets the one-third threshold to convene SGM. AK has at least 3,000 delegates.
Article 10.2 (c and d) of the AK constitution states thus: "A Special General Meeting may be convened for any specific purpose by the Executive Committee. Notice in writing shall be sent to all members seven days before the date... A Special General Meeting may be convened if requested for specific purpose(s) by writing to the secretary general of not less than one-third of members and such meetings shall be held within 21 days of the date of the request."
Present in court were AK Police chairman Jonathan Koskei (Kenya Police), Barnaba Korir (Nairobi), Joseph Kinyua (Eastern) and Paul Mutwii (Southern) as well as Paul Tutoek, who is listed as the sixth plaintiff in the case.
Koskei said they will stick to the law, while Paul Tuitoek, who is listed as the sixth plaintiff in the case, said he hopes the dispute will be resolved amicably. Earlier, the 14 chairmen had given AK President Isaiah Kiplagat 21 days to convene an SGM.
"Dead Beat" is not the answer to responsibility question.
I took time to scroll through the posts, comments and likes, most of which are negative and expose the "accused" to a mob justice mentality. The genuineness of Jackson to highlight on the problem, might have been an attempt to solve the cancerous problem in Kenya. Men and women alike procreate and abandon children to women to toil in up-bring. In rare cases, women also abandon their children with their grannies and head back to the city to search for better life with less burden on their necks. Others meet "potential" marriage material partners who do not wish to enter into a relationship with a woman with a baby. Children are often raised by single parents while the other parent misses out. Whereas there is no doubt that the problem is widespread and raises concern for the well being of the children. Exposing the cases on social media is far from being a solution to the underlying cause of the problem in a society which shy away from discussing sexuality. Posting images and comments