Tsavo West: Rich in animals and history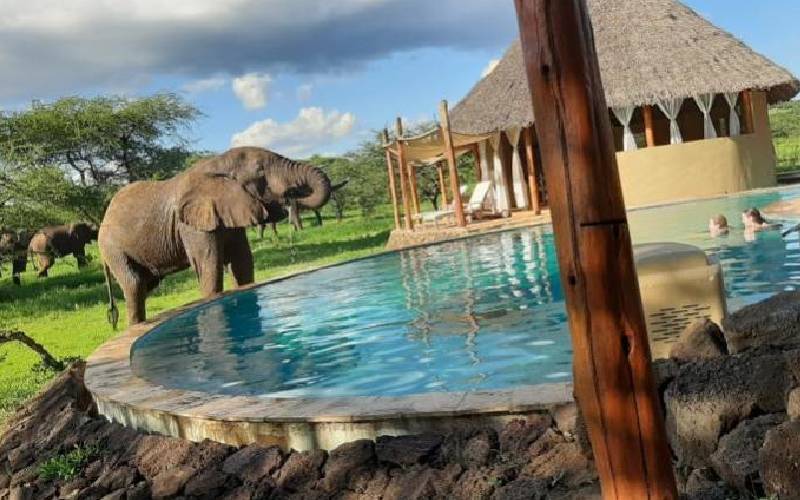 Even before you make the trip to Tsavo West National Park, one look at the map tells you that you are not going to just another tourist destination – or one of those 'safaris' where you may see wildlife.
Getting to the Tsavo West, these days, is both easy and cheap!
For 490 bob on economy on the SGR train, you quickly drop off at the pristine Mtito Andei terminus.
In our case, we are picked up by one of those splendid open long Land Rover cruisers from Severin Safari Camp, driven (and tour guided) by a pleasant, chatty and knowledgeable fellow called Tolu.
A short drive across the road, and one is already at the KWS (Kenya Wildlife Service) gate, where the fee per day is just Sh500. Then it is time for the 52-kilometre drive south, through the Tsavo West national park, to our destination.
If one turned east after the Serena Kilanguni Lodge, where many a political decision has been made by the powers-that-be herding there in secrecy like buffaloes at a watering hole, they would go past the Roaring Rocks (named after the numerous loud lions in the area) and the Chimu Lava, until they ended up at Ngulia Lodge.
Straight east of that is the Man-eaters' Signal Hill, said to be where lookouts were placed for the (then) man-eating lions of Tsavo, a story we will return to later in this piece.
Then one can go back West on the First World War Resupply track – yes, the Brits and Germans fought here over a century ago – that lies just north of the Tsavo River – until they get to the Kichwa Tembo Fort.
There is a Rhino Valley with Observation Hill at its bottom, the Rhodesian Hill, Fort Mzima, and finally, the Mzima Springs at the east edge of Severin Safari Camp.
The springs provide lots of watering holes for
Why rich Harold needs to pay me now
I have not had any source of income for years and I have dedicated my services to my uncle, who pays me with food and shelter, the former too little.