Protesters shut down Nigeria's finance ministry
AFRICA
Staff at Nigeria's finance ministry staged a protest on Tuesday, shutting down the headquarters in the capital Abuja for a second day and vowing to halt work for the whole week over pay demands.
By Reuters | 5 years ago
Nigeria wants to talk to Delta Avengers
Nigeria wants to talk to the Niger Delta Avengers militant group which has claimed a string of attacks that sharply cut crude output, its oil minister said, in an attempt to stem a tide of violence in the country's main oil-producing region.
Reuters | 5 years ago
Oil hits 2016 high on U.S. draw forecasts, Nigeria worry
Oil prices hit 2016 highs on Tuesday, with U.S. crude settling above $50 a barrel the first time in almost a year, on expectations of domestic stockpile draw and worries about global supply shortfalls from attacks on Nigeria's oil industry.
Reuters | 5 years ago
Militants launch attacks in Niger Delta as Buhari cancels visit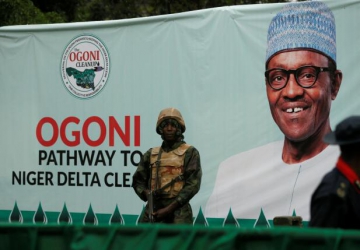 Militants launched new attacks in the Niger Delta on Thursday, vowing to bring Nigeria's struggling oil industry to a halt, and the president canceled a long-awaited visit to the region.
Reuters | 5 years ago