Good tutors are hard to come by
SUNDAY MAGAZINE
Like most parents of school-going children in the country, Baba Jimmy's head has been on fire throughout this term. Thanks to the teachers' strike, my children have been cooling their heels at home, leading to fears that their grades might plummet below the current low.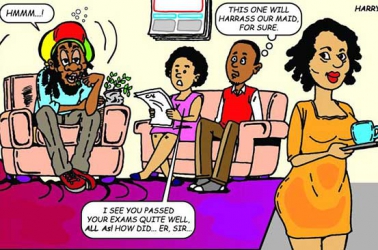 By James Maina | 6 years ago
Baba Jimmi: 'Player' stunned by surprise tackle
Someone once said that marriage is a three ring-circus, which starts with an engagement ring, followed by a wedding ring and, in some cases, ends in suffer-ring.
Joseph Maina | 8 years ago
A pregnant pause
Maggy occasionally visits the caretaker's hovel, and something tells me she doesn't go there to recite the rosary.
Joseph Maina | 8 years ago
When I grow up, I want to be famous
Every child has an idea of what they want to be in life. Traditionally, boys yearn to be artists, detectives, politicians and musicians.

Baba Jimmi | 8 years ago

;