Nairobi blast death toll rises to 10, one suspect arrested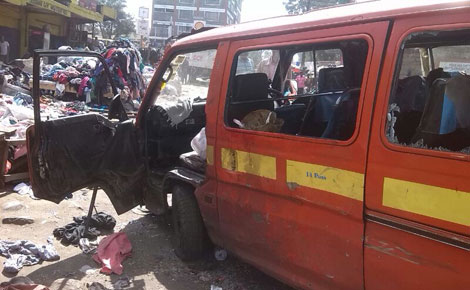 Gikomba blast PHOTO BY STANDARD
By CYRUS OMBATI
Nairobi, Kenya: 10 people we confirmed dead and scores injured Friday afternon following twin explosions in the populated Gikomba market, Nairobi.
Witnesses and police said victims are being rushed to hospitals as the National Disaster Operations Centre (NDOC) said the Kenyatta National Hospital (KNH) was on standby for casualties.
KNH spokesman Simon Ithae has confirmed they received eight bodies and 70 people with multiple injuries. Two people died on the spot, according to police.
Ithae made an appeal to the public for blood donations. "We need blood now please," he said.
Parts of Kamukunji Road were closed by police Friday afternoon following the attack.
Witnesses the attack in Gikomba happened in a 14-seater matatu outside a bank and another one near there.
Gikomba, which is one of the biggest markets in the region is usually crowded on Fridays. Police had difficulties accessing the area because of human and vehicle traffic.
The attack follows a high alert issued on Wednesday by several foreign embassies to their nationals. The British Government told more than 5,000 of its nationals who are in Mombasa to leave because of high threat of a terror attack and the US, Australia and France followed suit.
Kenya reacted angrily and criticised the advisory as President Uhuru Kenyatta said that none of the countries issuing travel advisories had shared any intelligence with the Government to justify their actions.
The Foreign and Commonwealth Office issued an advisory yesterday and advised against all but essential travel to Mombasa Island and the surrounding area following recent terrorist attacks and the continuing terrorist threat in the area.
"If you are currently in an area to which we now advise against all but essential travel you should consider whether you have an essential reason to remain. If not, you should leave the area. You can still access the Moi International Airport but we advise against traveling through Mombasa Island," read part of the advisory.
FCO advised against all but essential travel to Mombasa island and within five kilometer of the coast from Mtwapa creek in the north to Tiwi in the south.
This area does not include Diani or Moi international airport, the advisory added.
"To counter the shared threat of terrorism, the UK is committed to working with the Kenyan authorities to strengthen their capacity to investigate, prosecute and detain terrorists in line with international human rights standards."
Other officials said the threat is unacceptably high amid claims terrorists planed to strike Mombasa.
Mombasa is a favourite destination for many Britons and Europeans at large and such an advisory will definitely affect the tourism sector at large.
This is the latest advisory and of highest to be issued by Britain in a series that have negatively affected the tourism industry.
Police who talked to The Standard said they were not aware what necessitated the issuance the advisory.
Mombasa was on May 3 affected by two blasts that left three people dead. The first incident happened at a bus stop where at least two Improvised Explosive Devises went off at the crowded place killing three people and injured more than 30 others.
The second blast happened at a popular hotel-Nyali Reef but no injury was reported after another IED that had been abandoned went off as it was being taken into a sentry.
The incidents were followed other twin blasts on buses along Thika Road where three people were killed and more than 80 injured. No serious arrest has since been made since both blasts happened.
There has been a blame game between police and intelligence officials over the blasts. More than 20 blasts have happened under the Jubilee regime, which is now almost grounding the tourism sector.

ICC trial against DP Ruto adjourned
Deputy President William Ruto and Sang's case at International Criminal Court (ICC) has been pushed to June 16, 2014 due to logistical matters.