'Billions lost' in Central Bank of Kenya stock theft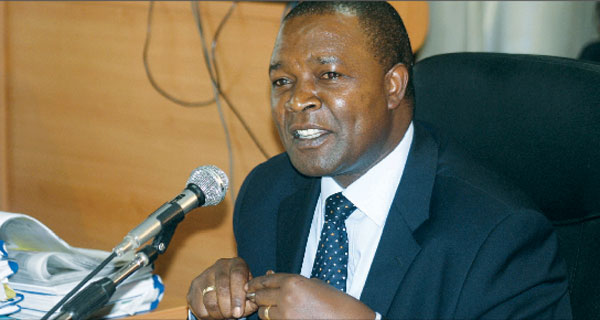 Central Bank of Kenya Governor, Prof Njuguna Ndung'u [PHOTO: FILE/STANDARD]
By MWANIKI MUNUHE
Nairobi,Kenya: Six people, among them blacklisted trader Fred Mweni, face possible criminal charges for allegedly creating and selling an undisclosed amount of fake Treasury bonds.
Recently concluded investigations by the Capital Markets regulator allege the group used the Central Bank's central depository system to create fake government bonds that were later sold to unsuspecting buyers in the Nairobi Securities Exchange.
During his tenure as managing director of Tsavo Securities, Mweni controlled a major portion of Kenya's market in bonds. He recently claimed to have originated at least 25 per cent of the Sh567 billion in bond transactions done last year. In an affidavit filed then withdrawn from court last year, Mweni claimed Government lost at least Sh2.6b in stolen Treasury bonds. Now he and four others have been drawn into the net cast around fraudulent trades executed during a computer system migration.
Two of the suspects, including Mweni's brother Bokole Masha and a Central Bank of Kenya manager, are currently on trial for allegedly stealing Sh105 million worth of Treasury bonds. Also charged is another CBK employee, who is excluded from the new list of six suspects being probed over the fake government bonds.
Six months ago, Mweni, who was in court seeking to block his arrest and lift a ban against him and his firm, agreed to pay Sh39.5 million to CBK in compensation for the three 'stolen' bonds that put his brother in the dock. His attempts to stop authorities pursuing him further, however, failed following his refusal — citing client confidentiality — to assist investigations into other allegedly fraudulent deals.
Recommended prosecution
The Capital Markets Authority has recommended prosecution and "administrative sanctions" against Mweni, Masha, their company Tsavo Securities, a CBK employee, a director of Apex Africa and two directors of Manline Telecommunications.
Apex Africa describes itself as one of the NSE's top five stockbrokerage firms, while Manline had been faced with similar allegations to those facing Mweni. Some of the suspects have received between 10 and 15-year bans from working in any capital markets firm or sitting on the boards of listed firms. They are identified as Fredrick Tsofa Mweni and Bokole Masha (Tsavo), Moses Muregi (CBK), Brian Muchiri (Apex Africa) and Duncan Weru and James Wambugu (Manline). The documents from Capital Markets Authority seen by The Standard on Saturday do not indicate the value of the falsified government securities or the length of time during which the scam went on. In a letter dated August 20, 2013, to CBK governor Njuguna Ndung'u, CMA reports on the "findings in respect to the fraudulent creation of bond (sic) at the Central Bank of Kenya (CBK) and subsequent sale at the Nairobi Securities Exchange (NSE)".
The letter reads in part: "(CMA) has carried out administrative investigations into allegations relating to the fraudulent creation of fixed income securities at the (CBK's) depository system and their subsequent sale through the Nairobi Securities Exchange… in light of the findings, the Authority has taken administrative action against the persons and entities found to have contravened the regulatory framework."
The letter then goes on to list actions taken against the six individuals and two stockbrokers, Tsavo Securities and Apex Africa. This includes Muregi, who was the assistant manager in charge of monetary operations and debt management at the CBK. CMA also wants Criminal Investigations to look into the matter.
"We have recommended to the Director of Criminal Investigations that further criminal investigations be undertaken to inform prosecution in instances where criminal conduct is established to have arisen. The Authority has also briefed The National Treasury on the findings," reads the letter from acting chief executive Paul Muthaura.
Reached for comment by this writer, Muthaura refused to discuss the matter. "That is a highly confidential document," he said. "I do not want to comment on it." We were unable to immediately establish whether CID has begun investigations.
As reported exclusively by The Standard on Saturday recently, police are also looking into the theft of an unknown amount of cash at the CBK in notes earmarked for destruction. CMA's investigators add that the bond scam was made possible with the help of a line of credit from the Bank of Africa against "seemingly insufficient security". "The Authority has noted that the provision of a Sh100 million overdraft facility by the Bank of Africa (BOA) to Brian Muchiri on a seemingly insufficient security of Sh20 million (which) raises questions as to the role played by BOA in facilitating his conduct. We recommend that CBK… establish whether BOA's actions were proper within the confines of the CBK Prudential Guidelines and existing regulations."
CMA has disqualified Mweni, Muregi, Weru and Wambugu from being directors of any listed company or working for "a licensed or approved person" for a period of 15 years. This covers stockbrokers, dealers, investment banks, investment advisers, venture capital firms, credit rating agencies, collective investments and the like. Masha got a ten-year ban while Muchiri is locked out for seven years. Profits from some of the bond deals that got them in trouble will be surrendered and paid to the CMA Investor Compensation Fund account.