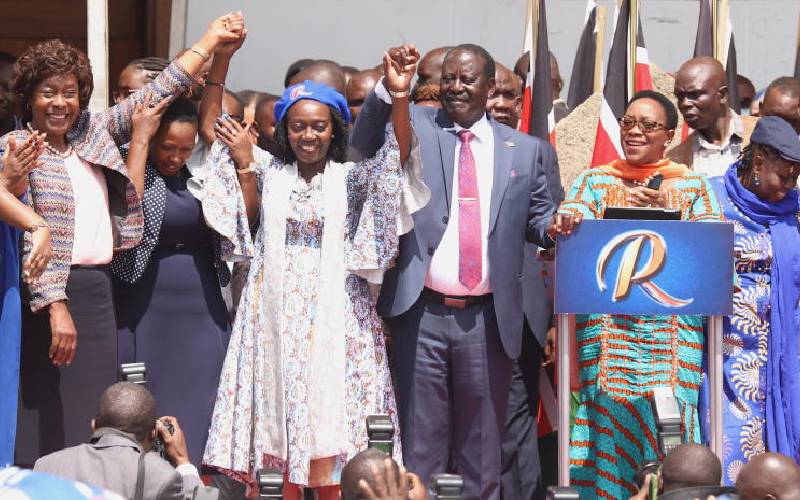 The Azimio-One Kenya presidential candidate, Raila Odinga, and his running mate, Martha Karua, make for strange and unlikely bedfellows. They have an interpersonal history that is rich in seasonal love and hate, and similar temperaments that work better when competing with each other than when seeking common goals. Their historical experience with one another could define the character of their possible future government, should Raila's bid to succeed President Uhuru Kenyatta as Kenya's fifth president bear fruit in the August 9 election.
In the lead up to the 2013 General Election, a journalist asked Karua, then the Gichugu Member of Parliament, if she would consider teaming up with the ODM leader, as a running mate. The response was crisp and caustic, "I do not share any values with the Prime Minister, Raila Odinga. Nor do I admire his politics. In fact, I have been calling upon him to go home together with President (Mwai) Kibaki. Both he and President Kibaki have been totally unable to uproot corruption from within their ranks."
With this, Karua rested the rising speculation that she would team up with Raila in the March 2013 elections. Raila's Pentagon allies during the botched up 2007 elections had abandoned him, one after the other, leaving him in a grim political wilderness. Those who deserted him included William Ruto, who left to team up with Uhuru Kenyatta in the Jubilee Alliance. Others were Najib Balala, Charity Ngilu, Joe Nyagah and Musalia Mudavadi.
Appointment of new judges
Karua had, for her part, fallen out with President Kibaki on 6 April 2009, over the appointment of new judges to the High Court and the Court of Appeal. In a style that closely resembled Raila's methods with Kibaki at the time, she made angry remarks against the president, and resigned from her Cabinet position as Minister for Justice, National Cohesion and Constitutional Affairs. With no love lost between her and the Uhuru-Ruto pair, it was speculated that she could work with Raila, or Mudavadi. In the end, all the three ran, in a race that Uhuru and Ruto won.
Karua had decried what she called an "untenable working environment," due interference with her ministry by the Office of the President. Kibaki had appointed and sworn in judges at State House, without her knowledge and concurrence. Besides, the appointments were made while she was on a foreign trip. She rebuked President Kibaki and the informal government around him, for what she said was their anti-reform attitude about the Judiciary. "Judicial reforms are necessary. However, I don't believe that as the Executive, by raiding the Judiciary we would strengthen it. Reforms have to be systematic. The Chief Justice and the Judiciary are reluctant to carry out reforms."
Karua and Raila appeared to be treading along the same path, to the same destination. For, a few days later, Raila irritably echoed Karua's sentiments on presidential decisions in the Kibaki Government. Then the Prime Minister in the Grand Coalition Government, Raila was cut to the quick by Kibaki's creation of new districts and populating the offices without consulting him, contrary to the grand coalition agreement and spirit.
"We are in government! We are saying we shall share things fifty-fifty! How now? If Kibaki was the one coming here, would the Provincial Commissioner not be here? Look at this shelter. Not even a toilet! Look at this carpet! This half-carpet they have brought here . . . Take away this thing!"
Anti-reformist relic
In spite of the mutual frustration, President Kibaki and Prime Minister Raila worked together to steer Kenya towards a new constitutional dispensation in 2010. Mutula Kilonzo, who took over from Karua in the Justice ministry, worked closely with them, together with Attorney General, Amos Wako, to deliver a new constitution. Karua missed the chance to play a key role following her resignation. Yet, even as she went about with a cloud on her brow, it was speculated that she might just find a meeting point with Raila and run as his deputy in the first election under the new constitution. It did not happen. She instead dismissed Raila as an anti-reformist relic and went on to offer herself to the Kenyan electorate for President.
Fast forward to 2022, Karua is today Raila's running mate under the banner of Azimio la Umoja-One Kenya Alliance. Had you looked at the two politicians nine years back, and all the way beyond to 2003, you would not have thought this possible. They were as distant as the North and South Poles of the planet Earth. In his autobiography, The Flame of Freedom (2013), Raila accuses Karua of playing a major role in the mess that was the 2007 presidential election. He believes that he was cheated out of victory. He has no kind words for the PNU brigade that claimed victory, and especially none for Karua.
Raila recalls part of the 2007 happenings in the following terms, "People had tampered with the results and it was not acceptable … We had not finished our conversation when Justice minister, Martha Karua, walked in looking very emotional. She said roughly that 'we need to conclude this exercise.' I watched in amazement as Kivuitu (the chairman of the Electoral Commission of Kenya) changed completely. Whereas he had been friendly with us, he now looked like a dog facing a leopard. As soon as I saw this, I knew our fate was sealed."
Karua and Chief Justice Evan Gicheru, whom she would fall out with in 2009, facilitated President Kibaki's hurried and secretive second inauguration at the crack of twilight, only a few minutes after the announcement of the controversial election result. Raila would later remark in his autobiography, "Kivuitu and his commissioners prepared to announce the fallacious result. In an otherwise empty room, Kivuitu sitting with his commissioners, announced Kibaki the winner … Within minutes, Kivuitu had left KICC in the car of Finance minister, Amos Kimunya, bound for State House, where he handed Kibaki the ECK Form 18 that declared him the winner of the presidential election."
Of the rest of the events and the people that evening, Raila has written, "Watching television, we saw them all arrive so hurriedly at State House. We looked at the faces of thieves, some of them obviously discomfited and finding it very difficult to show any kind of confidence in what was happening. No one believed them and they knew it." Kibaki had demonstrated that he had no regard for the rule of law and the power of the ballot, Raila writes. A civilian coup had been executed against Kenyans, he says, and Martha Karua was, in his view, one of the architects and owners of the coup.
But Karua and Raila were not always suspicious of each other. Both were beholden to the struggle for multiparty democracy in the 1980s and in the early 1990s. Together with other champions of political pluralism, they defined the Kanu Government as a common enemy. Karua, then known as Martha Njoka, broke into public space as a bold young lawyer, who defended in court persons who had been charged with sedition, among them multiple detainee Koigi Wa Wamwere and Raila himself. In this, she was enjoined with other kindred daring lawyers, like James Orengo, Gitobu Imanyara, Japheth Shamallah and Pheroze Nowrjee.
Beneath the surface, however, the deeper loyalties in both Raila and Karua flowed along different paths, with aspects of ethnic and familial inclinations. Hence, when the Forum for Restoration of Democracy in Kenya (Ford) emerged as the beachhead for expanded freedoms in Kenya in 1991, both Karua and Raila were a part of its Young Turks squad, despite Raila's comparatively older age. And when the beachhead bifurcated into the two mutually hostile camps of Ford Kenya and Ford Asili, Karua went with the Ford Asili strand of her Central Kenya kinsman Ken Matiba. Raila stayed with his father, Jaramogi in Ford Kenya. There were no fundamental dividers, apart from loyalty to the tribe, the family and the perceived leader.
Things did not work out well in Ford Asili for the young Karua, however. She was sidelined in the new party's rather shambolic distribution of positions in (party) leadership and hierarchy. Fortunately for her, the Health minister, Mwai Kibaki, resigned from the Kanu Government on Christmas day of 1991 and formed the Democratic Party (DP). She abandoned Matiba and Ford Asili for Kibaki and DP. It was the start of a remarkable and even controversial political odyssey that ended with the resignation of 6 April 2009.
Meanwhile, the then dark sunglasses trademarked Karua had remained a faithful soldier in the Kibaki political brigade. The now acerbic and easy-tongued politico would go to any length, to rub anybody the wrong way, for Kibaki. She seemed to be focused on Kibaki and what some saw as ethnic jingoism. The jingoist tended to overwhelm the reformist, as the activities of 2007/08, as captured by Raila, suggest. The same trait informed her support for a flawed draft constitution that Kenyans rejected in 2005. Some 58 per cent of the voters rejected the draft that attracted support and opposition alike, based not just on the draft but also on ethnic cleavages in a November 2005 referendum. Karua and Kibaki led the Mt Kenya community in one direction, while Raila was the captain of the other side. This controversial referendum gave birth to the infamous 2007 election clarion call of "one-against-forty-one," and the subsequent electoral catastrophe.
And when harmony and reconciliation was sought between the two conflictual sides in the immediate aftermath of the flawed election, Karua was listed among the diehards. Raila records in his book, "It was clear that we had been cheated of victory but equally clear that going to court – as some PNU diehards, especially Justice minister Karua were telling us to do, if we were not happy with the results – was not an option."
Mass action
Separately, Prof Daniel Branch recalls in the volume titled Kenya: Between Hope and Despair, 1963-2011, "From early on, the proposed solution from the mediators (in the post-election violence) was a power-sharing government. But both delegations of negotiators made up of hardliners – most notably (William) Ruto from ODM and Martha Karua from PNU – reaching agreement proved difficult."
Meanwhile, during that difficult time, Raila gave an interview to CNN, in which he said he would not call off the protest mass action that was the engine of the violence. "The people of this country are angry for what they have done," he said, even as his supporters lit up street fires amidst chants of, "We don't want dialogue, no Raila, no peace!" Raila promised to heighten mass action through strikes, boycotts and "all methods of civil disobedience."
Raila and Karua have come together against this background of historical mutual mistrust, the latest strange being the different positions they took on the BBI (Building Bridges Initiative) debate and process over the past three years. It will be of interest to see whether their pact, if they win the election, will last longer than the vexed one between Uhuru and Ruto. The two politicians have fairly similar temperaments and approaches. They do not hesitate to tell you what they think, on the face. Their possible future government is the substance of rich business for journalists.