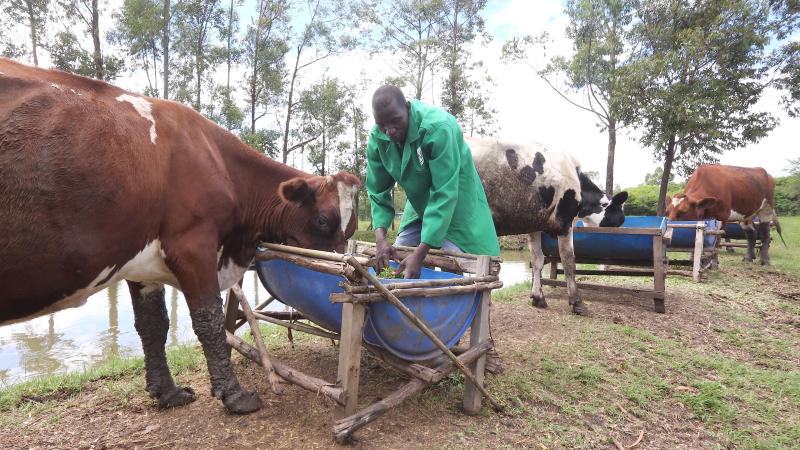 Barrack Oyombe is the typical example of what is popularly known as a hustler. With no academic papers, from an early age, Oyombe, 35, knew he had to work twice as hard as the average Kenyan to earn a decent living.
The father of five dropped out in high school due to fee problems, and moved to Nairobi in search of a job. After a year working at construction sites, he moved to Mombasa, where he stayed for another year.
Trial and error
"With no papers it was difficult to get any meaningful job, so I tried my hand at many things to test the waters," he says.
At some point he tried tomato farming but he quit and settled on dairy farming because it looked more promising.
"I got into this business seven years ago and I have gathered enough lessons. When I started, my first two cattle died, and I took a break to concentrate on other things. But a vet friend encouraged me and I went back to dairy farming," he recalls.
His vet friend introduced him to another friend from Rift Valley who sold to him a Freshian at Sh250,000.
Caring for cows
Within two months, the cow had sired, and Oyombe began to stabilise.
"I discovered that I needed to dedicate more time to caring for the cow. I was more keen on feeding, disease and pest control and the animals' welfare," he says.
And after a year, the business was headed the right direction, and Oyombe, got two more cattle.
Every year, he would buy two cows. Today, he has 16 cattle, assuring him of milk supply throughout the year.
At any given time, he has between five to eight cows lactating, with each producing between 15 to 25 litres of milk.
Oyombe says villagers come to his homestead to buy milk almost daily.
He sells a litre at Sh60. To guarantee maximum milk production, he is keen on feeding.
"To manage feeding costs, many people feed their dairy cows twice a day, but I do it thrice — 7am, 1pm, and 3pm," he says.
The feeding regimen
In the morning, Oyombe feeds his cattle on dry feeds; either dry maize stalk, common grass or dry sugarcane leaves, mixed with molasses. He says this makes the cows thirsty, making them drink a lot of water, which boosts milk production.
By noon, he feeds them on green nappier, mixed with dairy meal.
The cattle are then released into a paddocked area, where they freely move for two hours.
This relieves them of stress, which affects milk production.
And in the evening, just before milking, they are fed on hay, which can be supplemented with salt leaks, then they take water.
Oyombe ensures that each cattle takes between 60 litres to 100 litres of water a day, and between 20kg and 25kg of feeds per day.
He plants maize and nappier grass on seven acres of the farm to supplement the feeds.
To ensure it is good quality, the maize is not left to reach maturity, and is cut when it starts to produce stalks.
The feeds are planted at intervals to ensure availability season after season.
The farm is stationed next to River Nyando, which makes it possible to irrigate the crops during dry seasons.
As a strategy, he sells off the calves to avoid the costly and tedious care from infancy to maturity.
To help with work at the farm, he has three farmhands who help in feeding, milking and cleaning the shed.
"I spend Sh58,000 a month on labour costs," he says which eats into his profit margins.
To sharpen his dairy farming skills, three years ago, Oyombe attended a training by a dairy feed processing firm on best practices.
Latest trends
The training included how to take care of cows, heifers and calves, disease control, feeding and how to improve milk production, value addition and marketing.
"Frequent training is important to be in the know on latest trends. The best way to navigate this delicate business is to be knowledgeable, and skilled so that you can do most things on your own," he says.
He tapped into this skills to open an agrovet at the nearby Nyang'ande Shopping Centre, where apart from selling feeds, he also teaches locals on basics in animal husbandry.