Leaders defend Raila Odinga, deny harassing US investor over Dominion farms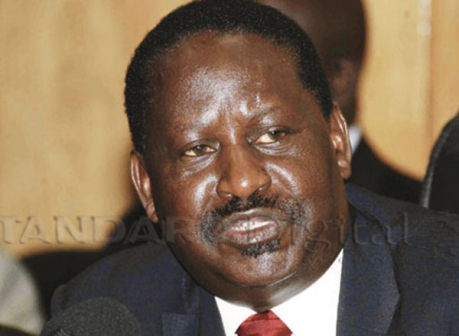 SIAYA, KENYA: Siaya County leaders reacted angrily to claims by an American investor, Mr Calvin Burges, that they have been harassing and extorting money from him.
Gem MP Jakoyo Midiwo, his Bondo counterpart Gideon Ochanda and Kisumu deputy Governor Ruth Odinga accused Mr Burges of looking for an excuse to abandon the Dominion farms project at Yalla swamp which they said was collapsing due to mismanagement and nonpayment of staff.
The leaders defended ODM leader Raila Odinga against accusations by Mr Burges that he tried to force the investor, who owns rice and fish farms at the Yalla Swamp, to fund his Presidential campaigns in 2007.
Jakoyo asked why Mr Burges declined to appear before the Parliamentary Committee on Agriculture which had summoned him if he was sincere in his claims.
Mr Burges has been having problems with local leaders and residents over his alleged failure to implement promises he gave to the locals in 2003.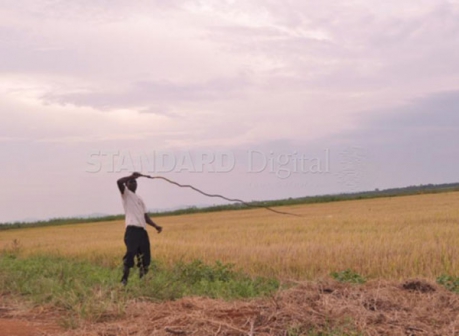 A farmer scares away wild birds at dominion rice farm in Siaya County. Over 6000 acres of land have been put into rice production. PHOTO: COLLINS ODUOR
"This man is very dishonest. In fact I suspected he was not sincere from the first day he set foot in Siaya. He is now throwing tantrums because his tricks and wayward ways of doing business have been discovered," said Midiwo who was among those mentioned adversely by Mr Burges.
The leaders argued that the investor was planning to run away because he had failed to honor the MOU he had signed with the now defunct Siaya, Bondo and County Councils that he would provide, water, build schools, hospitals and roads in the project area.
They said that it was because of the Dominion Farms activities at the Swamp that the Lake Kanyaboli was drying up.
Midiwo further claimed that the Dominion investor had created the same issues when he was running farming projects in Ghana before running away to Kenya.
Hollywood moves from words to action in Trump era
Hollywood is gearing up for a concerted response to the policies of US President Donald Trump, planning a pre-Oscar rally and a political action group as the show business world moves beyond angry speeches.