Luo Church began male cut a century ago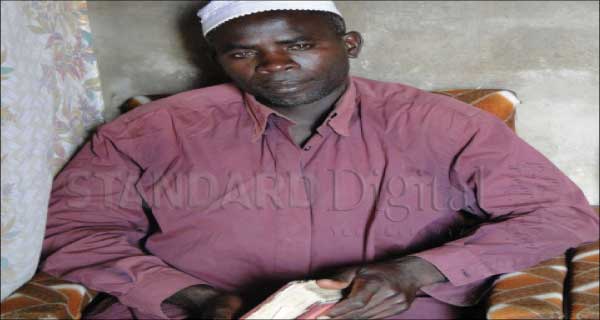 Daniel Omondi of Nomiya Church during the interview.
By ISAIAH GWENGI
Nyanza, Kenya: Held back by tradition, many people in Luo Nyanza were reluctant to embrace circumcision even as a way of reducing the spread of HIV/Aids. However, for Nomiya Church, this practice started long ago. Their men get circumcised as a sign of the Biblical covenant between God and Abraham.
Long before the government and non-governmental organisations encouraged the cut in Luo-Nyanza, the church was already way ahead. In an interview with The Counties, Hadroph Obore, the Nomiya Church Bishop, said that Nomiya Church was founded in 1907 by Johanna Owalo after he got a revelation from God that he should start a church in order to teach Africans.He therefore called the church 'Nomiya' which is a Luo word meaning 'being given'.
According to the church's history, Owalo was instructed to take a long sharp sword and circumcise his adherents as a sign of distinction between his adherents and other Luo men. Obore says there are certain procedures before the boys is circumcised.
Forty days
"After a baby boy is born, we count up to 7 days and on the eighth day, the baby is circumcised as indicated in Luke 2:21," says Obore. According to doctrines of the church, the mother is kept in seclusion for a period of 40 days after giving birth to a boy. For a girl, the woman stays in seclusion for 80 days.
"Our church doctrines demand that we keep a woman in seclusion for about 40 days if she gives birth to a baby boy and 80 days if it is a girl. This therefore gives her enough time to heal after giving birth," explains Obore. In conventional ceremonies, the cut is voluntary and is performed by qualified medical staff. But in the Nomiya Church, Obore says, only those inspired by the Holy Spirit can perform the ritual.
"Just like the hospitals where qualified personnel perform the cut, we also have specific people that would be inspired by the Holy Spirit to circumcise. And the person who is allowed to perform this is called a Sharif," says Obore. "Since this is a very delicate and involving process, not so many can perform it and we therefore have one Sharif in the entire Siaya County," he says.
Daniel Omondi, a member of Nomiya Church, says when one wants his son circumcised, they have to report the matter to the church elders. Thereafter, the Sharif is contacted. He will then pray over it having been inspired by the Holy Spirit.
Take time
However, Sharif is not an exception to righteousness. "He has to come a day prior to circumcision. He should not have slept with a woman," says Omondi.
Unlike in the old days where circumcision was performed using one blade, Omondi says that they now use sterilised surgical blades. "In this era of HIV/AIDS, we use sterilised surgical blades and we also invite a medical practitioner to perform the cut," Omondi adds.
Omondi says they hardly experience complications related to circumcision. "We rarely experience circumcision-related complications, but in case there is any, we do call medical practitioners," he says, adding that they have got the backing of organisations that perform voluntary male circumcision.
"Most people appreciate the practice since we have included the medical personnel in our activities and we also campaign for safe practice," he says. "We believe that a woman should take time after delivery before she can have sex. This helps in keeping the child healthy," says a member.