How we got into world of insect farming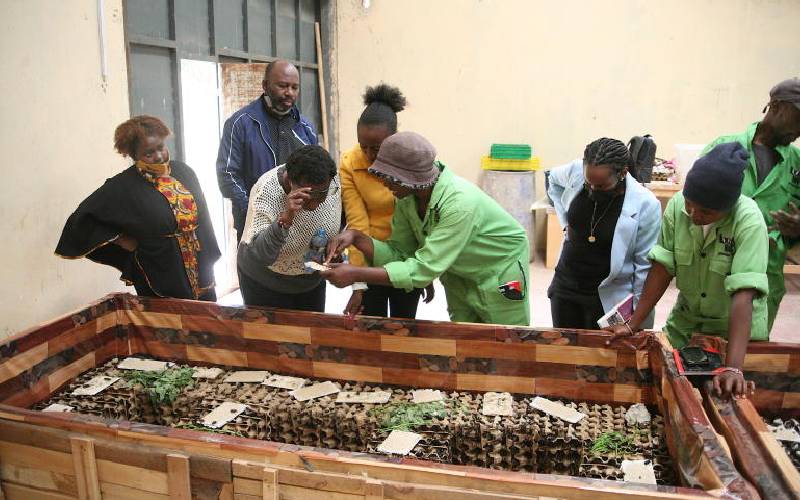 When Eric Shem Ariwi visited Kenya from his Hong Kong-based business in 2019, he never imagined that his visit would turn into a relocation to Kenya. Then Covid-19 set in and with it the travel restrictions that led to the global shutdown.
"When I left Hong Kong, I knew the company would run well in my short absence. Little did I know that the short visit would turn to a prolonged, uncertain one," says Ariwi, adding that it was only a matter of time before the firm started feeling the pinch of the consequences of the pandemic.
Soon, the international executive, cum globetrotter, who had spent 30 years building his Hong Kong based global business network in product design, was limited to the confines of his home at Maanzoni, Machakos.
Ariwi realised that things would not go back to normal, and as the world suffered the heat of the pandemic, his firm's fortunes took a nosedive. Then stress visited and before the former Egerton University alumni knew it, he suffered an ischemic stroke that left him weak on the left side.
"I was driving on Mombasa Road when suddenly I experienced confusion and before I knew it, I was involved in a minor accident," narrates Ariwi. The confusion did not cease when he got home.
When his partner Doreen got home, she found him in a state of confusion, realised that he had suffered a stroke, and quickly rushed him to hospital.
"That was in August 2019. Luckily, we were able to travel to Bangkok for rehabilitation which helped restore his walking with the help of a robotic gait machine," explains Doreen.
Ariwi says he felt like he had been given a new lease of life.
It is against this backdrop that the entrepreneur made a decision to focus on his childhood passion, farming.
The birth of a new idea
After all, he had studied agriculture while at Egerton University. To his advantage, he had a 21-acre farm where he had established a poultry business in 2012 that was difficult to manage from Hong Kong.
"It's great being with someone as energetic and creative as Shem, and I am glad that he has overcome the odds completely. Now we are redesigning our lives anew," says Doreen.
Today they run their business as a couple "more so as partners" she explains.
"The Hong Kong-based business is run remotely for the time being," she says.
Locally, their businesses, the poultry farm has taken a dramatic twist. The cost of feeds was hurting the business and the couple were looking into alternative feeds when Ariwi discovered Black Soldier Fly (BSF) and cricket farming.
"Online searches pointed me to insect farming as the next best protein source globally which led us to meet Dr John Kinyuru, principal investigator and director of research at Jomo Kenyatta University of Agriculture and Technology (JKUAT), who in turn introduced us to Dr Chrysantus Tanga at International Centre of Insect Physiology and Ecology (ICIPE)," explains Ariwi.
He says Dr Tanga was instrumental in setting up BugsLife, their farm, in 2020. Now the farm is a success story in the production of cricket-based protective food and BSF both for animal and human use.
Today, the farm is able to feed its 5,000 chicken and growing.
It also has a good clientele market that absorbs the excess insects for incorporation into pet foods that are available in local supermarkets.
However, there have been challenges. They explain that investing in farming never stops, and so far, BugsLife has invested Sh14 million into the construction of structures for the poultry and insects, farm equipment, training and training facilities, staff houses, water, and waste acquisition.
Then again, accessing waste for processing of insect food is a challenge due to waste cartels.
They said that when they started, they thought it would be easy to access waste from the markets and the mama mbogas, but to their shock and despair, "every waste heap belonged to someone who offered it at an exaggerated price. Getting the right personnel was also a challenge."
"However, we have since overcome these challenges," says Doreen.
BugsLife employs 10 youth and women from Mtalaani and 15 other workers for specialised roles and farm work when needed
Looking into the future
Going forward, their plans are to expand the business to be able to produce more tonnage compared to the 800kg a day currently. The plan is to package for the export market the protein and frass, "the organic insect fertiliser that is loved by green farmers for its properties," explains Ariwi.
BugsLife is making headway in cricket production, whose protein percentage overshot the normal bug protein at 76 per cent compared to 58 to 65 percent according to available data.
"This came as a surprise to Dr Kanyuru, who noted that the highest recorded protein percentage stood at 65 per cent," said Ariwi, adding that this was still under observation for verification.
Ariwi explains that since adding BugsLife farm to their poultry farm, they have received many visitors who come to learn about insect farming. Doreen adds that since the Covid-19 lockdown, people and communities have learnt how to travel with a sense of purpose.
Thanks to a partnership between JKUAT, ICIPE and Rockefeller Foundation, Bugslife is now looking beyond the rearing of BSF and crickets not only to feed poultry, but also as a lucrative agro-tourism business. Since they started insect farming, doors have been opened for the farm, thus making it vibrant especially during the difficult pandemic times.
Betty Kibaara, a director for Rockefeller Foundation's Food Initiative, says her organisation funded ICIPE to test sustainable business models for scaling up insect-based feed for poultry and aquaculture farming.
ICIPE's Dr Tanga says that developing the insect-based feed sub-sector was in line with the Government of Kenya's Big Four agenda on agro-processing and food and nutrition security.
He added that the Kenya Bureau of Standards' recent approval of standards on good practices, processing and integration of insect-based protein into animal feed has positioned Kenya as a leader in BSF production in Africa.
"The Rockefeller Foundation has partnered with BugsLife to explore how to create sustainable, nutritious and profitable systems that will positively change the current food and value chains," said Tanga.
"In recent years the need for protective foods has become undeniable. Under-consumption and lack of access to protective foods is an issue in high- and low-income countries alike – no region eats the optimal amount of protective foods," he says.
Doreen says BugsLife has benefited from the Rockefeller-ICIPE-funded training in which close to 2,000 farmers have been assisted to set up more than 20 small scale insect-based enterprises and to develop feedstock recipes for optimal BSF production, and feed formulations.
BugsLife is looking forward to be a member of the Rockefeller facilitated BSF Association of Kenya, a platform and mouthpiece for BSF farmers.
"This is a welcome idea, and will certainly address the challenges insect farmers' face, besides offering an interactive forum," says Ariwi.
"It is just a matter of time before we establish our BSF, Cricket and Poultry farming as a formidable global enterprise."
Good or bad: Which way video games?
Video games have a great influence on children and their developing brains, need instructions and guidance before getting immersed into such games.