Fading dreams and irony of democracy in South Sudan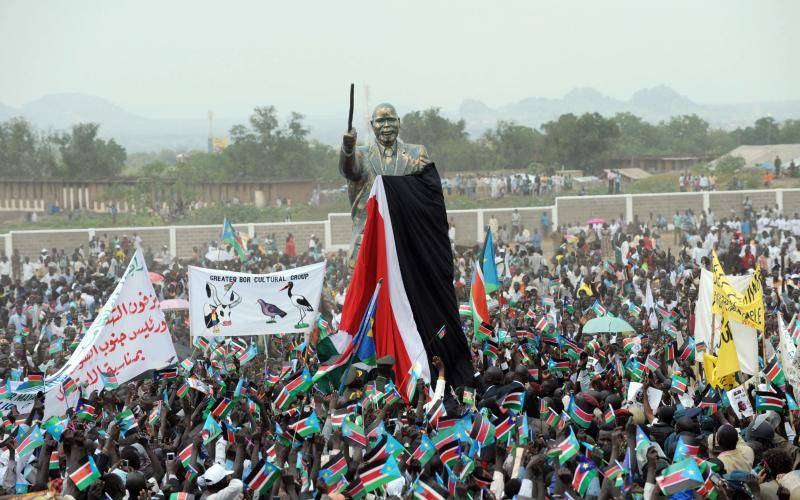 Aldo Ajou Deng-Akuey is a very disappointed man. Having worked hard to attain his PhD in history at the advanced age of 80, and having experienced South Sudan's journey to liberation firsthand, his own life is an appropriate metaphor for the young nation's initial ambitions and aspirations.
In a well-written manuscript of his upcoming book titled 'Evolution of the Sudan People's Liberation Movement (SPLM), 1983-2016', Aldo chronicles and contextualises the journey of South Sudan to independence. He evaluates its post-independence fortunes, and explains how its leaders have now turned the hard-earned freedom into bondage and dashed the hopes of many South Sudanese who had staked their whole lives on the independence dream.
It is indeed heart-wrenching to witness how this nation, conceived on the wave of hope and immense promise, is squandering its noble vision. In his book, Aldo gives a fairly unbiased and unembellished evaluation of the performance of the post-independent government of South Sudan. His work forms the basis of our reflection this week.
As the world's youngest nation, South Sudan could have had the best of all possible worlds. Born in the internet age when real-time events happening thousands of miles away can provide instantaneous lessons, the nation's founding fathers had the rare tabula rasa, and a great opportunity to benchmark proactively with the best governance and developmental practices around the world - as did the Asian Tigers. With bones of many failed or ailing African states ominously lying around, South Sudan had enough motivation to avoid a treacherous trajectory, and to create a just and prosperous future for its citizens.
East Africa alone was packed with enough lessons. The largest neighbourhood economy, Kenya, where a large portion of exiled South Sudanese were hosted (and still reside) has fairly robust economic practices, and a ready and skilled human resource. Tanzania, on the other hand, is a stellar exemplar of stability, ethnic cohesion and patriotism.
With the ascendancy of Samia Suluhu, it additionally shines in gender inclusivity. Rwanda's Paul Kagame could have been consulted on matters of peacefully running a country constituted of nigh-irreconcilable ethnicities, and assembling a world-class IT infrastructure in the process. Further north, Eritrea, a country born in near-identical circumstances to those of South Sudan (including having the former taskmaster as an unfriendly next-door neighbour) was enough study on why South Sudan should have eschewed war, chaos and carnage.
Instead, the SPLM failed to respond appropriately to national issues and the challenges of reconstruction upon assuming power. Moreover, the perennial and extremely violent antagonism between Salva Kiir and Riek Machar has guaranteed that peace remains permanently elusive. The most recent civil war actually ended as recently as February of 2020. There seems to be little binding the country together other than the shared history of colonial rule of the past.
Fiscally, South Sudan hangs on the precipice. The economy is in shambles, with high inflation rate (379.85 per cent in 2016, but declining). Some parts of the country are perpetually facing famine conditions, and more than 30 per cent of the population needs emergency food aid. Wikipedia ranks South Sudan lowest in the latest UN World Happiness Report, second lowest on the Global Peace Index, and as having the third-highest score on the American Fund for Peace's Fragile States Index.
With a population of approximately 11 million inhabitants and a land size of more than 600,000 square kilometres, this young country has become a veritable dystopian experiment, suffering from severe humanitarian crises and shortage of water and food amid plenty of natural resources, which include massive rivers, oil, youthful population and pristine equatorial forests.
The credibility of South Sudan's leaders has also been severely compromised as they continue to suppress their own citizens. There are allegations of glaring corruption, another opportunity being missed to benchmark with Kenya's own nefarious rendezvous with sleaze, perpetrated especially by the political class.
To be sure, many of the world's newest nations including Ukraine, East Timor, Armenia, Bosnia and Herzegovina, and Eritrea are synonymous with war, disaster and conflict. But again, this is more reason why South Sudan should not have so hurriedly commenced its early and undignified sprint to ignominy.
For a more durable political settlement in this country, Aldo Deng prescribes reducing political competitiveness at the level of high politics. This, he argues, should include institutionalising power-sharing and experimenting with rotational power among key ethno-political regions and most importantly, continuous peace maintenance by external actors in East Africa.