'My business partner plotted my abduction, stole Sh658,000 from me'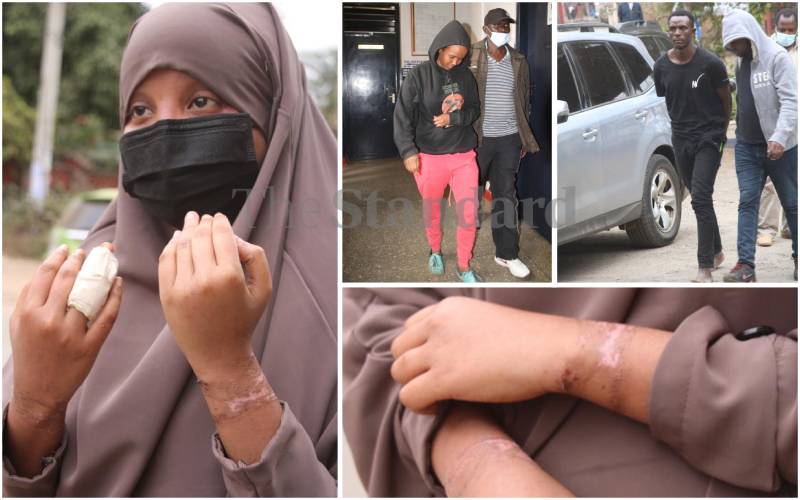 New details have emerged in the investigation of the kidnapping and torture of a 23-year-old woman in Kayole, Nairobi.
In what appears to be a well-choreographed abduction plan, Hafsa Mohamed, who was rescued by detectives five days after the kidnapping, now claims the mastermind behind the plan was her business partner.
Hafsa was kidnapped on June 15 in Kayole Junction and taken to a dingy house in Matopeni area within Kayole where she was rescued by detectives on June 20.
The main suspects were arrested by detectives from the Serious Crimes Unit in a lodge in Kinangop, Nyandarua County.
According to Hafsa, the woman ran a fruits store in Kayole and she had asked her (Mohamed) to partner with her.
"We had agreed to run the business as partners and my work was to oversee the daily operations as she went on with other activities since I didn't have money to contribute as capital," she said.
On the day she was kidnapped, Hafsa said she had been called over by her business partner to go collect her dues from the business.
"She owed me over Sh700,000 and on that day she said she was selling the store so she could settle my dues. I was hopeful when she called because she kept saying she had invested my money in farming and that she would pay after harvesting," said Hafsa, adding that she had run the business for a year.
She said the suspect picked her from Eastleigh where she has a shoes shop, and shortly after she arrived at the store in Kayole, Hafsa excused herself to pray.
"The woman was busy on the phone and within no time two men appeared and held me by the neck and started roughing me up. They blindfolded me, tied my hands and legs and put me in a water tank," she recalled.
Hafsa said she was ferried in the tank to the three-bedroom empty house in Kayole where she was rescued from.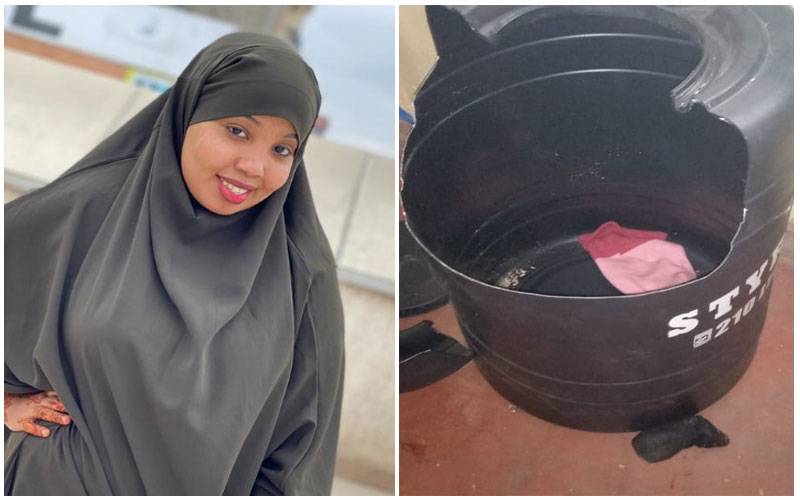 "They forced me to eat, gave me painkillers and recorded a video they sent to my sister, asking for money," she said.
In series of messages and phone calls made to Hafsa's family members, the kidnappers demanded Sh5 million to release their hostage.
Although Hafsa stayed in the room for five days, the kidnappers left the house the same night they captured her.
"I was blindfolded the whole time and since they had threatened to kill me if I screamed, I complied until I felt I could not hold thirst and hunger any longer. I screamed for help and I was rescued," said Hafsa, adding that hospital tests ruled out rape and drugging.
She however sustained bruises on the face, the legs and hands.
While in captivity, the kidnappers managed to withdraw Sh658,000 from Hafsa's bank account after the family failed to raise the ransom they demanded.
"I gave them my ATM PIN because I was scared they could kill me. They had my identity card too."
At some point, in the message exchange with a family member, the kidnappers demanded them to unlock the account so they could release her.
"You messed everything up by sharing her videos on Facebook. By the time you will find her she will be dead...," read one of the messages sent by the captors to the family.
Hafsa's brother Zacharia Lukman said they had locked the account to any transaction but later surrendered to the order to save her life.
"It was a whole week of distress for the family because we did not know what they would do to her," said Lukman.