Grand plan behind Uhuru Kenyatta and Raila Odinga 2022 election coalition pact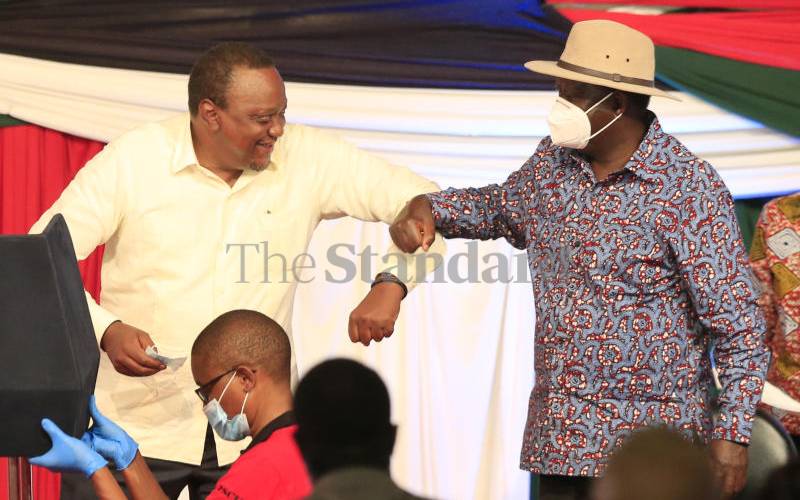 The planned 2022 pre-election coalition between Jubilee and ODM has lifted the lid on a grand scheme for a joint presidential candidate to face off with Deputy President William Ruto.
President Uhuru Kenyatta and ODM leader Raila Odinga have already started talks to craft a coalition.
The game plan, according to insiders, is to bring on board all political parties in support of the Building Bridges Initiative (BBI) to back one candidate for the presidency.
Kanu led by Baringo Senator Gideon Moi is already in a coalition agreement with Jubilee while Wiper of Kalonzo Musyoka is also in a cooperation pact.
Kalonzo on Wednesday said that he was ready to join hands with Jubilee and other players to ensure they capture power in 2022 polls.
He revealed that he has no problem with ODM forming a coalition with Jubilee. "We have a cooperation agreement between Wiper Party and the ruling Jubilee Party, and others are welcome to join and if the idea is for looking for political power, then we are in it together; there is no looking back," said Kalonzo.
Jubilee Secretary General Raphael Tuju said the intention is to bring on board willing parties.
He explained that crafting a political coalition requires a lot of consultation and consensus to avoid suspicion "It has always been our intention to bring on board everybody, but you know it has to be alliance of the willing. Any other parties are welcome. Alliance crafting requires a lot of consultation and consensus, and that is what we are currently engaging in with ODM," said Tuju.
Kanu Secretary General Nick Salat said the next government would be formed by parties in support of the push to change the Constitution, which will form a formidable outfit to face off with Dr Ruto.
"As you can see, there would be no outright win for one entity; people have to join hands. The winning outfit will come from the parties that support BBI, which include Kanu, Jubilee, ODM, Wiper and ANC. There is room for all like-minded political players," he added. He noted that the country was yet to witness real realignments for purposes of the next polls, saying that the current political maneuvers are not cast on stone.
"Things will change; new formations will come. The winning team will come from the pro-BBI and Kanu will be part of the next government," he said.
Amani National Congress (ANC) leader Musalia Mudavadi and his Ford Kenya counterpart Moses Wetang'ula said that the country should anticipate a lot of political movements. The duo separately disclosed that there were ongoing talks on formation of an alliance.
Mudavadi said that such talks will only be affirmed by depositing instruments of agreements with the Registrar of Political Parties.
"A coalition can only be deemed to have been consummated when instruments of agreements are deposited with the Registrar of Political Parties. What we currently have are emerging alliances," said the ANC leader. "The country should anticipate a lot of movements. You will hear more. These are conversations. There would be many formations that will emerge, different parties are talking," he added.
Similar views were shared by Wetang'ula, who said: "Even Wiper is in a cooperation with Jubilee and that does not stop them from furthering other engagements. In politics, anything is possible."
"There will be new formations moving forward; they will mutate and what you see now may not be what you will see a few months to elections," he added. National Assembly Minority Leader John Mbadi and Minority Whip Junet Mohamed said that talks between Jubilee and ODM could rope in other players in crafting a political behemoth for the forthcoming contest.
"We are discussing with Jubilee about 2022 pre-election agreement and it may end up involving many people. We are going to form a bigger coalition," said Mbadi, who is also the ODM national chairman.
"There is a possibility that other formations will come on board," he added.
Junet revealed that they will reach out to other political players in crafting a formation that will face off with Ruto in elections.
"We are not going to lock out anyone from joining forces with us, but for now, we want to lay the ground and foundation for the new coalition," he said.
Cotu boss Francis Atwoli said that the country should prepare for a two-horse race in the presidential race.
He noted that forming a coalition was the only sure way of winning the presidency.
Atwoli appealed to other political players to join hands with the 'Handshake' partners in crafting a new alliance for the contest.
"Let those who think they can go it alone try. In the long run, there will be only two horses. Presidential campaigns require massive funding and mobilisation that can only be achieved through political alliances. It will be a race of two horses; any other would be dead on arrival," he said. Already, Ruto has told the President and Raila to bring it on as he is ready to face off with their joint candidate in the 2022 presidential contest.
"I have heard them talk about Jubilee and ODM coming together. Let them know we are not bothered. We have our own hustlers' party that has no tribal or regional boundaries. We are okay where we are," he said.
"These people have destroyed Jubilee, which was a national party. Now they want to tell everyone to establish a regional party. UDA is for Kenya and cannot fit in a particular ethnic group," he added.
He pledged to craft a national party that would unite all regions ahead of the 2022 elections.
Download the BBI Judgement by all seven Judges - Civil Appeal No. E291 of 2021