The Kakamega 'sacred' hills where politicians seek divine intervention
THE STANDARD INSIDER
By Simon Oyeng' | Apr 26th 2021 | 4 min read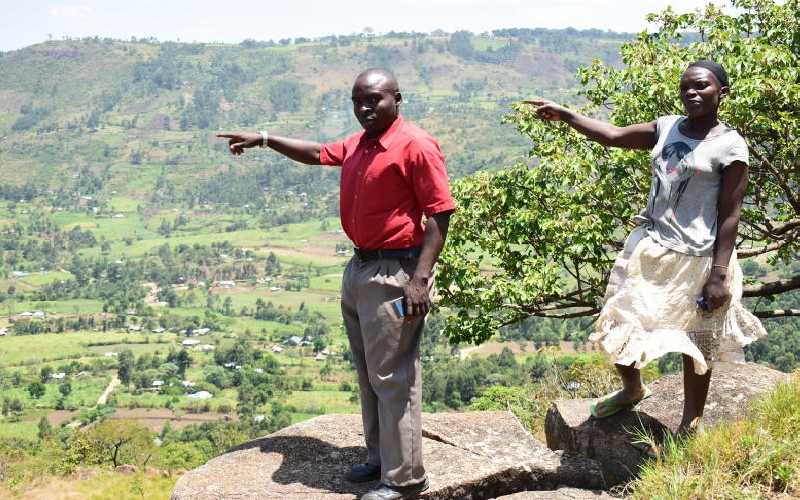 The stillness of Ingolomosio hills in Kakamega County is nothing short of bliss and exquisiteness.
The serene environment has a calming effect on the nerves. A few metres before making your way into the famous hills, a gentle breeze welcomes you.
At the entrance, there is a conspicuous portrait of Jesus Christ on the cross erected on two mud walls.
According to those who frequent the hills to seek divine intervention, there is a sense of peace and conviction within oneself when one makes way into the two-acre parcel of land.
Caroline Omkanda, a chaplain at Shanderema Boys High School who doubles as a coordinator of religious activities at the place, says the 'sacred' hills have a magic wand that grants people their hearts' desires.
"This place is uniquely set for prayers and one has a personal moment with his creator. People speak to God directly because there are no interruptions, this is why people from all walks of life visit regularly, and their wishes are usually granted once they leave this place," says Omkanda.
Believers seeking divine intervention visit the hills on daily basis making the consecrated area the busiest place in the lull village of Kambiri in Shinyalu.
Among frequent visitors are politicians, religious groups, tourists, university and high school students.
Lurambi MP Titus Khamala says he had to camp at the hills for about two weeks last year. "It is usually a time to reflect. You feel different and expect God's blessings whenever you step there."
Nominated Senator Naomi Shiyonga also says she visits the sacred place at least twice a year.
Candidates from various schools are also usually drawn to the hills to seek divine intervention weeks before they sit their national examinations.
And just like any place, the hills have standards that regulate believers' activities. The visitors are barred from engaging in activities like drinking alcohol and smoking.
Believers are not also allowed to wear rosaries or anything that shows their allegiance to a particular denomination. Coordinators say that when the site was set aside for prayers, its main purpose was to reach out to souls, their denominations notwithstanding.
Over the past few months, the number of people visiting the site has tremendously risen. Not even the coronavirus pandemic stopped the visitors from coming to the hills.
For this reason, caretakers have been put on standby to make sure those making their supplications to God adhere to Covid-19 protocols.
Open heaven
Jescar Baraza, 38, one of the caretakers says they usually see many people turning up at the hills during the months of August and December.
"I have to be up by 6am to start attending to the visitors who start arriving as early as 7am, there are those who stay for a week while others stay for months," said Baraza.
He adds; "People come from as far as Saudi Arabia and Europe but a greater percentage are from Uganda and Tanzania. All that is needed is registration where visitors tell us the period of their stay".
Bishop Naboth Otieno, of Ushindi Life Outreach Ministries, says that Ingolomosio 'open heaven prayer mountain' was started in 1982.
"It was very bushy in the beginning, there were no structures in place. On several occasions, we hired tents to conduct prayers. When the numbers started to grow, we erected spiritual powerhouses for believers," said Otieno. He adds the centre has also turned into a place where young people learn to be responsible adults and the fear of the Lord.
"There are those who get their calling at this mountain, this is why we embarked on transforming it, those running this place are from different churches."
When The Standard visited the hills, some believers were about to leave after a two-week prayer and fasting stay.
But one Pitty Maxwell, 30, was fervently praying and did not notice our presence in the rocky hill when we walked in.
After waiting for over five hours, he agreed to be interviewed. "I came here three weeks ago, to pray for a job and I believe God will open doors of blessings." Maxwell said that people easily forget that the Supreme Being in heaven has control over everything "prayers are a culture that we have not properly inculcated."
Joel Nafula, 44, from Bungoma says after spending a whole week at the hills, her prayers were answered five months later.
"When I came to this place, I was in an abusive marriage, but God opened doors for me, things are different now," said Nafula.