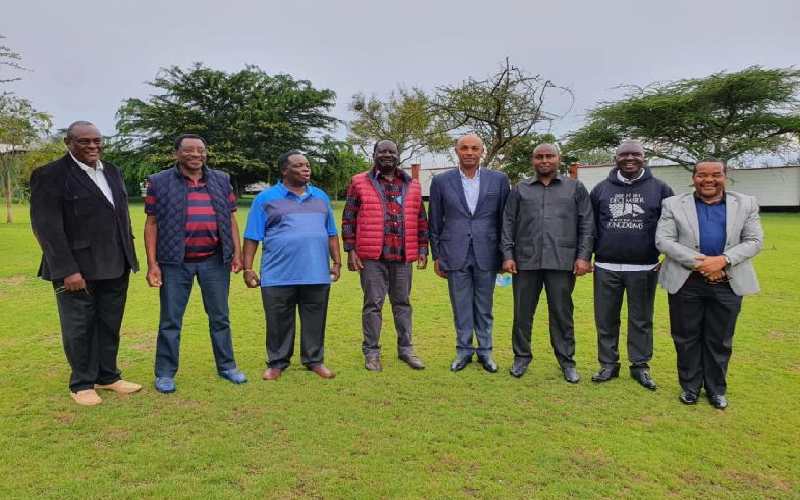 The catfight between former opposition allies took a new twist yesterday after ODM leader Raila Odinga adopted hard tackle tactics to ward off accusations of betraying his colleagues.
Yesterday's exchange escalated the implosion in the opposition coalition over 2022 succession politics after Wiper leader Kalonzo Musyoka attacked Raila, dismissing him as a greedy politician.
Kalonzo called Raila "an unreasonable and very dangerous leader" while warning voters against supporting him over claims that the former premier was capable of changing the Constitution to make himself president for life.
But Raila responded in style, posting on his Facebook page video clips of Kalonzo and ANC leader Musalia Mudavadi explaining why they skipped what they are now calling illegal mock swearing-in, in reference to the 2018 event that saw Raila declared the people's president.
Read More
In the video recorded before January 30, 2018, Mudavadi is captured telling a charged crowd that there was no backing down on the planned oath.
Kalonzo was recorded blaming the withdrawal of his security team by the government as the reason for not attending the controversial exercise that took place at Uhuru Park.
Kalonzo is also captured saying he never made it because of understandable circumstances, claiming how the State sabotaged all his plans.
"On the eve of the inauguration, Raila decided not to sleep at his place, but I opted to sleep at my place. But on the swearing-in day, the police took all my bodyguards from my house in Karen. It seemed like a threat," he says in the clip.
"We talked with my colleagues Musalia Mudavadi and Moses Wetang'ula, and when it was clear we could not make it, we asked Raila to proceed. We are very united."
He even expressed his readiness to take the oath as Raila's deputy.
Raila simply posted the clips, saying: "I leave this here". He did not elaborate on the contents.
The latest salvos by the National Super Alliance (NASA) partners signal a bitter political divorce just 17 months to President Uhuru Kenyatta's succession.
Later, in a strongly worded statement by Wiper Communications Director Onesmus Kilonzo, the former vice president accused Raila of always betraying his political allies in every election cycle, adding it is what has occasioned his isolation by his NASA partners.
"We state that dishonesty, insatiable greed for power and disrespect for political partnerships are not the hallmarks of a good leader. They are characteristics of an unreasonable and even a very dangerous leader," read the statement.
"A leader who cannot keep his word is a great danger to the people he rules. Once elected, he may even refuse to leave office by changing the Constitution to become a life president," it added.
He further claimed the March 9, 2018 handshake was merely initiated by Raila so that he could enjoy the trappings of power, just like he did with his pact with President Daniel Moi (now deceased) in 2001 when his National Development Party (NDP) merged with the independence party Kanu.
The statement described Raila as a self-centered politician, who is ready to capture power by "hook or crook".
"He is a man who is extremely untrustworthy, a man who cannot keep promises. How can Kenyans trust such a man to be their president? For a man who cannot keep his word while in opposition, how will he keep it while in power as president?" posed the statement.
The current bout of infighting within NASA was triggered by demands by Kalonzo, Amani party's Mudavadi and their Ford-Kenya counterpart, Wetang'ula that Raila backs one of them in the 2022 polls.
Yesterday, ODM chairman John Mbadi described the three leaders, in a statement, as "inconsistent and incoherent cowards."
Mr Mbadi reminded Mudavadi how he was categorical that the swearing-in vehicle was no longer stoppable, as it had run out of breaks during NASA rallies dubbed people's assemblies.
"When the swearing at first happened, Kalonzo, Mudavadi and Wetang'ula said they failed to attend the event because they had lost touch with Odinga, who had promised to reach them via a Nigerian telephone line, but did not do so," said Mbadi.
The National Assembly Minority Leader said it later emerged that the three NASA principals had pleaded with the government to arrest them so that they could have an explanation for missing the swearing in ceremony.
"Kalonzo later claimed their absence was a strategy agreed on with Odinga. Kalonzo claimed they had agreed he would himself be sworn in at a later date. Apparently, that later date has not come, even as we approach another election," said Mbadi.
He said Musalia, who now claims Raila duped them into backing him in 2017, abandoned the Nigeria telephone line narrative and the supposed blockade by security officers. "The pattern fits what Kenyans already know about the so-called NASA principals. They are cowards. They cannot stand on their own feet and they are trying to force Odinga to endorse them. Odinga will do no such endorsement. As a party, we will strongly discourage him from doing so," he added.?
In what could have ignited the row last weekend, Raila hit out at the three, calling them cowards for abandoning him at the hour of need during his 2018 mock swearing-in. "When we were going for the swearing-in, they switched off their phones. They now want me to give them the mantle by supporting them. I won't give them because they demonstrated their cowardice," said Raila.
But Kalonzo and Mudavadi on Sunday separately termed Raila's 2018 controversial swearing-in illegal, and accused him of reneging on their agreement to work together.
ODM Secretary General Edwin Sifuna had on Sunday said Kalonzo, Wetang'ula and Mudavadi had little political stamina.
"These are gentlemen who cannot operate without a sponsor. They are dependent on the other people and cannot stand on their own. We wish them well as ODM. For us, we have moved on as a party. We are looking for mutually beneficial agreements and partnerships," Sifuna said.