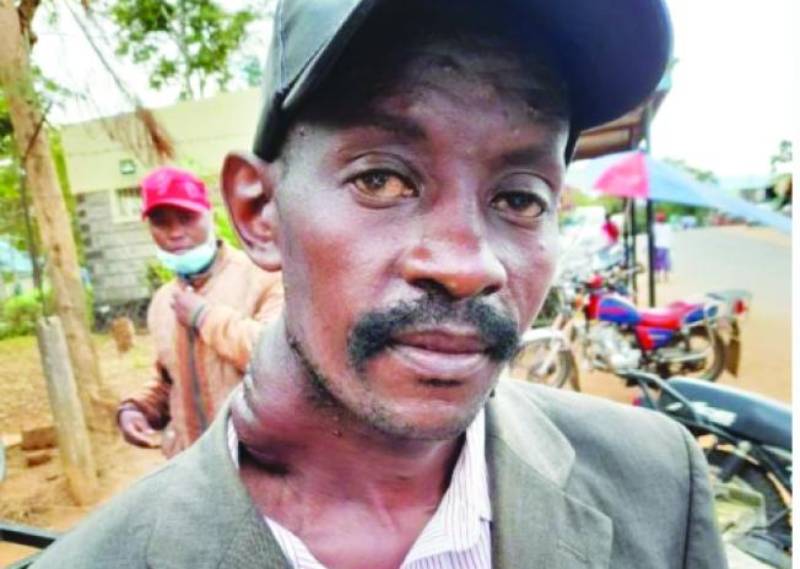 Sammy Munyao suffers from malignant melanoma, a type of cancer that occurs when the pigment-producing cells that give colour to the skin become cancerous.
The suffering the 50-year-old from Kisingo in Makindu, Makueni County, has gone through could probably have been eased had the disease been diagnosed early. However, he came to learn of the bitter truth when the cancer was already at an advanced stage.
And as the World Cancer Day is marked today, Munyao, just like many other patients, is reminded of the painful journey he has walked in search for a solution to his problem.
His troubles started in 2019 with headaches and fever.
Read More
Munyao says he sought help at Makindu sub-county hospital where several tests were carried out, including HIV. The doctors also ran blood tests as well as stool tests. No disease was seen.
"In the end, the doctors concluded that I was stressed. I told them there was nothing stressing me but they insisted since they had not discovered anything problem and their investigations had led them to conclude it was stress," says Munyao.
Munyao, who was a boda boda rider before the disease grounded him, says his symptoms persisted. He says as his health continued to deteriorate, he suspected that there was more to it than the stress doctors at Makindu sub-county hospital had spoken of.
His fears were heightened further when a pimple-like growth emerged on his neck.
"I became weaker by day. By March last year, I became so weak that I stopped working. Friends and family took me back to Makindu hospital before I was transferred to Makueni referral hospital where several tests were done. I was told to wait for 14 days but I never saw the results," says Munyao.
Later, he says, doctors said he was suffering from TB and put him on drugs for six months.
"I was on TB drugs for all that time but my situation never improved, there was no change," he says.
A CT scan was recommended but it did not pick out what Munyao was suffering from. "By this time, talking had become a problem and I was slowly losing my voice. The pain was also increasing."
More tests were recommended, but Munyao could not afford to pay for them. He had already sold his motorbike and exhausted the money. He turned to friends and well wishers who helped him raise money for advanced tests.
A biopsy was recommended and a piece of tissue was taken from the swelling on his neck for analysis.
It was at this juncture that Munyao was informed that he had cancer, two years after his symptoms had emerged.
His efforts to continue with his treatment at Kenyatta National Hospital in Nairobi proved futile due to costs involved, including travel, meals and at times accommodation expenses. He has been forced to go back to Makueni county hospital.
"The going is getting even tougher for me. I don't get sleep at night and even then, I can only sleep on one side. The pain is just too much. I have sold everything in search for a solution.......my motorbike, land and goats," says Munyao.
His children have since dropped out of school. Anastacia Munyao, his wife, is now the sole breadwinner. She has to look for menial jobs to pay for her husband's treatment and feed the family.
Monyao says his situation would not be so bad today if the right diagnosis was done when he first went to hospital.
"I wish the national government can procure and distribute diagnostic equipment, not just for cancer, but other diseases as well," says Munyao. "I don't blame the doctors because they did their best to treat me using the little they had. They simply did not have the required equipment."
Meanwhile, the number of patients visiting Makueni County hospital cancer centre continues to increase. Currently, the hospital attends to about 285 cancer patients per week.
When The Standard visited the hospital, Stephen Muthoka, another cancer patient, had just been brought in for immunotherapy, a type of cancer treatment that helps one's immune system to fight disease.
Japheth Kioko, the son of the 70-year-old Muthoka, said treating his father has been an expensive affair and urged the national and county governments to invest more in diagnostic equipment.
"We had to go to a private hospital for diagnosis since government hospitals lack the required equipment. It has not been easy for our family," says Kioko.
Maurice Maweu, an oncologist at the hospital, says more and more cancer patients have been visiting. Most of them have been breast cancer patients.
He disclosed that some types of cancer are difficulty to diagnosis since they require advanced testing.
"Malignant melanoma is among the rare cancers that are difficulty to diagnose. It presents symptoms of other diseases. That is why you may find such patients wrongly put on TB drugs," Maweu said.