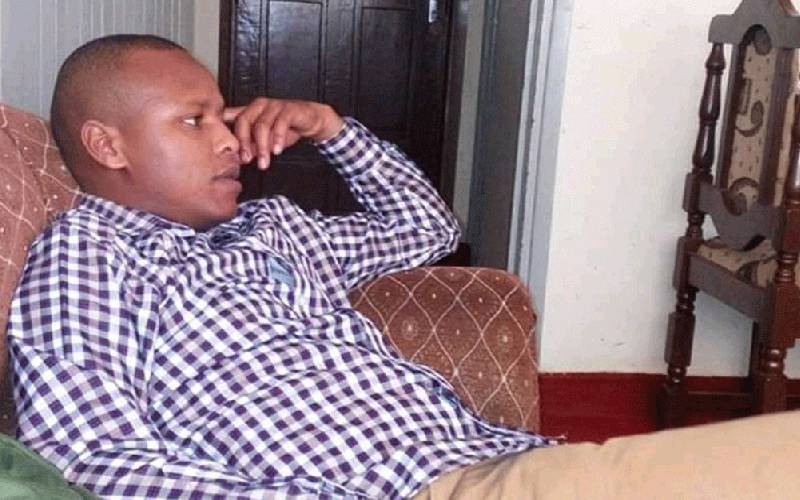 Kering Kipkosgei, the warder who committed suicide in a suspected love triangle at Mwea G.K Prison, lived with his wife at the same facility where he had a secret affair with Sergeant Esther Muthoni Mwangi.
Kipkosgei was raising his young family at the junior staff quarters. His wife and son, however, had travelled upcountry for Christmas holidays when Kipkoskei, the armoury at the prison, killed himself.
The warder took his life following a brawl in Muthoni's house where the woman's ex-husband Bonface Mithamo Ngarariga arrived unannounced at the senior staff quarters. Unlike the junior staff quarters, access to senior staff quarters is not restricted.
Sources say, it was not unusual for Mithamo to visit the facility to spent time with his two kids aged seven and three years. The occasional visits were normally during the day.
Read More
Mithamo and Muthoni separated almost two years ago but the man would sometimes find time to walk into the prison to see his children. He was a driver attached to Kirinyaga East Deputy County Commissioner.
According to a signal, Kipkosgei and Muthoni were having supper when Mithamo dropped by. He confronted Kipkosgei demanding to know what mission brought the warder there.
"Bonface Mithamo Ngarariga started beating Kering Kipkosgei and removed his shirt. Sergeant Esther Muthoni Mwangi, the house owner, got hold of Boniface Mithamo and escorted him outside the house," stated the police incident report of January 4.
Kipkosgei is said to have moved to the kitchen where he drew out his Ceska pistol and shot Mithamo in the neck. In panic, he dashed out and turned the gun on himself. Both officers died while being rushed to Karira Mission Hospital.
"Kipkosgei was a common visitor at madam's house and sometimes used to spend the night there. I blame all the three for this unfortunate incident. It was wrong for Mithamo to turn violent while it was a misjudgment for Kipkosgei to reach for the firearm. Madam is equally culpable for entertaining the two men," said a source.
When reached for comment Muthoni, 34, declined to divulge more.
"I don't want to talk about that matter," she said.
Muthoni was arrested and briefly detained for grilling. Her colleagues say the officer was enlisted into the service in 2006.
AP officers claimed Mithamo had persistently warned Kipkosgei to stop messing his marriage.
"It is Kipkosgei who rocked the union, despite being warned to stop the affair, he continued leading to the separation," said the officer.
The shooting incident came two days after a policeman shot a female colleague before 'killing' himself in a suspected love triangle at city's Kamkunji Police Station.
Mourine Achieng died while being taken to Kenyatta National Hospital (KNH) after she was shot by Constable Lawrence Ewoi, who was attached to Quick Response Unit within Central Division.
It was alleged that Ewoi, in civilian clothes, opened fire indiscriminately after differing with his colleagues preparing to go for night patrol. There were claims Ewoi and Achieng were in a relationship.
George Gitonga, another officer, suffered bullet injuries to his left arm. The injured officer and Achieng were waiting in a police car when Ewoi opened fire.
Ewoi then fled from the scene as colleagues launched a manhunt. He was spotted two hours later as he trained to sneak back to the station. When challenged to surrender, Ewoi started firing at colleagues who responded, shooting him on the leg.
Police said when he realised he was cornered, the rogue officer shot himself dead.
"The officer took his own life when we wanted to arrest him. Claims that police shot him are false," said Central Sub County Police Commander (SCPC) Mark Wanjala.
The incident came three days after another officer based at City's Nyari Patrol Base shot dead his civilian friend. Armed with his AK 47 rifle, Edgar Mokamba, shot his ally who had gone to visit him. The friend was seated in a parked saloon car.
And last August, police constable David Nyamwea shot and critically injured his 23-year-old girlfriend Everlyne Njoki at Laare Police Station in Igembe North, Meru County.
The same year, an officer at Kongoni Police Station, Naivasha, shot dead his girlfriend following an argument.
Benjamin Lelemen shot Beatrice Nyokabi, 31, in the stomach and thighs. Colleagues recalled having heard the two quarrel in the house they shared before gunshots rent the air.