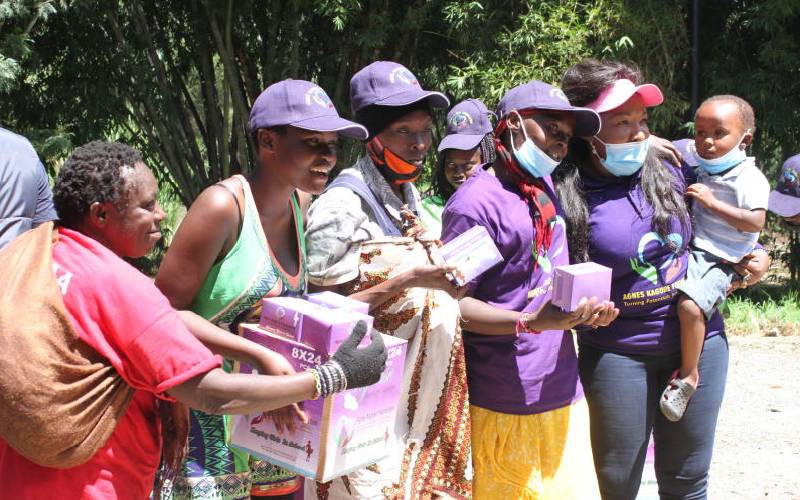 Businesswoman AGNES KAGURE is gunning to run Nairobi County. She explains to Nairobian why politicians spend more campaigning than they'll ever earn in salaries and reason MCAs fight county bosses
You've been mentioned as a likely contender for Nairobi governor. Is this true?
It would be an honour and privilege to serve Nairobians as their governor.
But you have zero political experience. How would you manage the city MCAs?
Read More
We have had a couple of experienced politicians at the helm in the city before and they still had problems with MCAs. It's not about political experience but how one relates to people from all walks of life. Plus as a woman, I know how to apply soft power.
Kenyan political campaigns are noisy and filled with lies and insults. You are very soft-spoken. Utaweza matusi?
We need to change our political narrative and terrain to be more issue-based as opposed to the melodrama, political posturing and tantrums we see every day. Nairobi is in dire need of action and not noise-making, hollow theatrics and the unending circus we have been treated to in the past. Lest you forget, like retired President Mwai Kibaki, I am Nyeri-born and people from that part of the country are best known as doers, not noisemakers.
The amount of cash needed to campaign for governor exceeds by far the salary you would earn. Why bother?
That's precisely where we go wrong. To me, it has never been about the salary. It is more about serving to leave a place better than you find it. And why bother? Because Nairobians deserve better.
Rumour has it that MCAs arm-twist governors for favours. How would you deal with that?
MCAs have been demonised for no good reason. They are human like the rest of us. Dignify them and they give you good results. Consult and involve them in crafting various bills that herald a better Nairobi and they become your best bet in the journey of the city's transformation.
General Badi and the Nairobi Metropolitan Services (NMS) have most of the responsibilities. What would the governor do anyway?
NMS has only four functions out of the 10 departments and it's my firm belief that a lot can be achieved with the remaining functions. Again, NMS can do way much better if the complementary association with county governance is cordial and respectful for the period agreed in the deed of transfer.
Sonko became a governor because he seemed to represent 'hustlers'. You are from the corporate world. Would 'hustlers' embrace you?
Working for corporate entities doesn't necessarily make one out of touch with life on the streets. Leadership is about meeting every individual at his or her level. In other words, dining with kings without losing the common touch is my way of relating to people. Don't forget I have literally hustled my way up. I once lived in Mathare and Umoja among other places and I identify with people of all cadres and walks of life.
You were Sonko's adviser albeit briefly. What would he have done to avoid the problems he ran into?
When offering advice, one should do so in good faith. It is upon the person being advised to heed or ignore.
As a businesswoman, what has been your personal experience with Covid-19?
I have realised that there is no such thing as "safe business" because we have all been affected somehow. The most important thing right now is to learn how to survive this catastrophe and keep your business/employees going while staying safe by readjusting on our normal ways of operations hoping and praying for a better tomorrow.
Poor Nairobians who live in slums pay more for water and energy for cooking than the rich. How do we fix this?
Should I get the chance to serve Nairobians as governor, one of the legacies I would like to achieve is resolve the headache of water shortage in all estates in the city. I would strive to ensure that Nairobians drink water from their taps as the case was a couple of years back.
Of course, the population of the city has soared as so has the demand for potable water. Besides collaborating with neighbouring counties to create new water reservoirs, I would encourage rigorous rainwater harvesting and recycling of water to fill the prevailing gap. However, without dismantling the existing water cartels, no amount of energy will restore sufficient water supply to the city
And cooking?
I would root more for alternative sources of energy including energy generated from waste and renewable energy. When that time comes, my manifesto will propose the establishment of the largest biodegradable garbage-run renewable plants in the region. This would supply affordable energy while eradicating garbage from our beautiful city and producing tons of manure.
The number of street families in Nairobi is on the rise. What needs to be done?
As a mother, I believe the place to start is the family unit and address the importance of having functional families. There are so many dysfunctional families even some that are well-endowed so speak. Many of our street families in Kenya result from dysfunction. And therefore addressing this phenomenon is crucial.
Equally critical, however, is to ensure that the current street families are exposed to the free primary education, vocational training and a special fund to enable older persons in the streets to undertake small businesses be it in hawking uji, boiled eggs or fruits. I personally don't believe that there are individuals whose fates are sealed.
If you won, whose current governor's style of leadership would you embrace and why?
We have governors who have done laudable work in the past. Besides Professor Kivutha Kibwana, Governor Oparanya, Governor Mvurya and others, there are portraits of best practice all over the place.
What was your first salary?
That's an interesting question! I have never been to salaried employment in my entire life. All my working life saw me earn commissions. If you wish, the first Sh5,000 advanced and later recovered from the commissions I earned is the closest I came to earning a straight salary. In retrospect, not having a salary has largely fired me up and made me work harder.