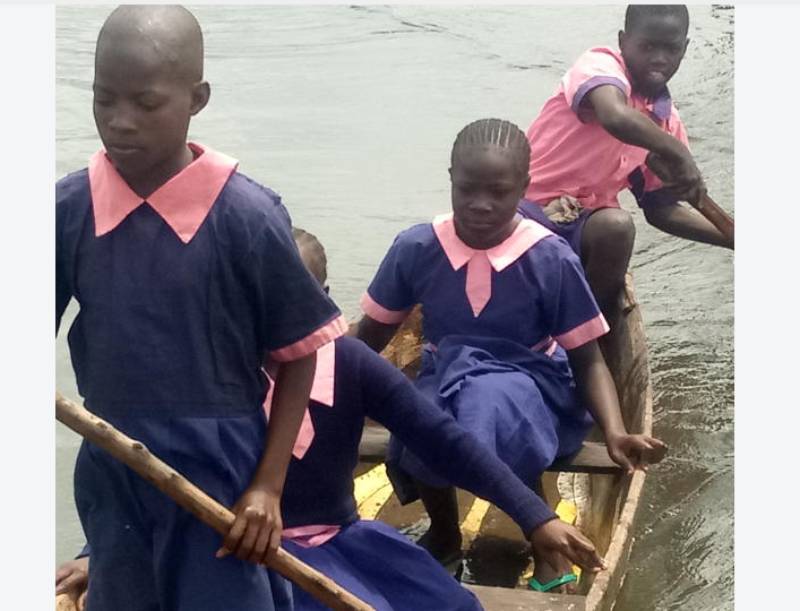 Pupils of Buongo and Bulwani primary schools in Busia County have seen it all in their quest to get knowledge.
To reach school on time, the pupils from Emigondo, Buongo, Mubwayo and Bumarirani villages wake up by 5.30am to prepare for the journey.
They converge at Lugose stream within the Yala Swamp, ready to navigate their way through the murky waters using a boat.
The vessel was donated by a well-wisher following a plea from the management of Buongo Primary School.
Read More
Each trip across the river takes close to half an hour, and the boat can only carry nine at a time.
Some pupils, for the fear of being late for classes, risk their lives and cross the river on foot instead of waiting for the boat to make the round trip.
Not even bad weather stops them.
Buongo is located in Bunyala Central while Bulwani is in Bunyala South, Budalang'i Constituency.
The boat is usually steered by the pupils because the school cannot afford to hire someone to do the job in the morning, at lunch time and in the evening.
It is the same script for Bulwani Primary School pupils and teachers who have to cross River Bulwani on a boat at least twice daily.
"We usually engage a student to ferry colleagues and teachers in shifts across the river. There is a day we almost lost all the teachers after the boat capsized.
Fortunately, they were rescued," says Jenipher Obara, the Buongo Primary School deputy headteacher.
Early this month, the old vessel started leaking when nine teachers were on board on their way home in the evening.
It then capsized, but fishermen who were close by helped the teachers to swim to safety and also save their only mode of transport.
The boat was repaired and is back in operation.
Buongo Primary School has at least 233 learners at the moment.
Construct dykes
"Getting to school is not easy for teachers and pupils. Most of the learners do not come from around here and there is no clear road to our school," Obara says.
"It is hard for us to start the lessons at 8am because at that time, pupils are still struggling to get to school."
Obara says some teachers want to be transferred because of their brush with death daily.
She is requesting the government to construct dykes that will prevent River Nzoia from overflowing.
Thaddeus Awuor, the Busia County director of education said they have asked for funds from the Ministry of Education to buy better boats for the two schools.
"No guest comes to our school. Even officers from the Ministry of Education never visit for routine inspection because we are inaccessible," Obara says.