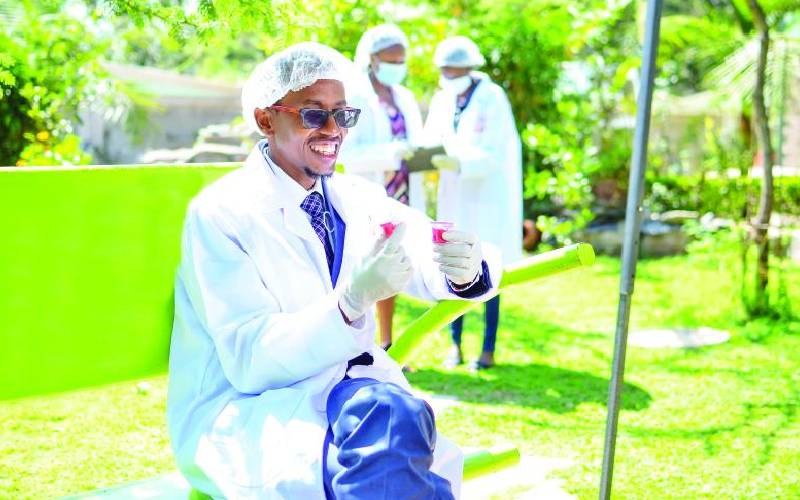 "I was seated next to a madman in church one day. When it was time for Holy Communion, he dipped his hand in the bowl and came out with a hand-full of wafers. He then dropped them back in and the bowl was passed on," says 35-year-old Mugo Keiyoro.
This happened during the 90s, at the height of the HIV and Aids epidemic, and infected people could easily be identified by the scars on their lips and mouths. Very little was known about the condition then, and sharing the same Holy Communion cup with a person with open sores felt life-threatening. This memory imprinted in young Mugo's mind and later as an adult, it would launch him into his entrepreneurship journey.
Today, Mugo owns the Holy Communion Elements, a company that makes prepackaged wafers and alcoholic and non-alcoholic drinks for Holy Communion. Prior to his foray into business, he was a ship captain. He shares his fascinating journey finding his niche in an unusual field
Ship captain huh?
Read More
Yes. I was Captain Keiyoro. I studied in the US for nine years at the Massachusetts Maritime Academy. I then worked there for a while before coming back to Kenya to work at Kenya Maritime Authority (KMA) as a ship surveyor. I was at KMA for about six years, working on some of the policies that are currently in place.
Why did you leave?
There were few opportunities for growth in Mombasa. So I decided to move to Nairobi. At that time, I had also started thinking about making prefilled holy Holy Communion cups.
Why did you think there was a need for that?
Hygiene mostly. I attend two churches — Nairobi Chapel and Kikuyu PCEA. I was curious about how I could solve the hygiene problem. How to get people to enjoy the Holy Communion bread without worrying about contamination. But I also did my research about that and saw the gap.
What research?
I talked to several friends who are pastors and some confided in me that they did not thoroughly wash the cups but only rinsed them after use. Further, I went back to the US and discovered that mega churches use prepackaged Holy Communion. I knew I had found a gap I could fill. So I set to work. But then the capital was a challenge. Not everyone agreed that my idea was a viable one.
What were the doubts?
Usually, worshippers volunteer to serve Holy Communion, and clean up. The people I talked to felt I was trying to commercialise something that was already working just fine. But I decided to follow through and shifted my focus to getting capital.
How much money did you need?
I looked up the machine. It cost sh150 million, the money I did not have. I knew I wouldn't get a loan for it, or manage to save for it. I was forced to put the dream on hold. I joined my father in running his Greengarden Schools. I also did a bit of farming and it was doing well. I was the wholesaler to most of the roadside sellers in Kiambu. But still, I dreamt of a time when my dream would materialise.
How long did you shelf your dream?
For 10 years. This was until earlier this year. As the world battled the pandemic, one of my friends, a man of the cloth, told me that they hadn't had the Holy Communion in their church for a while. I felt that it was time to do it. And the churches were interested in pre-filled disposable Holy Communion cups. So I paid a deposit for the machine and got down to work. The cups come with the liquid at the bottom and single wafer sealed in a separate compartment on top. But the reality of business isn't rosy.
What happened?
A month after starting, no one ordered for the prepackaged Holy Communion. I decided to just make them and donate to the churches I knew. I also made a small documentary to explain who we are, what we do and the benefits of this product. Fortune smiled at us when Citam Church made an order for 10,000 pieces. "I immediately went home and told my wife I had an order and no idea how to fulfil it. I was to get the cups from abroad at sh 1.2 million and because of air transport, each cup was to cost sh5. I then had to find the wine and waffles, package and then brand. I had a week to deliver so I became a 24-hour economy.
Did you make it?
Yes. I delivered 12,500 pieces in that week, to all Citam churches in Kenya. That one business was the catapult I needed. Covid-19 made my business realistic but it was conceived 10 years prior. I believe God made me wait for this exact moment. People tell me all the time that they had the same idea. I always say whatever you think, so many other people have had the same idea. The difference is who implements it first.
So your clients are just the churches?
Yes. Getting clients is challenging because of the nature of this business. But there is also opportunity.
With social distancing putting a strain on religious communities, which thrive on human interaction, social gatherings and shared meals, some houses of worship are seeking innovative solutions to adapt to the realities occasioned by the pandemic. Pastors can now serve Holy Communion in places like weddings, family gatherings, and even hospitals. The non-alcoholic drink and wafer, packaged and sealed go for sh14.50. Alcoholic ones go for Sh20. I source everything locally, I get orders of about 3000 pieces daily.
Do you worry that you are commercialising a sacred thing?
Methodists, like Catholics, take Holy Communion and have become his bigger clientele.
I don't want Holy Communion to be over-commercialised. I want it to remain holy and sacred. I know with how Kenya works, similar companies will mushroom but my hope is that it will be done by Christians and people of the faith, who care more about what it represents than profits.
Think your business will be relevant after the pandemic?
I think the trade is here to stay, even after the pandemic. A church of a congregation of say 3,000 previously used to set up the Holy Communion a day before service, exposing it to flies, dust and dirt. With prefilled Holy Communion Elements, it is easy to set-up immediately with no worry of spills, contamination or waste. We are prepared with high standards of hygiene quality on dedicated equipment. There is value in the product and that is what I am counting on.