We have PhDs whose education was waste of resources – Dr Njoki Maina
THE STANDARD INSIDER
By Ted Malanda | Oct 17th 2020 | 5 min read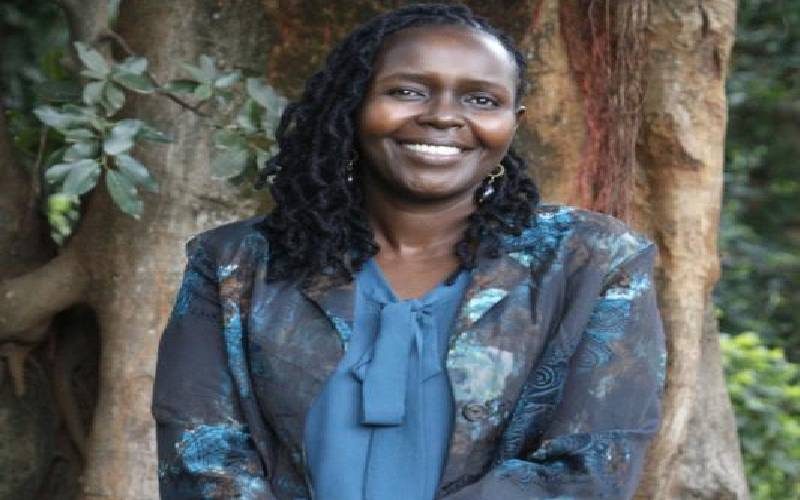 Your family fled Kenya in 1992. Why?
Actually, my father left Kenya earlier due to political unrest. The politically instigated tribal clashes of 1992 didn't help either. Fortunately, being an ordained CPK priest, my late dad furthered his studies and secured employment with the Church of England which enabled us to join him.
How was it like settling in a foreign country?
For a teenager, it was quite challenging. I didn't fit in initially, but I met guys who to date remain good friends. I missed Kenya desperately though, and I made up my mind to one day return home.
You went to high school and university in Britain, but you don't have a British accent?
In my parents' house, unless you were in trouble, the language of communication was Kikuyu and Kiswahili. My dad also used to emphasise on personal identity in a foreign land.
PhD in molecular genetics at 27… How did you pull that off?
Everything I needed was available. I was a Pfizer-BBSRC scholar on a full scholarship, plus most of the work was done at Pfizer in Sandwich Canterbury. The infrastructure in terms of a fully-equipped lab and reagents were always there. All that was required was my dedication and hard work.
How does that differ from, say, Kenya?
First, in the UK, if you are a good scholar you can bypass a master's degree. I was initially enrolled for a MPhil degree, but following a successful first year, the course was upgraded to a PhD. Second, in resource-constrained parts of the world like Kenya, we have neither the infrastructure nor the stipends to keep a student well taken care of.
You turned down a Harvard University research position to teach at the University of Nairobi. How was the transition?
Home wasn't the bed of roses that I had envisioned. It was unfriendly and judgmental. No one could understand why I would give up a super research career in the West to come back to a resource-constrained environment. In my first years, I was viewed with suspicion. I slowly went into a depression that actually required treatment. But I thank God for the support I received from some of my colleagues, the UoN, my parents and students.
Students, you said?
Oh yes! My students played the biggest part in my recovery. They not only excelled in my units, but visited me during my most difficult days. I am forever grateful to the young men and women who showed me that coming back home was not in vain. In my 10 years back home, I have successfully supervised three PhDs and six master's degrees so I am glad I held on to hope.
In layman terms, what is your speciality?
I am a molecular geneticist, which is the study of why you look like your father, and if you don't, why you should. Okay, just kidding! Specifically, I am interested in understanding the DNA structure and function in cancers. At the moment, I am heavily involved in identifying biological markers for the black African with regard to cancers.
Biological markers? What the hell are those?
I believe we have variations in our genetic make-up compared to our Caucasian brothers. My research in breast and prostate cancer in collaboration with scientists in the West will give us a better understanding of the African genome. This will help us in diagnosis, treatment and disease progression prediction. I presented these thoughts to the Senate Committee tasked with cancer issues last year. I hope something will come of it.
Is it possible to be a doctor of philosophy without a philosophy?
A PhD who can't philosophise is a glorified technician whose education was a waste of public resources. They are of no value because they can't help identify and mitigate problems in society.
What are the consequences of a developing country not investing in research?
You become consumers rather than producers of solutions to your problems, so you are forever importing solutions that were not designed for your problems. Sadly, this is not for the want of brilliant scientific minds, but rather systems that don't appreciate and encourage home-grown solutions. That is why African researchers and problem solvers move to (countries) where their intellect is appreciated.
What is the funniest memory of your return?
I didn't understand what "utanunua chai" meant, so I took a government officer for tea and even invited them to order mandazi or samosa! Weeh!
Someone almost sold you air instead of a piece of land...
I once almost lost my hard-earned Sh200k. I met someone at a party who promised to sell me prime land in Kinoo, an acre for Sh200k. Fortunately, when I was excitedly taking the money to the "seller", I met one of my seniors on the corridors who led me to his office and very gently asked whether I was familiar with "shamba za hewani"!
Your sheng is pretty good. Why would a PhD learn to speak sheng?
Many students use it and I figured that to understand them better and their culture, I needed to learn their language. By so doing, I entered into a world where these kids are isolated because no one understands "their struggles". They appreciate that I am a disciplinarian, but they also know that they have a friend in me. I am not only their teacher, but their mentor as well in life and career.
Does your knowledge of sheng make you a better lecturer?
I think it does. I am able to come down to their level using a language they understand and explain complex science in "their layman" language. Also, it has broken barriers in my relationships especially with kids from "the ghetto". Basically, they've come to know that it doesn't matter where you grew up, but rather it is what you hope to achieve at the university that counts.
You interact with first-year university science students. What have you learnt?
UoN picks the absolute cream, but one thing is evident year in year out: Our students, though exceptional, are not lateral thinkers. The spoon-feeding in high school needs to stop so that we prepare students for life. Rote learning is the worst form of mind control. Students expect to be fed all information, and they then become glorified photocopying machines who can't apply abstract science in real life. It is such a waste of talent.
What tickles you the most in your day-to-day work?
The assumption by most people I interact with via email that "Dr Maina" is an old man!