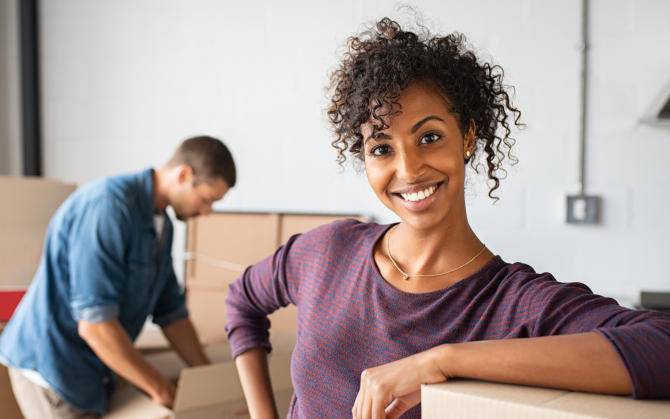 To move, or not to move, that is the question for many tenants.
Moving houses has its fair share of stress from the constant worry that the landlord may not refund you your deposit to the pain of leaving a place you have called home for years.
And then there is the most nagging worry: how to move.
This as you agonise how best to protect that delicate TV bought after years of hard toil or the expensive China, office or home furniture and souvenirs that need to be swathed in rolls of bubble wrap like a newborn baby.
Read More
This is where professional movers come in. Such companies have modelled their services around helping people have a seamless transition from one abode to another.
And they are warming their way into many Kenyans' hearts, especially in major urban centres.
The rising demand for the services of professional movers is being fuelled by various reasons, key among them human beings' inherent need to move.
This is sometimes because of work-related issues, the search for better housing and in some instances due to hard economic times that may force them to downgrade to poorer neighbourhoods.
Others move for the sheer adventure of experiencing life in a new town or even country. The convenience of enlisting the services of a professional mover cannot be overstated.
For many of them, you only have to fill in an online form, giving your personal particulars and other details about where and how you want your new home to be arranged, and then leave the rest to them.
These companies are increasing by the day as they take advantage of humans' innate restlessness and unquenchable desire to move.
As the middle class expands, the days when many Kenyans would walk a few blocks from their houses and flag down a random pick-up truck and haggle over the cost of hauling their earthly belongings while fearing the worst that they might not arrive in one piece at their new home are slowly but surely fading away.
With the click of a button, you can now move without tears to borrow from one of the slogans of one professional mover. Fredrick Magadi is one such Kenyan who has found a new niche in the moving business.
Mr Magadi resigned from his position at a top accounting firm in the country in 2014 to start the Karen-based Proteam Movers Kenya having realised the rising demand for moving services.
Proteam moves household items, office furniture and machinery. The company also does international relocations besides offering storage and surveillance camera installation services.
And although the number of those moving has declined since March when coronavirus struck, according to Mr Magadi, he does not regret leaving his accounting job.
He said at the onset of the pandemic, a majority of those who sought his services were people moving into cheaper residential estates in urban areas after finding themselves out of a job or after having to take a pay cut as companies downsized to stay afloat.
"Others were moving into houses they had just finished constructing. Those with high rent obligations and could not manage to continue staying in the same houses had their items stored either with family or friends or at our storage facilities," said Magadi.
And with the disruption in housing patterns expected to continue in the foreseeable future, with neither a cure for the virus nor vaccine in sight, business is expected to boom for moving companies.
Experts expect companies to also continue restructuring, with some seeking smaller office space, while more Kenyans could also be forced to relocate as times become even harder. But why the growing preference for the services of professional movers?
According to Magadi, unlike your run-of-the-mill "ask for transport" guy, they bear responsibility for your goods from the moment they enter your house until they arrive at their intended destination.
"Movers offer customers a lot of conveniences. As you know, cheap is expensive," says Mr Magadi, alluding to the possibility of incurring losses through careless, unprofessional handling of property.
In a past interview with The Standard last year, Lawrence Kheri, then marketing executive at Cube Movers, outlined crucial reasons why people prefer to use professional movers' services as opposed to random roadside movers.
"We take responsibility in cases of loss or breakage and once compensated a person Sh500,000. For certificates and title deeds, we issue special notes advising clients to handle them, besides giving them a box to pack them. For pets, you have to have documents of origin and destination countries, documentation of imports and export permits, veterinary certificates and vaccination documents," he said.
Also with professional movers, you do not have to wait until nightfall to relocate.
"Most people don't want to be seen moving. The mode of transport most of the time is also embarrassing, exposing their household stuff to the public. But if you engage a professional logistics firm like ours, you can move any time of the day," said Mr Kheri.
Movers also have rate cards, and thus clients know exactly how much they will pay.
Some are even open to extra services, which are needed as part of settling into a new house.
"Our moving prices depend on the locations from and to, the number of items to be moved and any other services required such plumbing, installations, electrification and carpentry. We also offer fumigation and cleaning services as well," said Proteam Movers' Magadi.
For the firm, for example, the cost of moving a client from a one-bedroom house is between Sh13,000 and Sh15,000 within Nairobi County.
For a two-bedroom, prices range between Sh15,000 and Sh18,000.
As for outside Nairobi, for instance, from Nairobi to Kisumu, prices start at Sh40,000, while to far-flung places such as Lodwar the costs start from Sh150,000.
"We have also diversified into container transport from the port of entry to the destination, international relocations and also clearance of household goods," said Magadi.
Among the conditions professional movers give is that all bookings should be done through the official lines or official websites.
The companies are also clear that they are not liable for any bookings done out of the office by rogue employees.