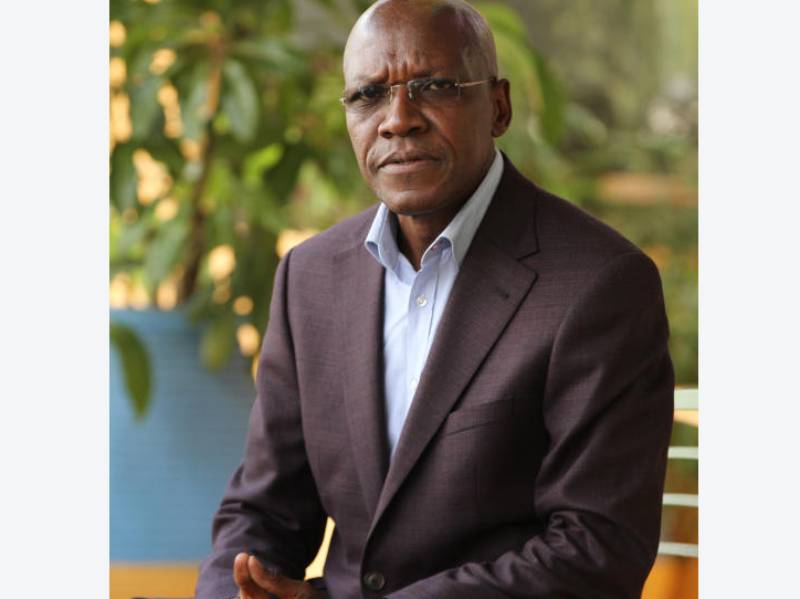 Boni Khalwale shows he is not a one-trick pony as he talks politics, medicine and family to Jacqueline Mahugu
"I think today, other than Raila, I am the most teargassed politician in Kenya," former Kakamega senator, Boni Khalwale tells me over tea. "And I have an edge over Raila on the teargassing. Raila has always been teargassed for political reasons, for protecting his own political interests. But I have never been teargassed for any reason other than fighting for the cause of our people. And by our people I mean Kenyans.
"In fact, I should change my name to The Most Teargassed Politician," he says as he breaks into laughter.
He brings the energy he is known for into our conversation, laughing heartily at his own remarks.
Seated face to face with him in a restaurant opposite the Department of Defence headquarters in Hurlingham, Nairobi, I find it hard to believe he is 60 years old. He doesn't look it. Although that impression may also be influenced by his propensity to engage in antics that rowdy youth are known for. Like when he was pictured holding stones, ready to fling them, in Kibera. Or when he was captured on camera throwing a bucketful of water at a police boss, Hamisi OCPD Johana Chebii.
"This is the photo you are looking for! When I was fighting with these boys," he laughs, scrolling through the pictures taken at Kibera with the stones on his phone, and tells Elvis, the photo-journalist I'm with, "Come and see!" He also has the one where he was pouring water and laughs heartily when he spots it.
"Beautiful experiences! Beautiful!" he says.
Why was he holding stones, though?
"Because I was defending our political interest!" he says. "The intention was to scare us off so that our people who did not have goons to escort them to the polling station would be denied an opportunity to vote for Mariga. So when I saw some drunken little boys coming to attack me I chased them away."
And nobody should imagine that he will be a politician forever, he tells me.
"My life is so well planned out that you will never find me an old man struggling in politics.... If God allows that I become governor, I am not even sure if I can serve two terms!"
Bulls and bhang
His moniker as bull-fighter, however, is here to stay. Taking care of bulls is what he plans to do when he retires from politics. He has been so successful at it that there have been rumours that it is not exactly as a result of hard work.
"There are rumours that you feed your bulls…" I start to say, but he finishes the sentence for me "…with bhang," he says.
"So, is it true?" I prod.
"Let it fly," he says at first, laughing, then decides to clarify, taking on an indignant tone. "Look at me. Just think about it briefly, why it is nonsense. Would you find a sober person like me, so highly disciplined, engage in such a retrogressive thing? Number two, the bull is wild as it is. Supposing you intoxicated him? He would kill you! So it is just a story. What happens is that when we are going for bull-fighting, some of our youths, the bull-fighters, actually take bhang, so they are charged."
His prize-winning bull is named Pogba, named after the Manchester United football player. He is successful by design, not because of bhang, Khalwale says.
"I am successful because I am able to do breeding. The top fighter bulls don't just fight because they are big. They must have the warrior blood in them. They have the genes. I breed my own bulls because I have my own dairy farm. So I mate the fighter bull with my own dairy animal. When a young bullock reaches the age of one and a half or two years and starts showing good signs, I start training it.
On polygamy
His personal life is as fascinating as his political life. He won't say how many wives he has because he says it is rude, but he is openly polygamist.
"When you are in the public life, it is easier when you accept that you can't have secrets around you. If you allow that then people craft lies about you and people start believing them," he says. "Like if you pretend you are not a polygamist people say, 'Oh this guy is cheating on his wife!' But if you have told people you are a polygamist and they see you in a certain place, they know that is probably where your second wife lives and it ends there."
He never introduces his wives even when people visit his home. "Including when the Deputy President was at my home. He only saw their houses, but in our culture that is how it is supposed to be. I lead a very rich cultural life," he says.
Changing camps
Deputy President William Ruto was at his home that time, alongside what was reported to be 7,000 other delegates (Khalwale says it is a very big homestead), to receive him when he moved from Nasa to Jubilee.
It has been a curious case, how he changed camps like that, from being one of Ruto's biggest critics to being one of his greatest allies. I ask him why.
"Because in politics nothing is permanent. Everything is dynamic," he says. "Also, not many people know that the Deputy President and the President were my old friends, who would even visit me in Malinya in Kakamega before they became big people."
Apparently, things are different behind the political curtain. "When we became political adversaries, what Kenyans know is Khalwale fighting Ruto, Khalwale challenging Uhuru. They do not know the other side, that we have our own social engagements behind the headlines," he says.
Many children
There has been a joke on social media that he has so many children that this is the only year he hasn't had a candidate in the KCPE or KCSE exams, which he wholeheartedly embraces. His eldest is 40 years old and his youngest is in lower primary school.
"It is only because there is no exam this year because of Covid! That's the reason. I have a boy in Form Four in Alliance High School. I would have told people about that one after the results," he says.
He got his first child when his childhood friend got pregnant when he was in Form Six and she in Form Two. She dropped out of school. Two years into medical school, he married her.
"When I qualified as a doctor, I took her back to school. By the time we were burying her, she was a professional at Masinde Muliro University. So with education, you can become anything," he says.
Whenever one of his children is sitting for the national exams, he takes the day off to drive them to school and sit inside the school until they are done.
"It doesn't matter whether I was in the senate, National Assembly or theatre. When my children are doing the exam, it is my day off. I must go and sit with the child in the school. I don't know if it is a magic wand but, in the process, my children do very well. Out of the many children that I have, I have only one child who got less than 400 marks," he says.
In primary school, he does it for the three days but in Form Four, he does that during Prayer Day, the first and last days of theory and the first day of practicals.
"In-between, I drive there to ask how the going is. It is such a morale booster! You have no idea," he says.
He carried over the tradition from his own parents, who would walk 12 kilometres to Kakamega High School to sit in the compound every day when he was doing his Form 4 and A-level exams.
"I tell my children that if I had not had this education I would have died in a chang'aa brewer's house," he says.
Daktari
The chang'aa brewer is his mother, who had him when she was 45. She was also a traditional birth attendant, and one of his main inspirations to become a doctor.
"Women would come and give birth in our banana plantation, or I would accompany her when she was going to the huts of the other families where a woman was giving birth. If she had had the opportunity, she would have been the first doctor in the family – a gynaecologist obstetrician," he says. He ended up becoming a gynaecologist himself.
As a doctor, Khalwale says he still practices in emergency situations. "Like I had an opportunity on Thursday last week where I was forced to practice medicine because I walked into a car accident at Uplands Junction. I went in, did first aid and took the patients to hospital.
"I also practice medicine on a must-do basis. For example, some of my patients say that I operated on them, and now that their daughter is pregnant and needs surgery, they want only me to operate on them. But I do politics full time so I don't have time to go and sit in my medical practice in Kakamega," he says.
With politics as his main focus, his sights are firmly set on being governor.
"I am chasing to be governor of Kakamega and much more. I think there is so much opportunity in my way for me to do more for this republic. Because our country is faced with only one challenge: leadership. There is no other problem."