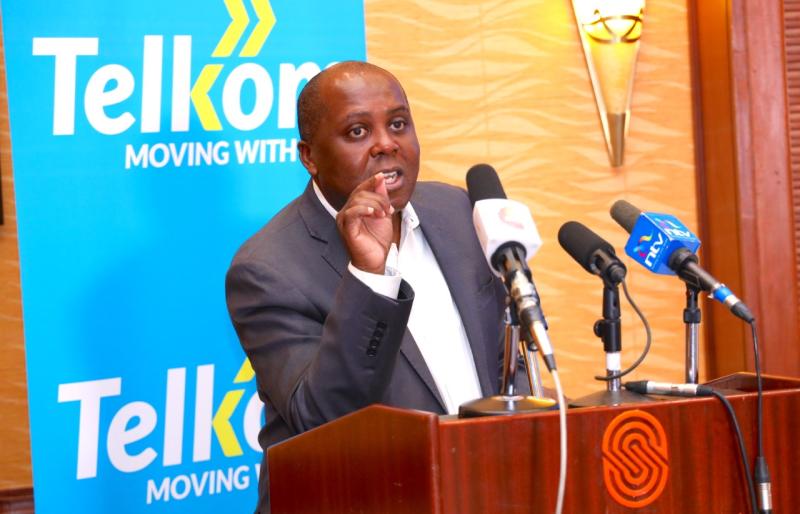 Following the collapse of merger talks with Airtel, Telkom Kenya unveiled a new strategy looking to grow its market share and reverse years of losses.
In the strategy, the State-owned telecommunications firm is betting big on digital infrastructure and platforms while divesting from voice and SMS that have been a staple for the industry.
Telkom Kenya Chief Executive Mugo Kibati last month said the company will not close its voice division entirely, but would instead focus on new growth areas, driven largely by its digital infrastructure network.
"We have seen a change in global consumer trends and the demand for bandwidth, broadband and data has increased significantly," said Kibati.
"Given our national fibre network and landing stations, we are well-positioned to chart this future path for the company."
Read More
Telkom Kenya already owns and operates the National Fibre Optic (Nofbi) cable, the 4,300-kilometre government broadband network that is supposed to be the primary network for county governments and the public sector.
Nofbi is a strategic asset for Telkom and its exemption from the assets that would have accrued to the then proposed merged entity, Airtel-Telkom, significantly weakened the value of the deal.
The two firms had proposed to have Telkom-Airtel operate Nofbi and bill the government at market rates. However, the Competition Authority of Kenya (CAK) objected, saying Telkom's spectrum and fibre resources should revert to the government as a condition of the merger.
In addition to ownership in Nofbi, Telkom also has a stake in at least three other submarine cables and has over the years ramped up investment and partnerships in new fibre networks.
Last year, the company announced it was entering another partnership on the Djibouti African Regional Express (Dare 1) undersea cable, a 4,000, 36TB fibre network expected to have the largest capacity in the region.
Telkom is hoping this fibre network will give it an edge in the broadband market, and the firm is already piloting a new fibre network to the home service.
"We are about a month into our pilot run, although I can't go into the specifics at the moment," said Kris Senanu, managing director of Telkom Digital, the division that was formerly enterprise and that now runs the telco's digital offerings.
Telkom Digital also entails the company's wholesale and cloud business, with Kebaso Mokogi named the Chief Wholesale and Cloud officer.
"Making use of our extensive fibre network, we will drive digital transformation by enabling public and private sector players to become smart entities by way of technologies such as the internet of things (IoT), cloud, big data and analytics," said CEO Kibati.
He said the company would also set up a smart landing hub that will consolidate Telkom's network infrastructure and provide services like data warehousing to both public and private entities. The company has, however, remained coy on the details like expected timelines, how much investment will be required to execute the strategy and where the capital injection will come from.
"We have a commitment to raise funds from a variety of sources that are available to us, but I can't go into the details because these are ongoing discussions," said Kibati.
"This is a major growth area and there are a lot of financiers that are eager to play in this space," he added.
Data from the Kenya National Bureau of Statistics (KNBS) indicates that total undersea bandwidth capacity grew from 4.6 million megabits per second (Mbps) in 2018 to 6.2 million Mbps, a 37 per cent increase year-on-year.
The coronavirus pandemic has, however, exposed the strain on the available infrastructure. With more people working and studying from homes, internet service providers have often found their networks struggling to maintain uptime. It is on this premise that Telkom hopes to be a game-changer in the market that still remains largely untapped, despite the promise of sure profits.
KNBS data indicates the number of households in Kenya with a wired fibre connection last year stood at 203,038, representing just 1.6 per cent of the total population.
Wananchi Group's Zuku currently holds a slim 35 per cent market lead in the fixed data market with 175,433 subscribers ahead of Safaricom's 165,810 subscribers that give the telco a 33 per cent share of the market. Safaricom has over the years risen steadily, laying down 9,000 kilometres of fibre that serves more than 330,000 homes and 4,000 buildings.
"In the 2020 financial year we achieved 4,000 fibre ready buildings, a 64 per cent growth in the year with more than 24,000 enterprises enjoying fibre to the business across all towns," said Safaricom in its latest financial report.
Fixed data accounts for 3.6 per cent of Safaricom's overall service revenue, translating to Sh9 billion in the last financial year. Telkom Kenya, on the other hand, counts 4,400 fixed data subscribers, translating to just 0.9 per cent of the market.
The task now for the State-owned telco is to translate its massive network infrastructure into revenues, and only time will tell how this strategy is realised.