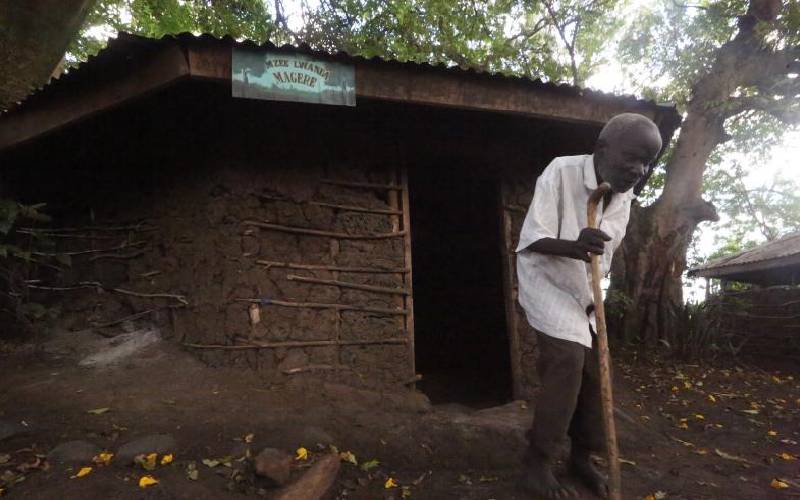 History books have chronicled his story while researches have been conducted on what is believed to be his remains at Wangowe in Muhoroni, Kisumu County.
His kinsmen have remained proud of his once mysterious life, which saw him stand out during clashes between his Luo tribe and the neighbouring Kalenjin.
But if he was to return to life today, Lwanda Magere would be met with shock and humiliation.
Today, the house where his remains lie is abandoned, with some youth visiting the place to engage in illicit activities.
Read More
Due to its seclusion at the distant end of the village, and with poor access, the youths have been using it as their safe bhang smoking zone. It has also become a sex den.
Petro Obondo, 96, on whose land the shrine sits can no longer care for it as he used to in his heydays.
This desecration is happening despite the government having identified the shrine as a cultural tourism site, with the Kisumu County Government having allocated funds for its modernisation three years ago.
When The Standard visited the site last week, the situation was appalling, with Obondo fearing that the site may be closed altogether when he dies.
"At 96, my days in the world are numbered, and my fear is that if I leave it in this state, it may be difficult to get the shrine back to what it should be," said Obondo.
Special history
He is afraid his family members may wrangle over the land, as it remains registered in his name, and he had vowed never to transfer the three quarter acre piece to anybody due to its special place in history.
Besides Obondo was his stepson, George Magolo, who has been helping him care for the shrine.
According to history, Lwanda Magere, a Luo from Sidho, one of the sub-clans of the larger Kano clan, led a mysterious life.
During the inter-tribal clashes between the Luo and the Kalenjin, which was mostly due to cross border cattle theft and boundary conflict, he led the fights, and in most cases won.
But it was not until the Kalenjin thought of a way to mine his secrets that they gifted him a wife, claiming they were celebrating him for his brave actions. The wife allegedly discovered Lwanda Magere's secrets that he had a stone body, and that his power was in his shadow.
She allegedly faked an illness, which saw her get access to her family, and then leaked the information. This led her brothers to conduct a raid at Lwanda Magere's home, spearing his shadow and killing him.
Lwanda Magere was said to have emerged in the form of a special stone at Wangowe village, where his many mysteries live on.
According to Obondo, the special stone once in a while disappears and reappears. The stone, it is believed, also changes its position. Once in a while, it appears so huge, but at other times it shrinks.
He says people from all corners of the greater Nyanza region have been visiting the stone to seek solutions to natural problems and calamities such as long droughts.
Eight years ago, the Kisumu County Government expressed interest to take over the shrine, improve it and turn it into a global attraction site.
During the 2018-2019 Financial Year, the County Government allocated Sh1 million to fence and secure the shrine.
To date, the presence of the county government is only felt through three signposts giving direction to the site; one near Ofis Ng'eny along the Awasi-Chemelil Road, another one at an access road within Wangowe village, just about a kilometre from the site, and one other at the gate of the shrine.
With no access road, no restrooms within the compound, no electricity, water, and nobody caring for the shrine, the facility is in the hands of rogues.
"Not long ago, a man and a woman came to me and got the key to Magere's house claiming they were going to see the place. We only discovered that they locked themselves inside the house to engage in sex," said Obondo.
By the time he discovered this, the couple was long gone, and only used condoms were left in the compound.
Before long, another group of cane cutters sought to go see the shrine and when Obondo passed by, he was met with a huge smoke of bhang before the young men sneaked away.
This was barely a year after another man attempted to uproot the rock believed to be Magere's remains, and was only discovered when a heap of soil was spotted around it.
A spear which was believed to have been used by Lwanda Magere in war also disappeared under unclear circumstances, with a yellow robe which was used to cover his remains having been stolen.
Not much is said about the Lwanda Magere shrine currently, a situation which has seen it slip into obscurity.
"I am not willing to sell this land because it may bring me a generational curse. I want it handed over to the government so to ensure we take care of this special gift and preserve the history it harbours," said Obondo.
Tough task
"We have tried to do all we can to preserve this place but the work required is too much for us," said Magolo.
He said once in a while, he engages his friends who help in trimming the fence and cleaning the compound.
He said the number of tourists visiting the site has dropped, and the few who make it there only give Obondo as low as Sh20 to allow them in.
"Since it is not a full-time job, I only help where I can. Our hope is that the county government can take over the property," he added.
County Chief Officer for Tourism Daniel Okia admitted that the shrine was not in a desirable state, but blamed the situation on the fact that it sits on private land.
"The government cannot invest money in a private property. We have been trying to purchase the land before we can go on with the plans we have for the shrine," said Okia.
He, however, could not comment on the Sh1 million that had been set aside for the shrine, saying he was not in the office by the time. He said he would follow up.