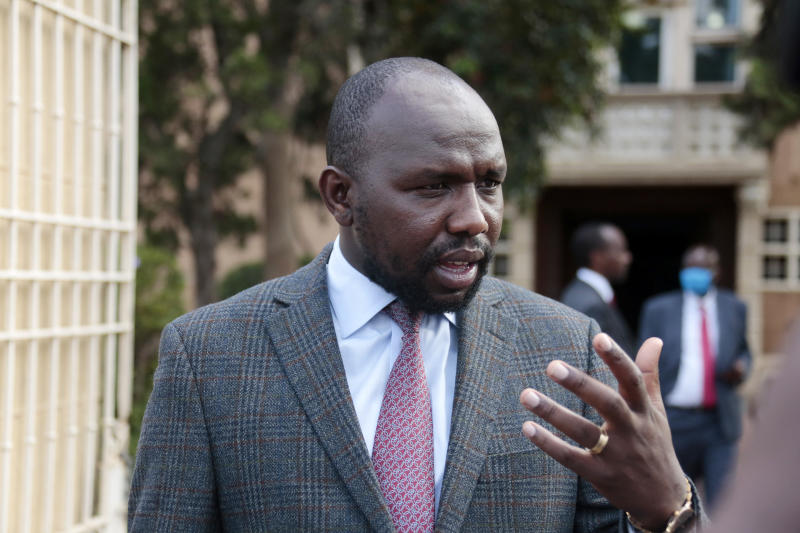 People of Kenya, please leave Senator Onesmus Kipchumba Murkomen (pictured) alone; he is just doing his job. His task as a present day Kenyan politician is to be a marionette. Now, for those who have forgotten their primary school Art and Craft lessons, the marionette is the most sophisticated in the category of inanimate instruments of performance.
Make no mistake, Murkomen is just one of many in the Deputy President's extensive array of mouthpieces. But the rest are of a lesser variety. Most are 'finger puppets' who are painfully unconvincing. They are too small and expressionless to cause a national ripple. We cannot remember what they say 15 minutes after they say it!
But Murkomen, the most favoured among the puppets, is effective. He deserves hearty congratulations. However in his stage appearance earlier week on JKL (Jeff Koinange Live), Onesmus Murkomen made grave mistakes that a good marionette should never make.
If you did not catch Murkomen's performance on JKL, here is a concise summary. Murkomen gave us two main points. First, he told us that President Uhuru Kenyatta's legacy is dependent on his treatment of the Deputy President, not on infrastructural development. Secondly, he told us that without William Ruto the president would be nothing, not even an opposition leader.
Read More
On his first point, the Senator is tragically misguided. In fact, his thinking is the reason Africa continues to be a poor continent: our politicians are using soap-opera logic!
Murkomen as a leader with national standing is telling us that nothing matters except the chemistry between the President and the Deputy President. That over 40 million Kenyans should be worried about William Ruto's feelings, and not over 'brick and mortar'. That we as Kenyans, who have our own personal issues, should be angered because the President did not invite the Deputy President to a meeting.
Will a Kenyan peasant farmer think about this season's crop, or should he be preoccupied by the lack of affection between Uhuru and William? Will a Kenyan businesswoman be concerned about her access to markets, or William's loneliness? Did we vote for a love story, or an administration?
From where I stand, a kilometre of road is more important than a singular man's emotional state. If Ruto must cry in heartbreak so that a village in rural Kenya can prosper, so be it. May he cry us a river so that many villages thrive.
On his second point, Murkomen put forward a 'Who Needs Who most?' theory. He claimed without the Deputy President, the President is nothing. That is indeed a bold statement for a marionette to make about a sitting Head of State.
But that aside, is there some truth in what he is saying? The answer is a solid No. Murkomen's logic is no doubt premised on tribal voting blocks.
So based on that same ethnic arithmetic, Murkomen's 'Who Needs Who?' theory falls apart. In the last election, 1.4 million Kalenjins turned out to vote for the DP. Over 4.5 million GEMA (Kikuyu, Meru and Embu) turned out to vote for Uhuru Kenyatta. Murkomen's theory falls flat by over 3 million people. So actually, if we are being factual, without the President, the Deputy President is nothing.
To debunk this 'Who Needs Who' theory further, the political field is full of William equals. Based on the same 2017 numbers, the Luhya vote turnout was at 1.9 million, the Luo at 1.7 million and the Kamba at 1.5 million. Numerically, there is no difference between a Mudavadi, Raila or Kalonzo Deputy President.
I must admit that in saying that Murkomen is a marionette, I could be wrong. Maybe the man is not a puppet, and is speaking on his own volition, raising his own sentiments and expressing his own appreciation of the political situation. But if Murkomen is speaking on his own behalf, and not that of the Deputy President, he is using his boss to gain personal traction. His goal being to outshine his master.
A keen listener during Murkomen's JKL interview would discern some self-promotional statements that Murkomen made. For instance, Murkomen declared that at the height of the 2017 election season "he was the only politician in the President's chopper". He did not give us this information for no reason. He is priming himself as a centre of power himself.
Murkomen is not only dog whistling to the 1.4 million Kenyans who voted for William Ruto, but to any 'power broker' he thinks could elevate his political career. Murkomen is demonstrating how he can stand up to the most powerful office in the land, something that his own boss William Ruto has been unable to do. Generally, he told us that for years, the DP has been miserable and bitter, but it is him, Onesmus who has had the guts and audacity to tell the President directly.