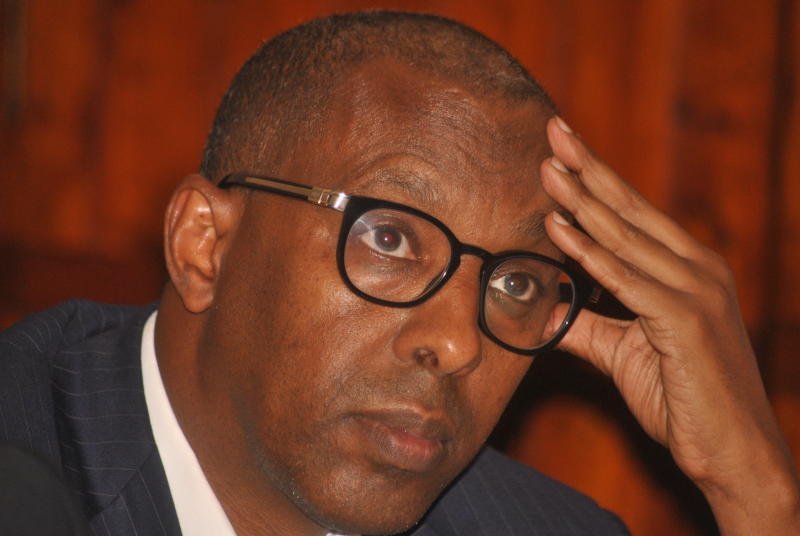 A city lawyer's triumph against the government's negligence during road constructions has given hope Kenyans who have suffered similar fate at the hands of state agencies.
Lawyer Ahmednasir Abdullahi (pictured) was on Thursday awarded Sh750,311 as costs of damages to his car, a Bentley Bentayga, which was caused by loose chips on a road under construction by the Kenya National Highways Authority (Kenha).
But his case is not the only one as the courts have previously held individuals, government agencies and private institutions to account for their negligence that leads to damages and suffering.
Amhednasir was travelling to the country on August 30 2018 from Arusha, Tanzania through the Nairobi-Namanga highway when his car got damaged.
Read More
According to Ahmednasir, his car's windscreen was damaged by stones, shrapnel and particles on a section of the road which was being re-carpeted by Kenha.
He accused Kenha of gross negligence by failing to close off the section under repair to the public and for failing to erect proper signage along the highway to warn motorists about the ongoing repairs.
As a result of the negligence, he argued that he spent Sh750,311 to repair the damage to his car.
Kenha in its defence said they were not liable for the damages incurred by Ahmednasir since he failed to report the incident to any police station.
Failed to report
According to the roads' authority, the damage to Ahmednasir's car could have resulted from the manufacturer's defect since it was not possible for a stone to rise from the ground and shatter the windscreen unless he was driving at a speed of 250km/hr.
The agency further said that the incident might have happened in Tanzania and that the lawyer should have had an independent assessor to quantify the damages instead of repairing it himself.
Trial magistrate Edwin Mulochi agreed that Ahmednasir had suffered damages to his car due to the agency's negligence and awarded him the Sh750,311 as the costs he used to repair the windscreen.
The magistrate however declined to award him other compensation he had asked for, ruling that it would amount to unjust enrichment since he had no physical injuries as a result of the accident.
"The award of the amount is meant to restore the position his car was before the windscreen was damaged. This is because Kenha breached the duty of care owed to him and other road users to ensure safety for road users," ruled Mulochi.
According to the magistrate, the roads' agency should have erected signs along the highway to warn road users of ongoing road repairs or alternatively divert the vehicles until the repair works were completed.
In other cases of negligence, former High Court Judge Nicholas Ombija was awarded Sh2.5 million as damages as a result of negligence by a bank to load his credit card.
Ombija sued Kenya Commercial Bank after he went shopping at Nakumatt Supermarket only for his Visa credit card to be rejected despite his account holding over Sh1 million.
The former judge said he left the supermarket after returning all he had picked for lack of funds in his credit card account, an experience he claimed subjected him to distress, agony, mental torture, humiliation and contempt in the eyes of the public.
Hospitals and medical practitioners have also had their fair share of punishment as a result of negligence which results to death or permanent disabilities to their patients. In one of the cases, Justice Mbogholi Msagha awarded a mother and her child Sh58 million because of medical negligence she encountered at Nairobi Women's Hospital.
The woman's claim was that she checked into the hospital when she was about to deliver and after admission, she was induced but the doctors then left her alone for two days without attending to her.
It was not until her labour intensified that she underwent an emergency operation but the prolonged labour caused her baby to be born with cerebral palsy.
Last year, the family of a Chinese tourist killed by a stray hippo while on holiday in Kenya was awarded Sh25 million.