Dry but empty: How victims of floods are rising from the debris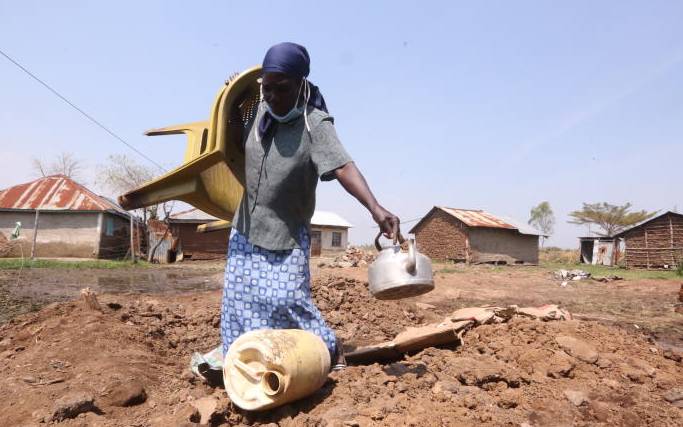 Caroline Aomo, 55, painstakingly tries to pick up the pieces, literally sifting through the debris to see what she can salvage from the ruins of what used to be her home at Kapuothe village in Dunga Beach, Kisumu County.
Her young, seated under a small tree that survived the storm and the ravaging waters of Lake Victoria that destroyed almost everything in their homestead, stare down at the huge holes, a signature calling card left behind by hippopotamuses that roamed the homestead after the family was displaced.
For more than five months, a small classroom at Nanga Primary School has been the only place the family has called home. They shared it with five other families.
Aomo is among vulnerable householders who have started going back to their deserted homes after the water levels started dropping and most homes began to dry up.
Heavy rains and the lake's back-flow left a trail of destruction in homes of dozens of families living on the shores.
Pointing at what used to be her house and kitchen, the widow says she does not know where to start, with the coronavirus pandemic making matters even worse.
"It still doesn't feel like home. My two houses were washed away. There is nothing left. My chicken and four cows died for lack of pasture," she says.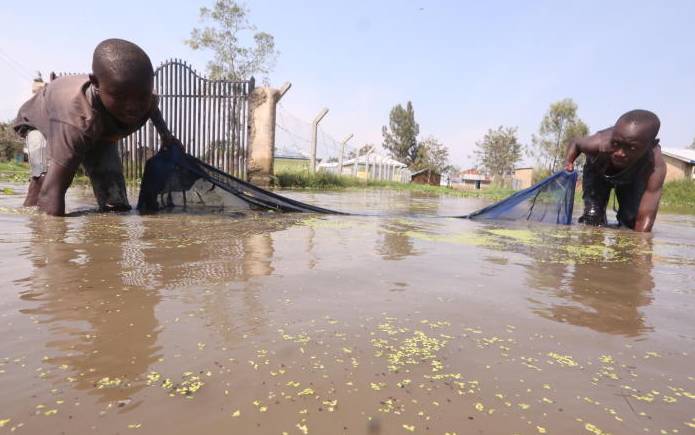 Nevertheless, Aomo says she is ready to do menial jobs in farms to start rebuilding her house after Kisumu County Government turned a blind eye on them.
"Right now we are moving into the kitchen of my generous neighbour, but I have to move out after some time. The county and national government are not doing anything and so I have to start all over again, even if it means putting up a rag house," she adds.
With inadequate relief aid, the flood victims are taking matters into their hands.
The homes are dry, but the majority of the houses are cracked and hanging by a thread, waiting to cave in.
Jacinta Nabwire, 30, has not set foot in her home since last December when the floods displaced them.
Although the water levels have reduced, her home is still a shell of its former self. From a distance, the trail of destruction is evident, with trails of water hyacinth strewn all over.
Living across a lake inlet stream, four sofa sets and bedding can be seen hanging on trees, with no way to retrieve them as the bridge that was leading to her home was washed away.
"My house almost collapsed on us in December, and we were forced to move out. The situation worsened this year before we evacuated. Now my husband has to swim his way across the stream to check on the stuff we couldn't carry," she said.
Nabwire, who is currently breastfeeding her three-month-old baby, says her husband has shifted to fishing, with the relief aid yet to reach their village.
"Every day, my husband goes fishing in the swamps for mudfish and tilapia which are common now in the village here. He sells them for money and on bad days we eat them with no other source of food," said the mother of three.
Many families moved to neighbouring schools and high ground makeshift camps and have lived there for the past four months.
Kisumu County Director of Special Programmes Ruth Odinga said the county government had already started a recovery programme and would build houses for affected families and carry out prevention measures like building drainage and dykes.
"We have already started desilting most of the villages like Onjiko and Kabonyo in Nyando. We expect this to go on across the county," said Odinga.
"For the houses, we had a multi-sector meeting with UNICEF, Red Cross, World Vision and the national government, who are already planning for the first phase," she said.
Investors, too, are counting huge losses after managing to access their premises for the first time.
For some, the hopes of owning a home in the lucrative shores of Lake Victoria has now been washed down the drain after the swollen lake destroyed foundations.
John Ouko had started setting up a hotel near the lake. He says he is yet to pick up the pieces after his entire foundation was washed away, and with it, millions that had been spent.
"How does one pick up from here? It is not easy. We cannot also start rebuilding because no one knows what the future holds," said Ouko.
And with scientists still yet to conduct a new study on whether the waters will swell again, many are fearing making huge investments on the lake shores.
But for some, the developments have completely changed their lives, with some villages now turned into islands.
Crops too have been destroyed and all leisure activities along the shores brought to an abrupt end.
Jackline Akello, a farmer who had been hoping to make a killing from her huge investments in rice, the destruction has left her with nothing. She says she lost millions of shillings in investments.
When scientists warned about the rising levels of Lake Victoria more than five years ago, many did not take it seriously.
Experts and villagers claimed that the situation was last witnessed more than 57 years ago when a similar swelling in 1963 destroyed entire villages.
Several beaches, fish-landing sites, sporting facilities and luxurious homes have been affected with victims saying they will need to invest a lot of money to get back on their feet.