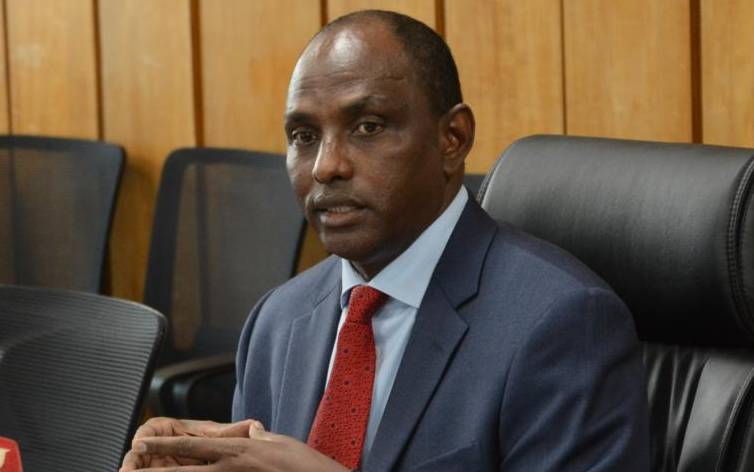 A big chunk of the government's Sh156.7 billion stimulus cash designed to keep the economy afloat during the Covid-19 pandemic largely remains locked in bank accounts.
In three months since Kenya announced its first case of the coronavirus disease, the billions of shillings pumped into the economy – mostly from government payments meant to cushion Kenyans from the adverse effects of the pandemic – are yet to provide relief to the struggling workers and businesses that need it most.
Close to half of the money released, Sh77.1 billion, was locked in fixed deposit accounts by wealthy individuals and businesses rather than being made available to Kenyans for use, through salaries or consumer purchases for instance.
Locked in
Read More
Treasury Cabinet Secretary Ukur Yatani (pictured above) acknowledged that a lot of the money remained locked in banks accounts, but said it was due to a combination of factors. These, he told The Standard yesterday, include uncertainties around the investment climate, which forced banks to take a wait-and-see approach, and a reduction in the cash reserve ratio (CRR), which freed up close to Sh35.2 billion into the money market.
"This will go on for a month or two, and then they (banks) will start lending to the private sector," said Yatani.
The CS further noted that while banks had a lot of money, which they were rushing to lend to the government, the uptake had been low, which would force them to release the funds to the general economy.
The Sh156.7 billion released between March and May this year is nearly twice the Sh82.3 billion that was injected into the economy over a similar period last year, the latest data from the Central Bank of Kenya (CBK) shows.
However, banks, rather than lending out this money to the private sector to revive fledgeling businesses and save jobs, have parked these billions in government securities.
The money in fixed deposit accounts during the March-May period this year increased from the Sh56.7 billion held over a similar period last year in what is technically known as savings and time deposits.
Further, as the pandemic battered financial assets and the stock market, Sh45.5 billion of this year's cash injection was converted into foreign currencies.
This was an attempt by the moneyed in the country to seek a safe haven for their wealth.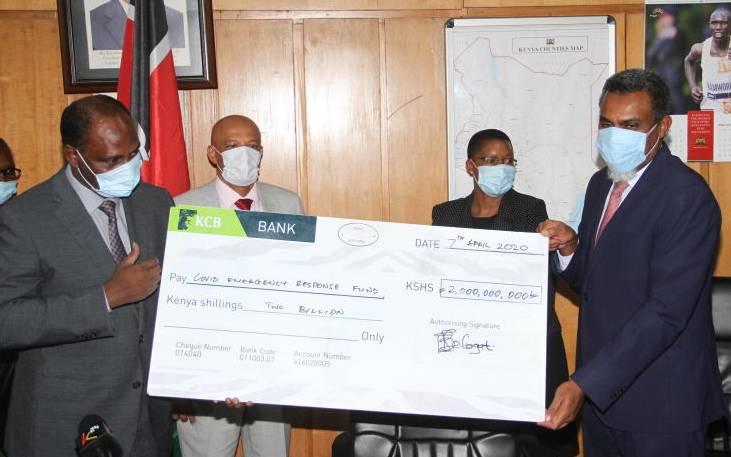 As a result, a paltry 8.4 per cent of this additional cash – Sh13.3 billion – was outside of banks and in demand deposits, such as salary accounts, meaning it is easily available for transactions.
The increase of hard cash outside of banks and money in salary accounts, was bigger in the same period last year.
Liquid cash in salary accounts and hard cash outside of banks increased by Sh35 billion. A majority of this money, Sh29.5 billion, was in salary accounts while Sh5.5 billion in banknotes and coins.
Further, this year, the money in circulation in the economy has increased even more, but most of it remains in fixed deposits.
Experts also doubt if the Sh197 billion outside of banks is being used in transactions, even as CBK Governor Patrick Njoroge insisted that the economy had started to re-awaken.
In total, there was around Sh3.75 trillion in the economy by the end of May.
Most of the money that was added in bank vaults, said CBK in one of its weekly reports, came from the State settling some of its debts to suppliers and various service providers.
The financial regulator has noted that the increased liquidity in the money market has been supported by "government payments which offset tax receipts".
It includes pending bills of Sh13 billion and VAT refunds of Sh10 billion. There have also been cash transfers to the elderly, all of which President Uhuru Kenyatta's government hopes will help stimulate the economy.
Secure wealth
The government has also transferred close to Sh5 billion to a deposit account for counties at CBK to be used in the fight against Covid-19.
A good portion of the money has come from multilateral donors, such as the World Bank, International Monetary Fund and the African Development Bank, which have together extended to Kenya more than Sh200 billion in the last three months.
Recent developments have shown that rather than lending to businesses and households, banks have used sought to lend to the government, a safer option when it comes to repayments.
In the last few auctions, investors have given money to the government at one of the lowest rates in the last 10 years, signalling that they would rather secure their wealth than get better returns.
But this aversion to risk – the containment measures have dampened demand, with most businesses fearing they will lose out – has left the economy gasping for breath.
Thousands of small businesses have starved for lack of cash, sending millions of workers home.
CBK's Njoroge has asked the government to urgently unveil credit guarantee schemes, saying this would forestall the death of many small firms.
In a press briefing, Njoroge noted that micro, small and medium-sized enterprises (MSMEs) had thin buffers that could barely last them more than two months.
Although he did not know the time-frame on when the scheme would be rolled out, he said it had to "be as short as possible".
"MSMEs don't have a lot of buffers. They generally would die quickly," said Njoroge.
He cited a survey that showed three-quarters of SMEs do not have cash that would last them beyond June.
"They (MSMEs) are on the ropes," he said, noting that they needed both financing and related assistance.
The Treasury has set aside around Sh3 billion to help small businesses access credit from banks. This will see some of the cash put aside loaned out to small businesses.
This comes on the heels of a survey by the Kenya National Bureau of Statistics (KNBS) that showed the fraction of individuals absent from work due to Covid-19-related challenges surged in May as the pandemic continued to leave a trail of economic destruction.
For every 10 families that said they were out of work, six blamed Covid-19 for their unemployment, an increase from just about 50 per cent in April.
Another 15 per cent of the respondents cited temporary business closure.
With reduced incomes, a lot of Kenyans struggled to pay rent, transport or put food on the table, revealed the survey which looked at the impact of the pandemic on health, the labour market, transport costs and housing.
Almost half of the respondents were self-employed, while another 35 per cent was paid to employees.