Why civil society has no reason to reject the BBI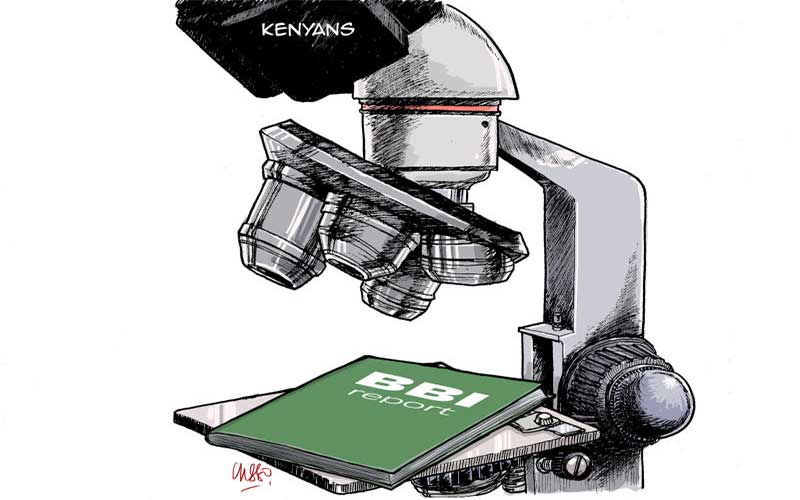 Kenyans always complain that there is no change. Nearly every month there is a demonstration against something. On social media, almost everyone is an activist committed to a cause. This Kenyan vigilance has brought us great gains in our society and even held many government and corporate entities to account. Such activism should be supported, but in my mind's eye, it suffers from two great flaws.
The first flaw is that it wholly depends on foreign aid to continue. Nearly all civil society organisations depend wholly on the benevolent ways of the white messiah. This has gone on since time immemorial and we take it as normal, but it has inherent perils.
A story is told of a certain pastor who often had American missionaries and donors come visit him once a year. During those visits, he asked his church members to wear their worst clothes and ensure their children wore torn clothes. This show of poverty would ensure that the visiting missionaries would be moved to donate to his church.
The logic of this pastor and many civil society types is the same. The shame of our nation is proportional to the charity of the western donors. This is the reason why some in the NGO world will never say a single positive thing about our nation. For if they said it, the taps would run dry. To them, Kenya should always be as backward as possible. If they are economists, they will always paint a doomsday scenario. If they are in governance, they will always say Kenya is undemocratic; and if in development then Kenya is always under-developed.
An example is how for years they claimed the economy was on its death bed; at rock bottom. When Covid-19 hit, we all realised that indeed times were better before the pandemic. The fact is obvious the survival of civil society is dependent on how bad a picture they can draw of this nation.
This is ultimately why they oppose the BBI. The BBI addresses their pet issues but does not include them. Which means there is no money in it for them. Verily, I tell you; had the BBI had per diems and allowances for civil society, as did the 2010 Constitution process, they would laud it as the best document ever written after the Bible. The BBI, to them, is a process that has gotten the attention of donors, and if it works, then their space to get funds will be shut.
You see in 2017, many NGOs received cash to campaign against poll violence. They did road show after road show, yet never dealt with the real issues that bring about electoral violence in Kenya.
This is not an Odinga, Uhuru or Ruto thing. It has been true since 1992 to date. To deal with it, we should accept that we cannot have a situation where someone who comes second in an election with 4 million votes has no role in our political landscape, yet someone with 5,000 votes can be majority or minority leader in Parliament.
Civil society knows this, but instead of solving the issues, they would rather the issues remain so that they can keep the foreign cheques coming for one more round of useless road shows.
Don't you find it strange that before the second election, the same people were begging for Uhuru and Raila to talk, but as soon as the two talked the same people are vehemently opposed. Dear Kenyans, do not listen to the piper's tune, find who pays the piper. That brings me to my second point. Civil society would rather demonstrate than co-operate. Let me take police reforms as an example. It is true that the police have been noted for unnecessary violence and extra judicial killings. However, it is also true that police reforms are underway. Recently, the dreaded flying squad was disbanded. The Independent Policing Oversight Authority has taken action against police officers who have flouted the law and even the OB book is being digitised.
All these are real changes in our police service that civil society will ignore and just choose to demonstrate endlessly instead. Me thinks that civil society would be better off if they supported the changes fronted by government.
Instead of demonstrating, put that money in training interactions with the police or sponsoring the purchase of more computers to digitise police records.
Cooperation is the next logical step to any civil movement. Dr King's movement cooperated with government to come up with Civil Rights Act 1960s. Nelson Mandela had to cooperate with the apartheid movement to get to freedom, even Kenya had to cooperate with Britain to attain independence. Only a fool remains at war when the chance for peace presents itself. The BBI report is one such opportunity. Why oppose a chance to get the reforms you want simply because you think only your way works?
Let us follow the logical conclusion of any of these activities civil society entities conduct. If you are demonstrating to have changes in the police then you expect the State to implement those changes, don't you? Similarly, if you are demonstrating to see any positive changes in our society, don't you still expect the executive will effect those changes? Why, then, do you oppose the executive when it implements the changes you want? The civil society has no reason to oppose BBI other than selfish interests. For indeed there is not a line within the BBI that they find fault in.
-The writer is a communications consultant