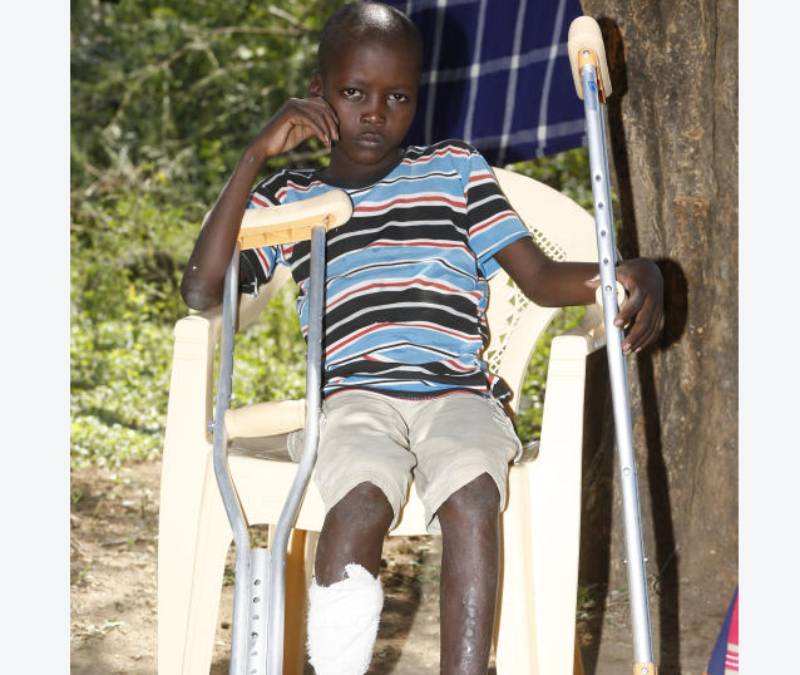 Ten-year-old Limo Poriot (
pictured
) sits under a shade and appears in deep thought. He stares at the crutches beside him and looks into the distance as if contemplating what the future holds. For a month now Poriot has been forced to adopt a new way of life; the use of crutches after one of his legs was amputated just several inches below his knee after he was shot by the police on an operation at Naudo village in Tiaty. He misses moments he would join his siblings and play with them. The best he can do is follow up the games, as friends and sibling playfully run around him.
SEE ALSO: Nigerian lawyers fight back against police brutality, graft
Feel sad
"I wish I could join other children, run around with them and play all sorts of games. The noise I hear from them as they play just makes me feel sad. If only I had my leg back," Poriot said. The Standard One boy was shot in May while herding his parents' goats. He reveals that he was with another child on that fateful day when a team of officers who were on operation drove past where they were grazing their animals. Out of fear they ran and hid in a nearby bush, little did he know one of the officers had aimed at him. He was shot twice, leaving him with injuries on both legs. One of the officers he said ran to where he was and found him wriggling in pain. The two bullets would mark the beginning of his new life. The officer in jungle uniform, he said, rushed to where he was, stared at him, then knelt and said he was sorry before leaving him for dead.
SEE ALSO: Colorado police chief apologizes over four Black girls held at gunpoint
"One of the officers came to where I was lying, and saw me cry in pain. He placed his rifle down, knelt and said sorry before leaving," he said. The officers he said never bothered to have him taken to a health facility. It is after the officers left that residents who had heard gunshots rushed to the scene. Later the boy's relatives were informed of what had befallen the minor. Poriot's brother, Alex Krop said he rushed to the scene and found his injured brother. The boy was ferried to Nakuru Rift Valley Provincial General Hospital where doctors suggested that the leg be amputated. "Doctors said there was nothing they could do other than have his leg amputated," Krop said. Poriot stayed in hospital for close to two months and was discharged on Tuesday. The doctors, however, advised that the condition of the boy be monitored closely.
SEE ALSO: Our women should be protected by all, not clobbered like snakes
Krop said they regret sending Poriot to the bush to graze the animals. All they want is justice for the boy. The Government, he said should be held responsible for the loss. "The boy was innocent, all we need is justice as a family. His life will never be the same again," he said. Hosea Lomada, Poriot's father, said they have been left helpless and can barely cater for the boy's daily medical bill to have the wound dressed. Christina Lomada, the boy's mother said the child is finding it hard to cope with the new way of life. Baringo County Commissioner Henry Wafula said they will review the matter and see how the boy will be assisted. "Let him heal, we wish him quick recovery. Together with my county commander, we will review and see how the boy will be assisted," Wafula said