Uhuru and Raila dig in to quell stand-off over counties' cash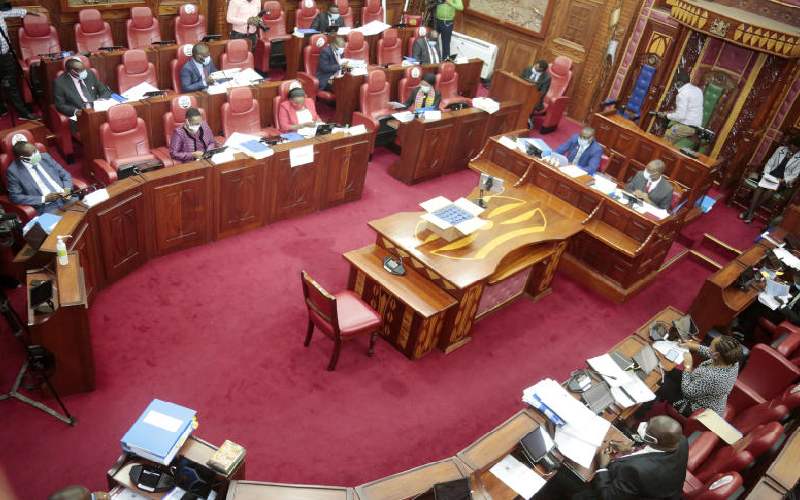 Senate is today expected to pass the third basis formula for the allocation of funds to the counties but defer its operationalisation for one year following an outcry from governors of Arid and Semi-Arid Lands (Asal) counties.
The Standard has established that there have been several consultations over the weekend which prompted Senate Speaker Kenneth Lusaka to call off a Kamukunji (informal) meeting aimed at resolving revenue allocation to counties yesterday morning.
Last minute deal
A source familiar with the push and pull of the formula confided in The Standard that another Kamukunji meeting has been called by Lusaka this morning to strike a last minute deal.
In a follow-up meeting to break the deadlock, Senate Majority Leader Samwel Poghisio (West Pokot) chaired a meeting attended by his minority counterpart James Orengo (Siaya), Deputy Chief of Staff Njee Muturi and senators Mutula Kilonzo Jr (Makueni) and Charles Kibiru (Kirinyaga) and agreed that leadership resolves the matter internally.
According to the source, President Uhuru Kenyatta and Opposition chief Raila Odinga's allies told the Senate leadership team that approving the new formula will be suicidal politically and will make Building Bridges Initiative (BBI) fail.
"We are having a robust debate. The issues are predicated on revenue allocation.
"The formula that was to be tabled disadvantages many counties and we are trying to mitigate the disparities," said Kilonzo Jrn.
The fate of devolution for the next three years is set to be decided at the plenary as Senate makes the decision on revenue sharing.
The vote will be a test for the 67 senators as Kenyans look at how they vote to protect and strengthen devolution.
While the general argument has been that devolution has made progress on the provision of health services, roads, water and early childhood development education (ECDE), counties argue that there is need to increase funding due to them.
BBI proponents argue that at least 45 per cent of revenue should go to counties, but the recent budget has pegged the funds at about 10 per cent.
The BBI mix will also kick in as citizens wait to see if the proposals of increasing funding are contained in the revenue formula as it will decide how referendum campaigns shape up.
County chiefs from ASALs are demanding that even as Senate decides the formula, the best situation would be that no county losses funds.
Governors from the eight devolved units are reading mischief in the proposed formula "that is seemingly discriminatory and insensitive to their interests".
The governors argued that if the formula is allowed, devolution would be gravely impacted and most of the ongoing projects will stall.
Further marginalised
Should the formula be adopted, Wajir, Mandera, Marsabit, Tana River, Garissa, Mombasa, Kwale and Kilifi counties will lose billions of shilling and further be marginalised.
The reductions will see Wajir lose Sh1.947 billion, Mandera Sh1.873 billion, Marsabit Sh1.870 billion, Tana River Sh1.558 billion and Garissa Sh1.287 billion.
Mombasa will lose Sh1.025 billion, Kwale Sh995 million and Kilifi Sh878 million.
Leaders led by Garissa Governor Ali Korane argued that the new approach has been selectively applied, is discriminatory and should not be allowed.
"Any formula that reduces allocation to counties should not be allowed without cushioning the counties that are negatively impacted.
"Besides, the timing is very wrong because of the economic difficulties within the counties as a result of the Covid-19 pandemic," Korane said.
According to CRA, the third basis seeks to address four primary objectives: enhance service delivery, promote balanced development, incentivise counties to optimise capacity to raise revenue and incentivise prudent use of public resources.
On implementation of the third basis, the Commission recommends a phasing-in of the formula to avoid disruption in service delivery and development programmes.
The revenue sharing to devolved functions uses three components, namely; service delivery, balanced development and, incentive.
The framework proposes the allocation of 65 per cent of the revenue for enhancing the delivery of public services, 31 per cent for promotion of balanced development, and four per cent to incentivise revenue-collection and fiscal prudence.
Under the third basis, the basic share will take up the highest percentage at 20 per cent, followed by population (18), health services (17), poverty levels (14), agricultural services (10), land area (8), urban service (5), and rural access (4) while fiscal effort and fiscal prudence will take 2 per cent respectively.