Counties race to set up key facilities, two days to decisive moment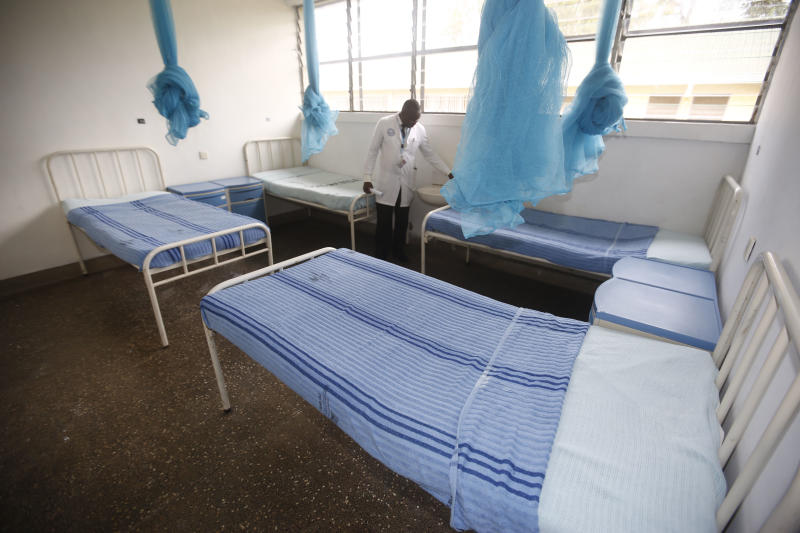 Counties are in a race against time to meet the deadline for shoring up the numbers of isolation beds for Covid-19 patients.
A meeting held at State House last month between President Uhuru Kenyatta and governors agreed that counties set up at least 300 isolation beds each by July 7, to handle an expected surge in the number of positive cases.
Up to Sh5 billion was allocated to the counties for preparedness in fighting the disease that has recorded cases in at least 41 of the 47 counties.
Besides the increase in the number of beds, the devolved units were also tasked to review their fiscal and strategic plans for the 2020/21 financial year to include Covid-19 prevention and control measures.
When the country reported the first case of Covid-19 on March 13, the country had only eight isolation beds. These were at the Infectious Disease Unit in Kenyatta National Hospital (KNH).
By June, as outlined by Health Cabinet Secretary Mutahi Kagwe, Nairobi had surpassed the 300 bed capacity mark.
"We started with an eight-bed infectious disease capacity, developed 120-bed capacity at the Mbagathi Hospital and quickly converted over 500 beds at the Kenyatta University National Hospital for Covid-19," Kagwe said in one of the daily updates.
In the Rift Valley, Bomet County so far has 100 beds spread across Kaplong Mission Hospital, Longisa, Tenwek, Koiwa Health Centre and James Finlay Hospital.
County Health Chief Officer Joyce Tanui said plans are underway to procure 200 beds at Koiwa Health Centre.
The county has nine ventilators at Longisa and Tenwek hospitals, with the ICU at Longisa specifically set aside for Covid-19 patients. In addition, there are nine High Dependency Units (HDUs) connected with monitors, four at Longisa and five at Tenwek.
"Currently, we have trained 3,000 health workers and sensitised more than 300 on Covid-19 to enable them understand better ways of managing the disease," said Dr Tanui.
Neighbouring Kericho County has 300 beds at Ainamoi Health Centre, the county hospital and Unilever Central Hospital. Health records indicate that the county has a total of 13 ventilators and 10 ICU for Covid-19 patients.
The county was allocated Sh116 million by the national government to help in Covid-19 preparedness, in addition to Sh120 million from county budget.
Nakuru, on the other hand, has 10 ICU beds set aside for management of the disease and three HDUs. There are additional nine ICU beds for people suffering from other ailments, which might also be used to manage Covid-19 patients if need be.
Under construction
The ICU beds are at the Rift Valley Provincial General Hospital, with two at Naivasha hospital. There are also 40 ventilators, all at the provincial hospital.
There are 300 isolation beds distributed across the general hospital, Gilgil, Naivasha, Annex, Langa Langa Health Centre and Molo hospitals.
The county has also identified a Sh600 million outpatient unit under construction and maternity wing at Gilgil Hospital as Covid-19 isolation centres.
In Baringo there are 10 ICU and 91 isolation beds. Health executive Mary Panga said plans are underway to increase isolation beds to 200. The isolation beds are at Kaptimbor (10) Eldama Ravine AIC (8) and Mogotio (73).
There are four ventilators at Kabarnet County Hospital. In addition, at least 1,000 healthcare workers out of 1,300 have been trained on handling coronavirus.
Samburu County has 49 isolation beds. Deputy Governor Julius Leseeto said there are plans to acquire 202 more before the July 7 deadline. The county has set aside Sh255 million in its supplementary budget to combat the disease.
Narok County had by early this week 30 beds, with governor Samuel Tunai saying they are targeting to set up over 500 isolation beds.
Uasin Gishu County has eight Covid-19 isolation centres, with 324 beds, according to Health Executive Evelyne Rotich.
The facilities are in Kamalel, Sambut and Kiplombe health centres, and Kipsigak, Chepyakwai, Katuiyo and Elgeyo Border dispensaries.
The county also converted a section of the Kenya Medical Training College (KMTC) Eldoret campus into an isolation centre.
Kamalel and Kiplombe health centres have 30 Covid-19 isolation beds each.
Sambut has 26 beds, Kipsigak (10), Chepyakwai (56) Katuiyo (50 and Elgeyo Border (26).
The county also hosts Covid-19 regional testing centre at the Moi Teaching and Referral Hospital, which has also set up a 45-bed isolation facility and 30 ICU beds for Covid-19 patients.
West Pokot has received Sh75 million from the national government to boost its Covid-19 response.
The county school of government at Aramaget was converted into an isolation centre with 298 beds.
According to governor John Lonyangapuo, the county is in the process of setting up its first ICU facility with six beds attached to ventilators and three for HDU.
In Trans Nzoia, there are 32 beds at Mt Elgon isolation facility and the county says it is in the process of procuring additional beds. There are also five ventilators and five ICU beds.
Nandi County has opened up an ICU at Kapsabet County Referral Hospital.
Requisite number
"Ten ICU beds are ready to operate, seven installed in Kapsabet Referral Hospital and three in the health centre in Nandi Hills. These will be used for the critical cases of Covid-19," said governor Stephen Sang.
He said a total of 312 beds have been set up in Mosoriot, Kabiyet and Nandi Hills county health centres.
Elgeyo Marakwet County has one isolation centre at Tambach Sub-county Hospital with 120 beds.
In Western region, Vihiga County has met the requisite 300 isolation bed capacity. Busia County has acquired 168 beds, up from 124, at the Alupe isolation centre.
Governor Sospeter Ojaamong says his administration is working to make available 132 more beds.
As at yesterday, Kakamega had 220 beds while Bungoma had 404 and 19 ventilators.
At the start of the week, Kisumu County had three isolation centres with 148 beds, with a projection of increasing capacity to 286 by end of the week.
Of the total, 128 beds are at KMTC Kisumu campus, 12 at Lake Victoria campus and eight at Kombewa hospital.
County Director of Health Fredrick Oluoch said the isolation centre at Kombewa has a capacity for expansion and inspection of the facility had begun. There are 30 isolation beds at Lumumba Hospital, 17 at Jaramogi Oginga Odinga Teaching and Referral Hospital, five at Kisumu County Hospital and 35 spread across seven sub-county hospitals, each with five beds.
In addition, there are 16 ICU beds, four of which assigned to Covid-19 patients at the Jaramogi referral hospital.
Kisii County has 310 isolation beds and 15 ventilators.
Governor James Ongwae said there were plans to increase the bed capacity to 450 across various health facilities.
In Siaya, there are 14 beds at the isolation unit in Bondo subcounty hospital, another five at the county referral and three special beds at the Intensive Care Unit (ICU). The county has six ventilators.
Governor Cornel Rasanga said his administration has commenced the construction of 300-bed isolation units in the County Referral Hospital, and Bondo and Ambira sub-county hospitals. He said the construction, which started last week, will be completed in the next 30 days.
Nyeri County Director of Health Services Nelson Muriu said there is a 30-bed isolation centre at Mount Kenya Hospital and 310 beds in Mukurweini Sub-county Hospital and KMTC.
"We will have five HDU beds in Mukurwe-ini and two ICU beds at Mount Kenya hospital," said Muriu. In total Nyeri has 340 isolation beds, two ventilators and six ICU beds.
Laikipia County has 71 beds, three isolation centres at the Annex building, Nyahururu and ASK showground in Nanyuki.
New beds
Governor Ndiritu Murithi said the county is establishing a six-bed ICU with 12 HDU beds at Nanyuki County Hospital.
"The hospital has already been installed with five ventilator machines in the ICU ward and we have five more ventilators in Nyahururu," said the governor.
Meru County has 124 isolation beds with a target of 340 in the next few weeks.
Health Chief Officer James Kirimi said the beds are at Meru Level 5 Hospital and Mboroga Health Centre isolation facility has 20 beds.
New beds will be set up at Kanyakine and Nyambene district hospitals and Maua Methodist Hospital.
The county is also setting up six ICU and three HDU beds at Meru Level 5 Hospital.
Murang'a County says it has set up 305 isolation beds, 35 ICU beds and 13 ventilators.
In Kiambu, there are 525 isolation beds. County Health executive Joseph Murega said Tigoni Level Four Hospital has been converted into an exclusive Covid-19 centre, with 226 beds.
The county has three level five facilities - Kiambu (12 beds), Thika (35) and Gatundu (52).
The facilities have 24 ICU beds for Covid-19 patients, and 30 ventilators and monitors.
Kirinyaga County has set up a 14-bed isolation ward at Kerugoya County Referral Hospital and identified institutions that can be used as isolation centres should the need arise.
Governor Anne Waiguru said the establishment of a 300-bed isolation ward was on course.
In Kitui, Kauwi Hospital has been turned into an isolation centre with 30 beds. However, Health Chief Officer Richard Muthoka said they are putting up more beds.
Makueni has only one ICU room with three beds at the county referral hospital and three ventilators. The county has 323 isolation beds, according to Health executive Andrew Mulwa.
Machakos County has 19 isolation centres with 430 beds.
At the Coast, at least three counties have established more than 300 isolation beds each, with Taita Taveta, Tana River and Lamu still struggling to do so. In recent budget statements the counties also allocated monies to special Covid 19 kitties.
Lamu has four public hospitals, 34 dispensaries and several health centres but none of them has an ICU bed. Health executive Anne Gathoni said there are isolation facilities at King Fahad hospital, Mpeketoni health centre, Lamu Boys and Lamu Girls high schools. A Sh157 million budget for Covid-19 is yet to be approved.
Mombasa, which has the second highest number of positive cases after Nairobi, was among the first to install hundreds of isolation, diagnostic and ICU facilities.
The county has 450 isolation and 18 ICU beds. Officials say in the coming weeks the isolation bed capacity will be enhanced to 500.
Mombasaa County Health executive Hazel Koitaba said there are 150 isolation beds at the Coast General Teaching and Referral Hospital out of which 18 are for ICU fitted with concentrated oxygen and ventilators.
The other isolation centre is at the Technical University of Mombasa (TUM) with a capacity of 300 beds.
Kilifi has installed 306 isolation beds. Outgoing Kilifi Health executive Omar Anisa said last week said the county also had eight ventilators in its isolation centres.
Newly launched
The newly launched Kilifi Medical Complex boasts of 106 beds and six ventilators, while Jibana in Rabai has 30 beds with one ventilator. Other isolation centres are Mbudzi with 40 beds, Gede (30), Mtwapa (60), Kambi ya Waya in Magarini (30) and Misumarini in Kilifi South with six beds.
Kwale County has 300 and 10 ICU beds. There are 70 beds at Msambweni Referral Hospital. County Communications Director Daniel Nyassy said the county has 10 ICU beds, 30 for critical patients with ventilators and 30 for isolation.
He said the county has ordered for 290 more beds to be distributed to Kwale, Kinango and Msambweni hospitals.
In Taita Taveta, County Director of Communications Dennis Onsarigo said there were 140 isolation beds.
[Graham Kajilwa, Mercy Kahenda, Julius Chepkwony, Stephen Rutto, Irissheel Shanzu, Osinde Obare, Edward Kosutt, John Shilitsa, Ignatius Odanga, Micah Sali, Olivia Odhiambo, Mactilda Mbenywe, Kevine Omollo, Eric Abuga, Edwin Nyarangi, Patrick Beja, Nehemiah Okwemba, Jane Mugambi, Renson Mnyamwezi, Jacinta Mutura, Wainaina Ndung'u, Boniface Gikandi, Fidelis kabunyi, Joseph Muchiri and Stephen Nzioka]