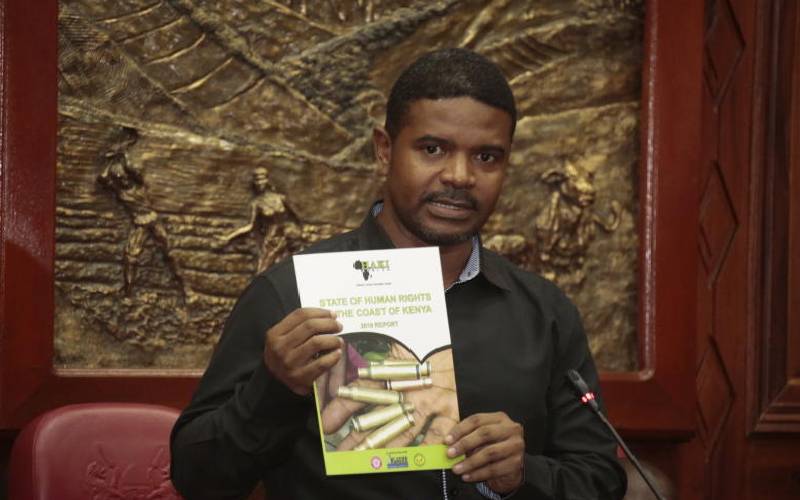 Since the beginning of this year, up to 95 people have disappeared in the hands of suspected law enforcement officers. Although these are spread throughout the country, the bulk of them disappeared from Nairobi and Mombasa. Even in cases such as that of Athman Mohammed Haji, whose abduction from a Mombasa street was captured by security cameras, progress, if any, in nearly all disappearance cases has been painfully slow. "Disappearances are convenient to the errant security sector and political actors. This is because it, more often than not, provides cover up for other crimes while its perpetrators avoid the inconvenience of scrutiny through investigations," says Benson Shamala, the country director of International Justice Mission (IJM), a global human rights NGO.
SEE ALSO: Litigants to benefit from free internet
Shamala says that a deterrent could be the issuance of clear sanctions to perpetrators when a court determines that a person is in the custody of government officials and orders for the production of such a person. "Failure to obey the court order should attract a sanction. This should include individual criminal responsibility for those involved," he says. Government Spokesperson Cyrus Oguna says most allegations of disappearances are "over-dramatised." According to Oguna, some of the complainants do not know how police investigations work. "There are two levels of investigations. We have internal and external mechanisms," says Oguna. "In the event where one thinks their case is not moving fast enough and they believe the police are culpable then they are supposed to escalate the matter to the next level." The next level is the Independent Police Oversight Authority (IPOA).
SEE ALSO: Port business rebounds after end of restrictions
But those whose family members disappeared in the hands of people they suspect to be law enforcement officers say IPOA has not been of much help and that the agency only deals with high profile cases. "They do not care about the rest of us," a wife to one of the missing individual told The Standard. When contacted, IPOA promised to get back with a response. They had not done so by the time we went to press. Oguna says the government does not condone any police activity that goes beyond the mandate of the Kenya Police Service. "Trust me, those who have been found guilty have been given custodial sentences. We cannot entertain anyone who goes against their oath of office," he said.
SEE ALSO: Mombasa court allows demolition of Pwani Oils' Sh182 million investment
Shamala says parliament must pass a law to ensure that enforced disappearance is defined as a crime. But the government spokesperson begs to differ. "We have sufficient legislation in the country," says Oguna. He argues that the public needs to understand the circumstances under which police officers operate. "They work under very difficult circumstances and conditions. Sometimes we expect too much from them without putting ourselves in their shoes," he says. In the meantime, the Muiruris, the Mohammeds and the Ganzallas are still waiting to know why their kin have never been found; why investigations have stalled. "The people who do this have forgotten that they too will get children; children who might end up dead like my son," says Anthony's father, Joseph.