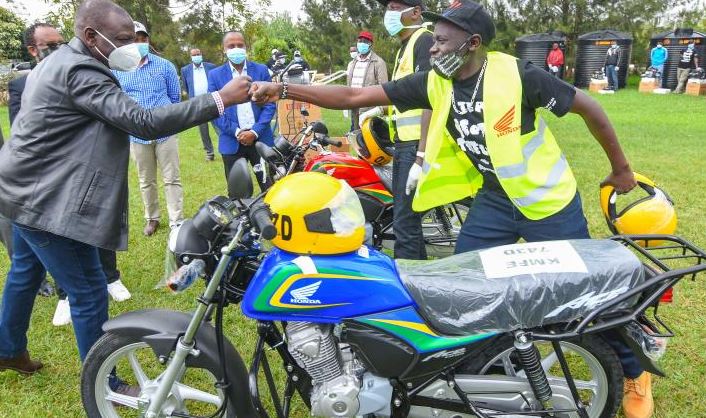 Deputy President William Ruto is increasingly facing the devil's alternative in his quest to succeed President Uhuru Kenyatta.
With Jubilee Party looking to enter a coalition with other parties ahead of the 2022 polls, if Ruto chooses to stick in the ruling party, he will have to compete against other contenders, who are likely to include his rival ODM leader Raila Odinga, for the coalition's presidential ticket.
Such a decision is risky, as Ruto would essentially be walking into a trap laid by his powerful rivals who are determined to block his presidential bid.
The alternative is to flee Jubilee to a new party, but this would be seen as surrendering after all the bravado and defiance that he would not leave a party he helped create.
Adding to the setback is his having to market a new political outfit while facing resistance from State machinery and multiple forces raged against him. And with plans by Uhuru's Jubilee Party (JP) and Raila's ODM to form a new coalition underway, Ruto and his allies will increasingly have to confront these stark choices.
Soy MP and Jubilee Deputy Secretary-General Caleb Kositany has suggested that the idea of shopping for another vehicle is on the table, and declared that Ruto's name must be on the ballot in 2022.
"They can continue planning whatever alliances ahead of 2022. What we know is that we have our presidential candidate. DP Ruto will be on the ballot. He has to run, whether on Jubilee or any other political party. Their decision to form alliances with other parties will not stop us," Kositany declared.
He was referring to the flurry of co-operation agreements that Uhuru's wing of Jubilee is signing to lay the groundwork for an eventual pre-election coalition agreement.
Coalition agreements
Jubilee has signed a post-election coalition agreement with Baringo Senator Gideon Moi's Kanu. The ruling party has also inked co-operation agreements with Kalonzo Musyoka's Wiper and Chama Cha Mashinani of former Bomet Governor Isaac Ruto. A similar co-operation deal with ODM is being worked on.
Yesterday, Aldai MP Cornelly Serem said Ruto's camp was also in a position to forge an alliance for the purposes of the 2022 poll.
"They should not think that they have the monopoly of talking with other political parties for the purposes of coalition. We are also talking with friends," said Serem.
Ruto's allies now accuse Uhuru and Raila of killing the opposition to ensure there will be no tough contest in the coming polls, allowing them to install their preferred candidate to ascend to power.
"It is our preferred position that Kenya remains a multiparty democracy with parties that have a national outlook, which compete on issues and programmes that benefit the people of Kenya," said Elgeyo Marakwet Senator Kipchumba Murkomen.
"It appears that some people want to recreate a one-party system. If our competitors want to join Jubilee Party so that the presidential contest is settled at the JP primaries, then they must be ready for a resounding win by the candidate from JP," he said.
Mumias East MP Ben Washiali, who was recently ousted as National Assembly Majority Whip for supporting Ruto's presidential bid, added: "There was a reason why second liberators fought for multipartyism as opposed to a one-party State."
He added: "We are a multiparty democracy but a single-party state in a reality. The opposing voice in Jubilee is being kicked out and we are killing the strong opposition. All this parading of opposition parties joining government is killing democracy."
Washiali was yesterday teargassed in Malava at an event for the area MP Malulu Injendi.
Kipkelion West MP Hilary Kosgei faulted Raila for the planned ODM deal, saying entering into a coalition with Jubilee would be against the will of the people to have many parties that field many candidates.
"It is a really worrying trend that ODM, a party that is not peripheral, is ditching its official opposition to join the ruling government and other parties to form a new outfit for 2022. This is not right unless they are turning the country into a monarchy," Kosgei said.
Murkomen added: "There is nothing that will change the fact that the people of Kenya will have the last say on who becomes their president."
The DP's camp also accused Raila of wrecking their party and scheming to ensure the DP does not get the JP ticket as pledged by Uhuru during past Jubilee campaigns.
Serem maintained that the DP would have to run for the top seat come 2022, but said it was not a matter of 'life and death' for him to be president.
"It is not life and death for Ruto to win the elections. Right now, it is too early to talk about forming another party because we are still in Jubilee. Why are they trying to push us out of Jubilee? It is us who pay the bills for running the office," he added.
On Thursday, the DP met with MPs ejected from House leadership positions at a parallel office dubbed the Jubilee Asili Centre, which the Tangatanga wing of the ruling party has opened off Nairobi's Ngong Road.
Murkomen and Belgut MP Nelson Koech said they resorted to the new offices after they were denied access to JP headquarters in Pangani on Nairobi's Thika Road.
Nakuru Senator Susan Kihika said: "We agreed as Jubilee leaders to establish Jubilee Asili Centre, a meeting point for members who feel disenfranchised after a few mandarins blocked us from accessing our party office on Thika Road. At this centre, we shall continue promoting the original idea of our Jubilee Party."
Kikuyu MP Kimani Ichung'wah added: "We are Jubilee members who share a progressive people-centred vision and we met for lunch and a cup of tea. We will keep engaging to evaluate how to refocus Jubilee's agenda that will serve the greater public good and uplift the lives of our constituents."
Washiali said the Building Bridges Initiative (BBI) spearheaded by Uhuru and Raila was going against the law under the guise of promoting national cohesion and inclusivity.
Opposed to the system
He questioned why the president should repulse his critics and embrace those who fought against his presidential bid in 2013 and 2017.
"The politics in this country at the moment is what we witnessed in South Africa during the apartheid reign, where whoever was opposed to the system faced trumped up charges and was jailed," Washiali said.
"I am old enough and this is definitely going wrong. The NASA affiliate parties are jostling to join Jubilee, yet he (Uhuru) is our president; we put him in power."
Kosgei also maintained that Ruto would be in the ballot in 2022.
"Nothing planned now will hold in 2022. There will be a lot of dynamics at play. This is a fluid environment. The DP has a serious agenda for this country and must present himself to the people in 2022," the Kipkelion West legislator said.
"Two-and-a-half years is a long time in politics. Nothing is cast in stone," he added.
In 2013, Uhuru and Ruto won the presidency under a coalition of their The National Alliance and United Republican Party, respectively.
In the run-up to the 2017 polls, Jubilee Party was formed following the dissolution of 13 parties.
After the merger, Uhuru basically handed the reins of the party to Ruto, and as per the party constitution, assigned almost every duty to him, including managing the 2017 nominations.
Ruto had hoped to ride to power on the juggernaut that is the ruling party, but it has since fractured into rival camps.